/ Source: TODAY contributor
In Charles Schulz's beloved Peanuts cartoons, poor Linus waited in vain, year after year, for the arrival of the Great Pumpkin. But TODAY brought a real-life great pumpkin to Rockefeller Plaza on Monday — a 1,725-pound behemoth that may have earned its growers a place in the record books.
The TODAY crew looked on in awe as Christy Harp of Jackson Township, Ohio, proudly showed off the massive squash that won her first prize at the Ohio Valley Giant Pumpkin Growers competition earlier this month. She not only bested a field that included her husband, Nick, she can also lay claim to the heaviest pumpkin ever recorded. She beat the current record-holder, Steve Connolly of Sharon, Mass., who grew a 1,689-pound pumpkin last growing season.
Christy told TODAY she had no big secret — she did not resort to genetic twisting to grow her pumped-up pumpkin. "We did this with a lot of hard work and a lot of compost and a lot of water; no chemical fertilizers," she explained. "We try to keep everything natural, so we're out there composting coffee grounds, cow manure, leaves."
Doing the mathFor now, Harp, a mathematics teacher, lays claim to the heaviest pumpkin ever, and she could well gain entry into the Guinness World Records. But among the highly competitive circle of pumpkin growers, word in the field is there may be an even heavier pumpkin still lurking in southern Ohio or Iowa.
Still, at the very least, Harp can take solace in knowing she one-upped her hubby. The pair met when both attended the University of Akron — they found they shared a love of growing pumpkins that dated back to childhood.
It was Nick who one-upped his wife last year, putting a 1,203-pound pumpkin on the scale while Christy managed just a 1,081-pounder. And Christy didn't have high hopes she would do even that well this year; June and July were so dry that she was nearly ready to yank her pumpkin out at the vine.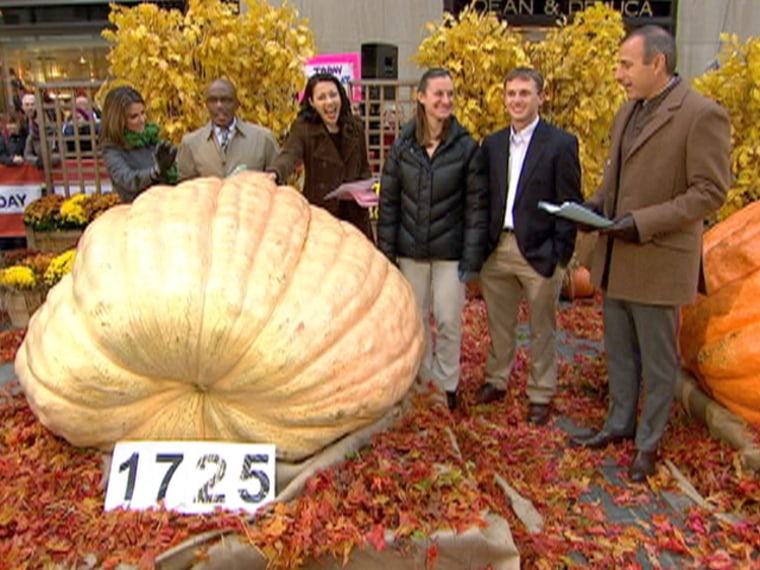 "In the beginning of July, it could actually fit in my hands," she told TODAY. "In August, it actually started growing a lot. And in September, I knew I had something special, because it was approaching like 1,600 pounds at that point."Time was, a pumpkin weighing just a few hundred pounds was a thing of wonder. But genetic engineering and novel new blends of fertilizers are making even 1,000-pound pumpkins look like little more than doorstops. Harp told the Massillon Independent she ordered her seeds from the appropriately named Web site bigpumpkins.com.
Orange you glad?Also on hand Monday were Dave and Carol Stelts of Edinburg, Pa., whose 1,662-pound pumpkin is the third-largest ever documented. While they fell a little big short of Harp's weight record, there's no doubt their bright orange pumpkin wins an aesthetic battle over Christy Harp's colossus, which literally pales in comparison.
"We'd like to have them all this beautiful — a nice, shiny, bright orange color. But sometimes they get a little opaque, like you see in the world record-holder for the Harps," Dave Stelts told TODAY.
"But with this one we got really lucky," Stelts added. "It turned out a beautiful, shiny orange, like most Americans have in front of their house."
TODAY's Matt Lauer asked if Stelts was kicking himself over the Harps' besting Stelts and his wife by just 61 pounds — after all, during the height of the growing season, mammoth pumpkins can add 40 pounds a day.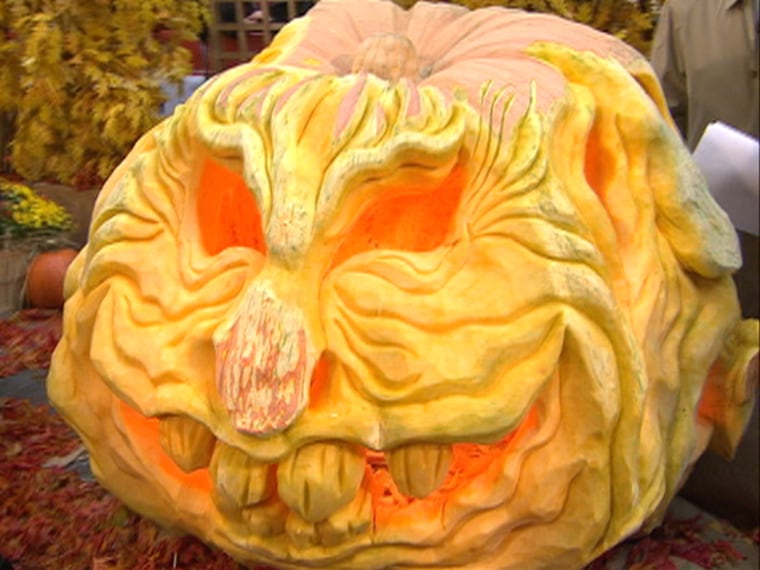 Stelts jokingly groused, "Carol cut off the water one day, and I told her, 'Don't do this to me!' "
Jacked upAlso on hand on TODAY Monday was renowned pumpkin carver Scott Cully, who showed off a 1,400-pound-plus jack-o'-lantern likely to send any potential trick-or-treaters running away from a house in terror.
Cully told TODAY he looks for the unique shape of an individual pumpkin in deciding what form his creation will take. For example, the jolly orange giant he displayed on TODAY had marked knots near the top and at the bottom, which he turned into ears and shoes, respectively.
"My inspiration is, I want to see what the pumpkin has to offer and just sort of bring it out," Cully said, adding it took 12 hours to create his masterpiece.