/ Source: TODAY contributor
If pooping out rocks was a skill, a pug from Rhode Island would be the most talented dog in the country.
Instead, Harley the pug will have to settle for a potential "Hambone Award,'' given out annually by Veterinary Pet Insurance. Each year since 2009, the company has nominated the 12 most unusual and outrageous pet insurance claims that it receives out of tens of thousands. The award is named after a dog that was stuck in a refrigerator and chowed through an entire Thanksgiving ham before being found.
The good news is, all nominees made full recoveries and received their insurance money for eligible expenses. The public can vote on their favorite story here, through Sept. 20.
The creators of the successful blog "Awkward Family Photos" received so many uncomfortable photos of owners and their pets that they've created a new venture. Here's a selection of the hilariously awkward photos.
The clubhouse leader this year is Harley, who ate more than 100 rocks and then pooped them out to the horror and astonishment of his owner, Lori Laverdiere of Manville, Rhode Island. Harley's competition includes a terrier that bit a chainsaw while it was running, a Chihuahua that was snatched by a great horned owl in the middle of the night, and an English mastiff that was kicked by a mule.
But even among that distinguished company, Harley's story has captivated Hambone Award voters on VPI's website. While on a walk with his owner one day, Harley started pooping out rocks like he was Hansel and Gretel leaving a trail of bread crumbs. Harley soon became ill, unable to eat or drink without vomiting. So Laverdiere rushed him to an emergency animal hospital, where X-rays revealed his stomach and intestines were jammed with more than 100 rocks. After taking some medication, Harley passed the small stones without needing surgery.
"I wasn't aware of how many rocks Harley had ingested until I saw the X-ray,'' Laverdiere told VPI. "We're not talking about one or two rocks. Harley's stomach was half full and his intestines were jam-packed. According to the emergency vet, Harley had consumed more than 100 rocks. He had never seen anything like it."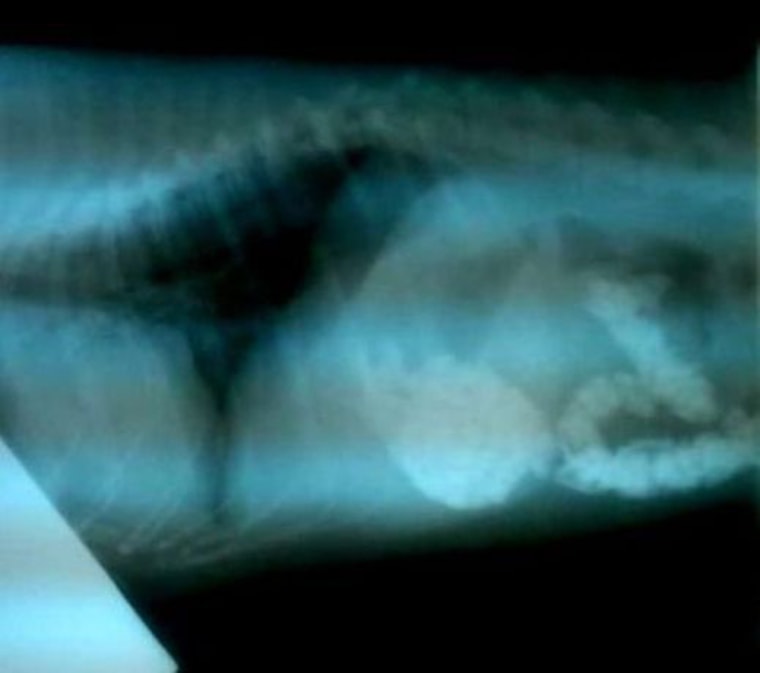 Nipping at Harley's heels in the race is the January nominee — Chico, a 3-year-old Chihuahua from Crystal Lake, Ill., who became ensnared in the talons of a great horned owl when owner George Kalomiris took him for a walk at 1:30 a.m.
In her compelling new book, award-winning author Mary Cappello explores the story of Chevalier Jackson, a pioneering laryngologist who specialized in the extraction of swallowed items.
Chico was secured to a leash when the owl snatched him, so it soon became a tug of war between Kalomiris and the large bird — with Chico in the middle. Eye-to-eye with the owl, Kalomiris fought it off as it dragged Chico through the snow. Chico suffered a small puncture wound on his right foreleg in the battle with the bird, which had a five-foot wingspan.
Other nominees from this year include a golden retriever that was bit on the nose by a snapping turtle, a dachshund that was attacked by a seagull, and another golden retriever that had a 25-pound otter clamp down on its nose.
Previous winners include Ellie, a labrador that ate a beehive, and Lulu, an English bulldog that scarfed down 15 baby pacifiers.