/ Source: TODAY contributor
Even in a world with increasingly tough and graphic public service announcements on TV about the dangers of such activities as smoking, a recent PSA originating out of Gwent, Wales, breaks new boundaries in the explicit level of its bloody details.
Two teen girls giggle over a text message they are sending while driving along a country road. Distracted, the driver smashes head-on into another car, and while the bloodied girls exchange dazed glances, a third car careens into the passenger side.
The driver finds her friend lying dead next to her. Then the camera switches to another smashed vehicle and shows a young child inside, asking why her parents are not waking up.
Produced by the Gwent Police Department, the PSA sends out a horrible visual to illustrate the dangers of texting while driving. But it currently isn't being aired on U.S. television. For Americans to even view the ad on YouTube, they must assert they are at least 18.
Warning from WalesA South Wales community of 550,000 that many Americans have never even heard of seems an unlikely place for discussion of the dangers of texting-and-driving to be raised, but a visionary Gwent police department was up to the task. Police locked arms with filmmaker Peter Watkins-Hughes to produce the PSA, titled "COW — The Film That Will Stop You Texting and Driving," named after the character Cassie Cowan, who unleashes the lethal chain of events by texting behind the wheel.
Some 300 drama students from throughout Wales auditioned for the movielike short, with local police cars and air ambulance helicopters used to lend an even more vivid reality to the film. Digital special effects were used to give viewers the "you are there" feeling of being inside Cowan's vehicle as the road carnage ensues.
Gwent's Chief Constable Mick Giannasi said it was the department's intent for the PSA to cut a wider swath than just Wales.
"The messages contained in the film are as relevant to the people of Tennessee as they are to the residents [of Wales]," he said on the department's Web site. "Texting and driving can have tragic consequences, and the more this film is viewed, the better."
Required viewing?
Appearing on TODAY Tuesday, noted ad executive Donny Deutsch said he believes the ad may be the most powerful ever — and agreed that it needs to be required viewing.
"I will show this to every kid I know, and I salute the police department," Deutsch told TODAY's Ann Curry. "I would really implore various local stations: Run this stuff, put this on the air. It will help."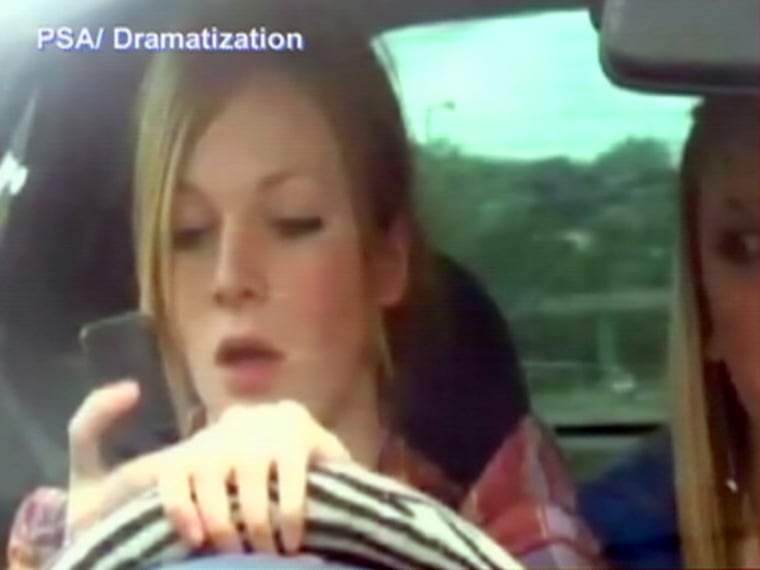 Recent studies show that texting while driving may be as dangerous and lethal as drunken driving. Up to a quarter of the estimated 40,000 vehicle fatalities in the U.S. annually may be traced back to distracted drivers texting. A recent Virginia Tech study found that texting drivers are 23 times more likely to be involved in a collision than nontexters. And although the AAA reports 95 percent of drivers polled acknowledge texting while driving is dangerous, 21 percent of them have done it recently anyway.
However, Deutsch told Curry, cold, hard data is nothing compared to showing people the human toll texting while driving can exact, up close and in chilling detail.
"It's one thing if I just say to you, 'You know what, Ann, you increase your risk 23 times when texting,' and you go, 'OK,' " he said. "We hear the numbers, we hear of the fatalities, but you never actually see it this graphic.
"It's one thing to intellectually get it into our brains, but when you see it this graphically ... I tell you, I couldn't get through this [ad]."
'Tremendous problem'Yet there remains doubt whether the 4-minute PSA will ever see the light of day on U.S. television screens — even when TODAY ran segments of the Welsh police production, it did not show it in its entirety.
Curry asked Deutsch if the PSA will make it past U.S. censors, and he acknowledged, "They're going to have a problem with that." But he was staunch in calling for the spot to make it to U.S. air.
"I say start running this thing all over the country," Deutsch said. "This is a tremendous problem — all you have to do is drive yourself and look around. You see this, you never will do this again."
Currently, 17 states and the District of Columbia have laws on the books that ban texting while driving, and it appears the issue is soon to get even more government attention. The U.S.  Department of Transportation will hold a summit next month examining all forms of distracted driving, with texting being at the top of the list.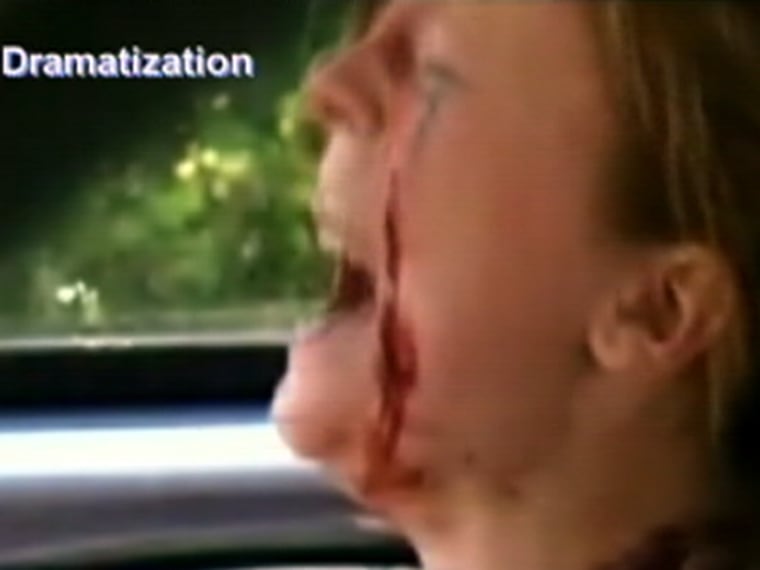 "We all know texting while driving is dangerous, and I promise you we are going to do something about it," U.S. Secretary of Transportation Ray LaHood said in announcing the summit.
Still, it took years after seat-belt laws were put on the books before the overwhelming majority of Americans began buckling up in earnest. Deutsch told Curry he believes viewers watching the story of a nice teen girl who ultimately kills four people because she texts while she drives could speed up the compliance process exponentially.
"It is a phenomenal piece of tape," he said. "When you show something this graphic, it stays in people's heads."
More than 1 million people have viewed the hard-hitting PSA on YouTube to date.