/ Source: TODAY contributor
When it comes to golf, Leo Millar doesn't let the fact he was born without fingers on his right hand keep him in the viewer's gallery. And with the help of an innovative prosthetic glove that enables him to wield a golf club with both hands, he may soon be in the swing of things at pro tournaments.
The 10-year-old schoolboy from the British seaside town of Poole amazed his golfing enthusiast dad when he picked up one of his clubs seven weeks ago and managed to drive a golf ball an impressive 100 yards.
"At this point he was swinging away left-handed with his stumpy bit — we call it his 'special' — resting on the top of the club," Ian Millar told the Bournemouth Daily Echo newspaper in England. "But he was hitting the ball really well."
Pardonable pride from a parent, of course. But others thought so, too.
"I took him up the practice ground at my local golf club, and when the professionals saw him and realized he had only been playing for two days, they offered him free lessons," Ian told London's Daily Mail newspaper. "He has been told that he has a perfect golf swing — it is textbook."
Unique device
Seeing his son's talent got the Millar family thinking about where golf might take Leo. They contacted the renowned Dorset Orthopaedic company of Hampshire, England, a leading developer and manufacturer of prosthetics. Company founder Bob Watts was intrigued enough with Leo's gift for golf that he came up with a gift of his own — the company would create a golf prosthetic free of charge.
The unique device fitted for Leo is not a prosthetic hand — rather, it's a silicone sleeve that wraps around Leo's right wrist and is adjusted with a Velcro strap. Leo can insert any golf club, from putter to 3 wood, into a handle holder that rotates 90 degrees as he swings. It allows for a free movement, as if Leo were swinging with two hands.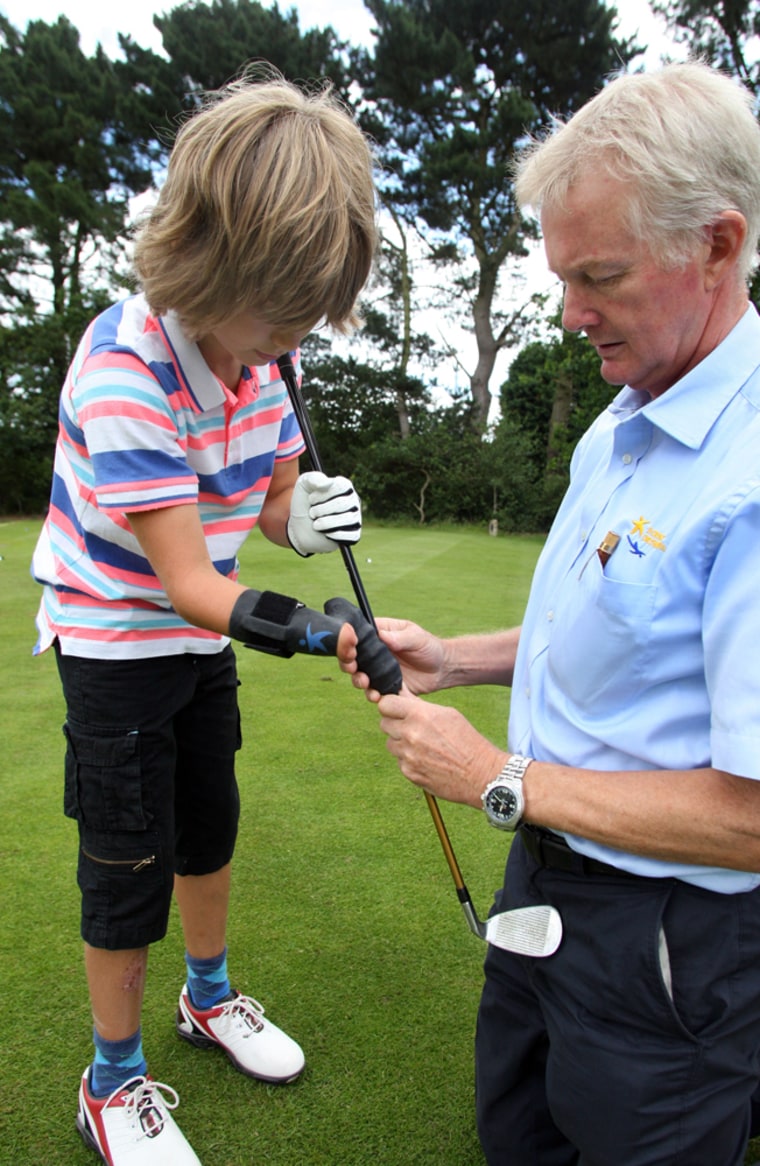 The results were impressive immediately: Leo quickly doubled his driving distance to 200 yards, allowing the boy a good long game to go along with his proficiency at chipping and putting. Now Leo dreams of a day he could join the pro tour and play alongside his idol, Northern Ireland golfer and recent U.S. Open winner Rory Mcllroy.
"Hopefully my new hand will change my life, so I will be able to get money by playing golf," Leo told the Daily Echo.
And that may not just be a schoolboy dream, according to Barry Mutter, assistant golf pro at Ian Millar's local golf club. "There is natural talent there for sure," Mutter told the Daily Mail. "His enthusiasm blows you away. He could be as good as he wants to be … [there's] no reason why he couldn't be a professional."
If Millar does try to join the professional circuit, his glove would likely get clearance from the Royal & Ancient, the international golf governing body. Contacted by the Daily Mail, an R&A spokesman said they haven't yet inspected Millar's prosthetic, but "if there are no particularly unusual features of the prosthetic hand I'm sure it would be absolutely fine."
Indeed, Millar's biggest asset may not be his right-hand helper at all, but his determined demeanor to rise above.
"Leo is an amazing little lad and I believe whatever he does in life he'll be successful because he has this amazing attitude toward life." Dorset's Watt told the Daily Echo.