A former actress from the TV show "Smallville" is out on $5 million bond after being indicted on charges of sex trafficking that federal prosecutors say involved procuring sex slaves for the leader of a secretive organization.
Allison Mack, 35, who played Chloe Sullivan on The CW network show about an adolescent Superman, has pleaded not guilty to charges of sex trafficking, sex trafficking conspiracy and conspiracy to commit forced labor.
Her lawyers are currently working on a plea deal with federal prosecutors.Prosecutors said Mack recruited women for a self-improvement organization called Nxivm that was really a sex trafficking group targeting sex slaves for Keith Raniere, 57, the organization's leader.
Prosecutors claimed Mack was Raniere's top recruiter in the scheme. Some followers even had themselves branded with Raniere's initials.
Raniere was arrested in Mexico last month and faces the same charges as Mack.
Women in the group were forced to turn over damaging personal information and sexually explicit photos as potential blackmail material that helped Raniere keep them as sex slaves, according to the criminal complaint.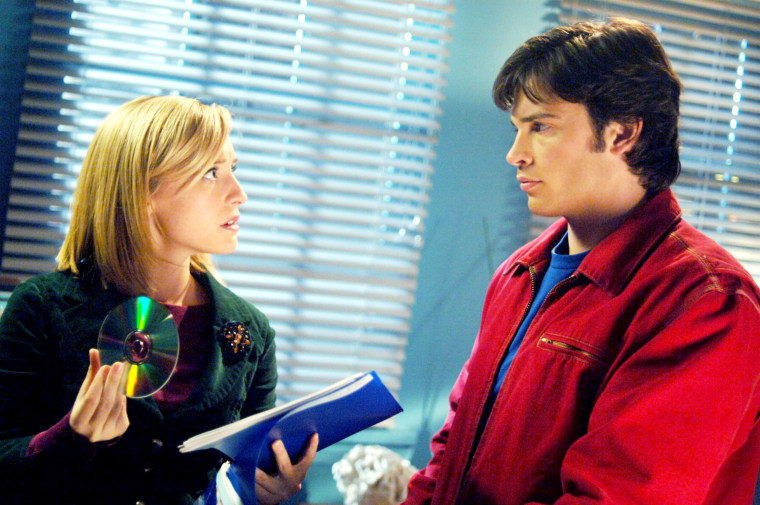 Raniere and his lawyers did not respond to requests for comment by NBC News.
Nxivm (pronounced Nexium) has released a statement on its website:"In response to the allegations against our founder, Keith Raniere, we are currently working with the authorities to demonstrate his innocence and true character. We strongly believe the justice system will prevail in bringing the truth to light. We are saddened by the reports perpetuated by the media and their apparent disregard for 'innocent until proven guilty,' yet we will continue to honor the same principles on which our company was founded. It is during the times of greatest adversity that integrity, humanity and compassion are hardest, and needed most."
Old tweets from Mack show her contacting celebrities like Emma Watson and Kelly Clarkson, potentially to talk to them about Nxivm.
Mack was ordered by a federal judge in Brooklyn to remain at her parents' home in California and wear an electronic monitoring device. She was also prohibited from contacting any current or former members of Nxivm.
Actress Catherine Oxenberg, known for her role as Amanda Carrington on the 1980s hit "Dynasty," told TODAY's Megyn Kelly in November that her daughter India was part of Nxivm.
"It breaks you down, it locks in a new identity like a cult persona, is what I've been told,'' Oxenberg said. "And then it makes you submissive and suggestible so the end result is you have women agreeing to do things to hurt themselves."
India Oxenberg's lawyer told NBC News,"India Oxenberg would like to share her story in the near future, and is deeply saddened by the untrue allegations that have been made about her in the media."
Raniere and Mack could both face up to life in prison if convicted.
Follow TODAY.com writer Scott Stump on Twitter