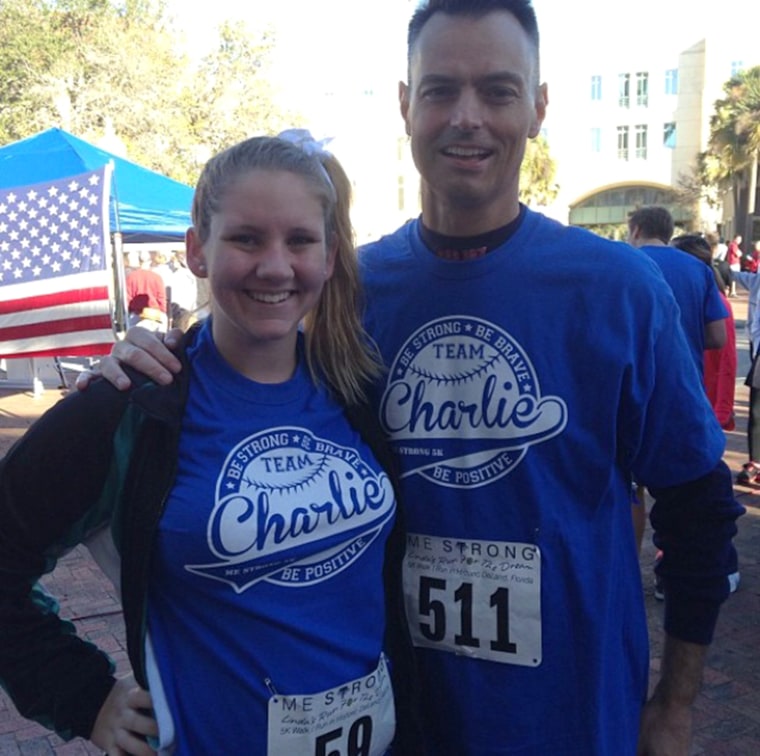 The Pine Ridge High School prom will have a few less decorations this year, but the students won't mind — their money will be going to help a teacher heal.
The school's prom committee members plan to donate all the funds they raise beyond the basic costs of the event to math teacher Charles Lundell, who is battling cancer.

"We all wanted to help Mr. Lundell out," committee president Katie Buday, 17, told TODAY.com. "We have more than enough money for prom so we thought we could help him in his time of need."
"Mr. Lundell really needs it right now," said Sierra D'Errico, 17, who serves as the committee vice president. "Prom is just prom."
The committee already has enough funds to cover the essential costs of the prom (roughly $13,000), thanks to money left over from last year, this year's allotment from the school, and other events and fundraisers — and they haven't even sold a single ticket yet.
So they decided to teach their fellow students a lesson in giving to a teacher who has taught them all so much.
Their actions surprised and moved their teacher, who didn't expect the outpouring.
"I'm very humbled because I do my job and I don't know that I have an effect," Lundell told TODAY.com, on the brink of shedding tears. "It's amazing. It's almost surreal."
The teacher has been at Pine Ridge High in Deltona, Florida since it opened 20 years ago. His students were thrilled when he beat the cancer in his tonsils two years ago, but this January, when he pulled out of school's annual "Dancing With the Teachers" event, they learned he still has fighting to do. He now has brain, lung and liver cancer.
"I'm gonna kick this cancer's butt," he told TODAY.com. "It's not about me. It's about living for them."
Lundell is currently on leave so he can receive daily radiation treatments and chemotherapy four times a week. But he says learning about what the students are doing for him while he's away keeps his spirits high.
"I have to be upbeat and the kids and my family give me so much energy," he said.
Lundell also has good news to look forward to on the home front: He's expecting twins in June with his wife Melissa. He also has two children from a previous marriage who are by his side throughout his health battle.
Students on the prom committee say it was never a question whether or not they'd help Lundell, who was their school's "Teacher of the Year" last year.
"Mr. Lundell is an amazing teacher," Savannah Bendik, 16 told TODAY.com. "He's always there to help you, no matter what it is. He's there to help as a person, not just a teacher. We're putting him first because he would do that for any one of us."
The committee has already received $6,000 in anonymous donations for Lundell, and the members plan to put everything else they raise into a fund created for him. Students have also hosted a basketball game and sold t-shirts to raise money for their beloved teacher.
Support for Lundell has spread beyond the campus: Community members and former students have also been donating money to help his family with its medical bills.
"Everyone around the school and community has come together to help him," said Buday. "It's like a family."