If you find it impossible to pass a sheet of bubble wrap without frantically bursting its air-filled pustules; if you can't lick a Tootsie Pop more than four times before gnawing right through to the chewy chocolate center, then you will understand the enormous willpower it required for me to produce today's American Story at the Zildjian cymbal factory. Cymbals, cymbals everywhere, but not one could I whack. The temptation was overwhelming.
In the segment, Bob Dotson took us to the Zildjian cymbal company, the oldest family-owned business in America, still cranking out cymbals after almost 400 years (about 300 of those in Turkey.) It's run by the 14th generation of Zildjians (the name translates roughly to "son of a cymbal maker"): sisters Debbie and Craigie Zildjian, the first women to head up the company. In the wings: Debbie's daughter Cady and, further down the road, Cady's own 4-year-old daughter. Take that, you son of a cymbal maker!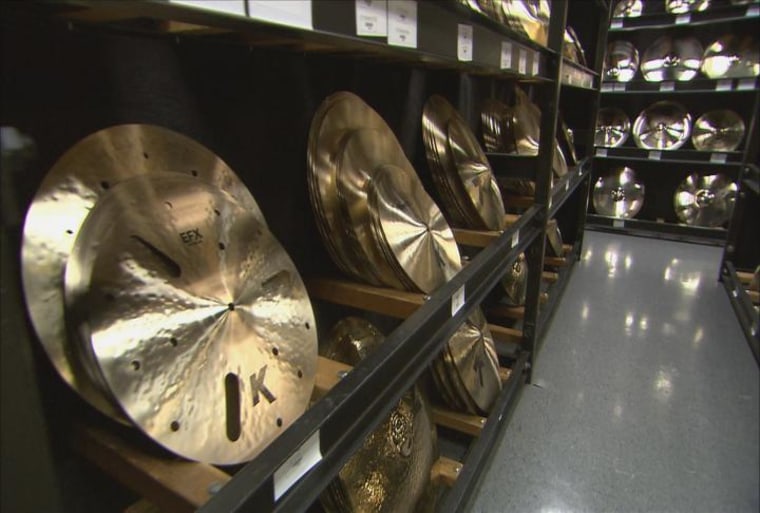 Zildjian is like the Kleenex of cymbals; they own about 50 percent of their market. And that's nothing to sneeze at. The greatest drummers use Zildjians. A few of my favorites are Gene Krupa, Buddy Rich, Ringo, Elvin Jones, Travis Barker, Matt Flynn of Maroon 5, Elaine Bradley of Neon Trees and my personal favorite, Viola Smith (now 100 years old, she was a gender-buster for women back in the 1930s.)
American Story: Pioneer spirit keeps town from giving up the ghost
The whole time we were shooting the segment I was completely obsessed with when I'd get a chance to smack a couple of cymbals. Under my totally calm producer exterior was a hyperactive 4-year-old girl stalking the aisles of a Barbie  factory: When? When? When could I play with one? And yet I feared that if I were caught doing a "sneak clash" I'd be totally embarrassed – akin to being caught dancing like Elaine Benes on "Seinfeld." Could a reputation for professionalism ever fully recover from that? (I did manage a quick tap on the drum signed by Ringo, but was consumed with guilt.)
American Story: No layoffs at oldest family business in US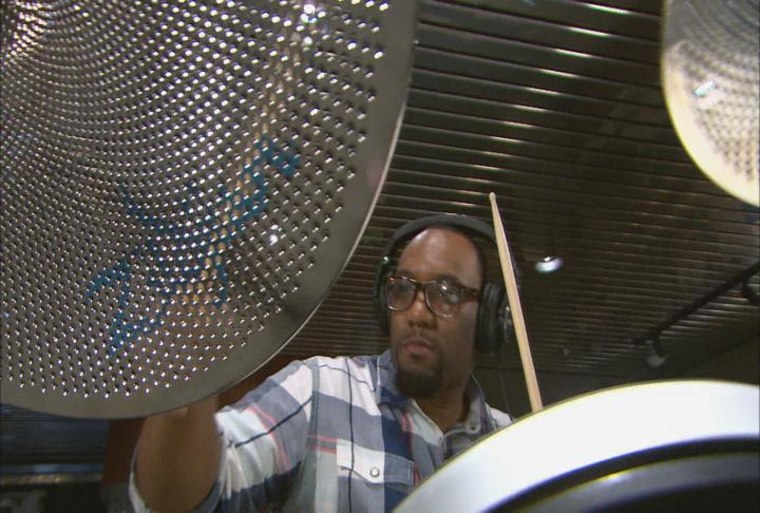 A really peachy keen part of producing is meeting folks who are sort of unsung stars in their field. Drummer Charles Haynes is one of those people. You might not know him (or his stage name, Chally Dogg), but you'll know the names of some of the people he's played with: Lady Gaga, Kanye West, Elton John. And he played for us! So this is a shout-out to him. I'd say that he's one cool cat with totally rad chops , but since I'm so incredibly uncool, my remarks  probably just sound like me trying to be cool and thus not showing my musical appreciation skills. I loved it. Yet my mission remained unfulfilled.
I had a strategy: After our interview with classical percussionist Keith Aleo, I'd sheepishly ask for a quick lesson. Keith's an incredibly accomplished, outgoing and hilarious musician who teaches at the Boston Conservatory of Music.  I softened him up for my request with some hard-hitting questions.
American Story: 'Payback painter' thanks town for kindness with mural
I'd always wondered about those guys (mostly) back there in the percussion section -- waiting, waiting, waiting all symphony long for a chance to play a few notes: "Do you get bored back there? Are you jealous of the other musicians, like the violinists who hog almost all the notes?"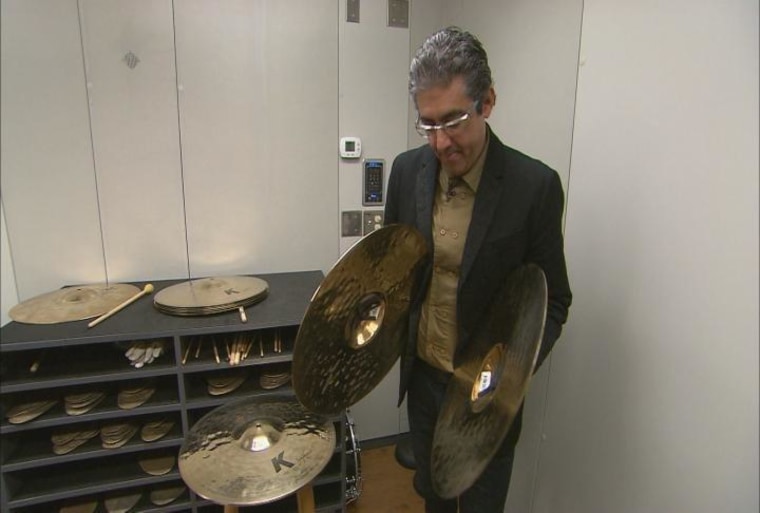 Keith laughed and explained that the way he sees it, the audience is just waiting for when he stands up and gets to play, because "it's always the best part of the piece."
Another hard-hitting query: "Since you're sitting way back there in Symphony Siberia and all the music is being played out to the audience, what does it sound like?" Bravo to Keith for not taking offense to the Siberia reference. Apparently, way in the back row, he's usually next to the horn section and it mostly sounds like -- the horn section. We both laughed.
American Story: Tiny town chips in to save its historic newspaper
That's when I finally asked for my own chance. Yes! I would get to play with the cymbals!
After describing each cymbal as being as individual as a snowflake, Keith handed me a pair of 18-inch orchestral cymbals. At five pounds apiece, they were surprisingly heavy for snowflakes. I'd fully expected a few warm up swings -- you know, like a baseball batter. But instead, I had the most frustrating five minutes of the shoot.
Keith had me hold my left hand still while slowly and gently swishing the right cymbal against the left, in an easy, circular motion. He said it was from a section from a Stravinsky symphony. Really, dude? Didn't Igor compose that crazy loud and dissonant Rite of Spring? (Finally, Music 101 pays off!)
I wanted to cut loose: Bam! Bam! BAM! This was like being invited to test-drive a Maserati at rush hour on a Friday afternoon on the Long Island Expressway. Plus, he kept telling me I was hitting it too hard. I was breaking a serious sweat and clearly bumming.
Then he gave me a sly, knowing smile, and I stretched my chicken-wing arms wide and smashed those cymbals like I was Serena at a Wimbledon final. Sweet music for my psyche for which I needed no coda.
More:
Bob Dotson "American Story" book coming March 26
Bob Dotson is going on 'American Story' book tour