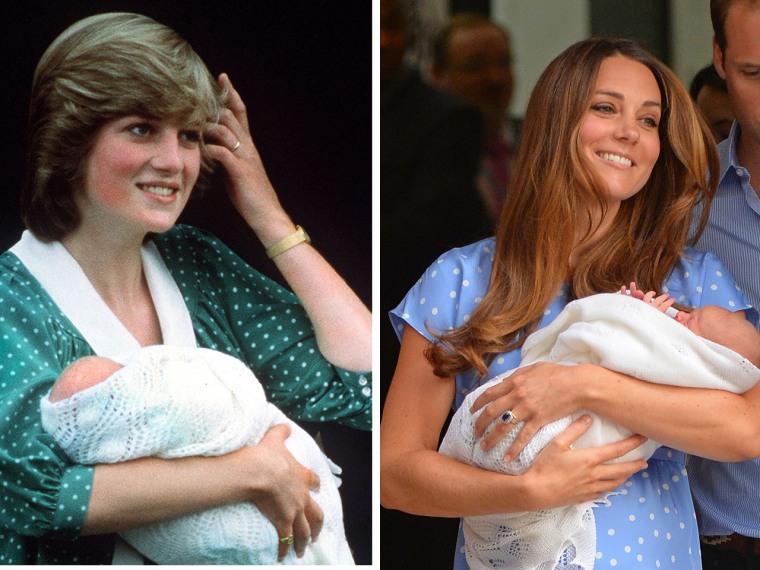 The Duchess of Cambridge, 31, showed off her newborn prince on Tuesday after giving birth on Monday in London's St. Mary's Hospital, with her husband Prince William, 31, at her side. The smiling new mom — wearing a custom-made, light blue polka-dot dress by British designer Jenny Packham — revealed the baby boy to huge crowds and cheers, much like Princess Diana did in June 1982, when she displayed a newborn Prince William to the world less than 24 hours after giving birth at the very same hospital.

Diana, 20, greeted the public in a loose green polka-dot gown as her then-husband Prince Charles, 33, handed her baby William. The "people's princess" smiled, waved and blushed as the crowds cheered and clapped, before the young couple set off in a chauffeured station wagon to their London home at Kensington Palace — where Duchess Kate and Prince William will travel to as well.

Asked why Princess Diana was leaving the hospital so soon, Buckingham Palace press secretary Michael Shea told the AP, "It is the fashionable thing to do."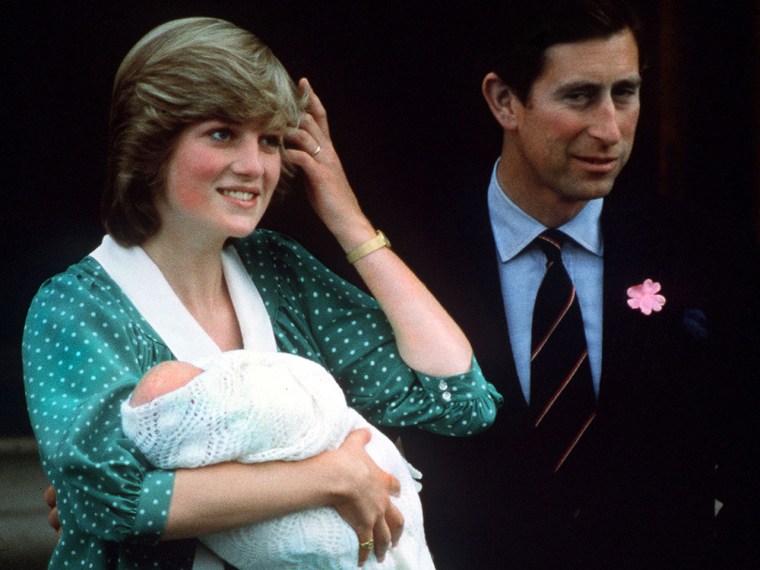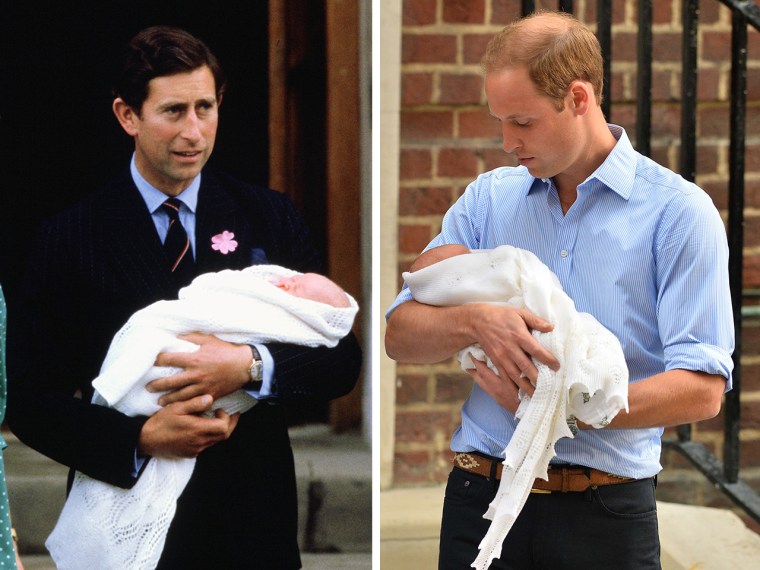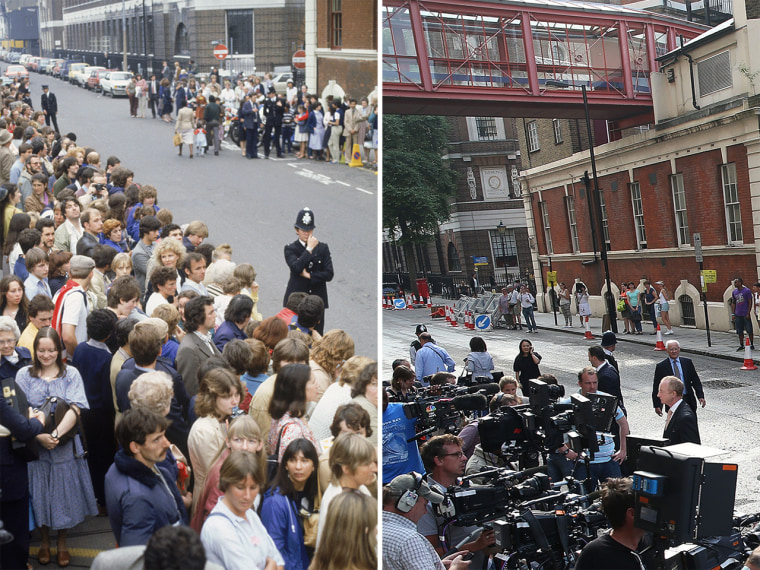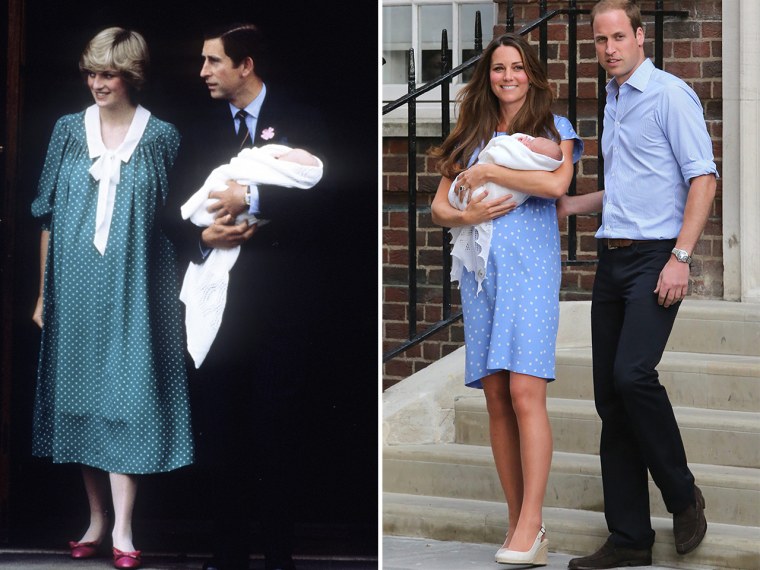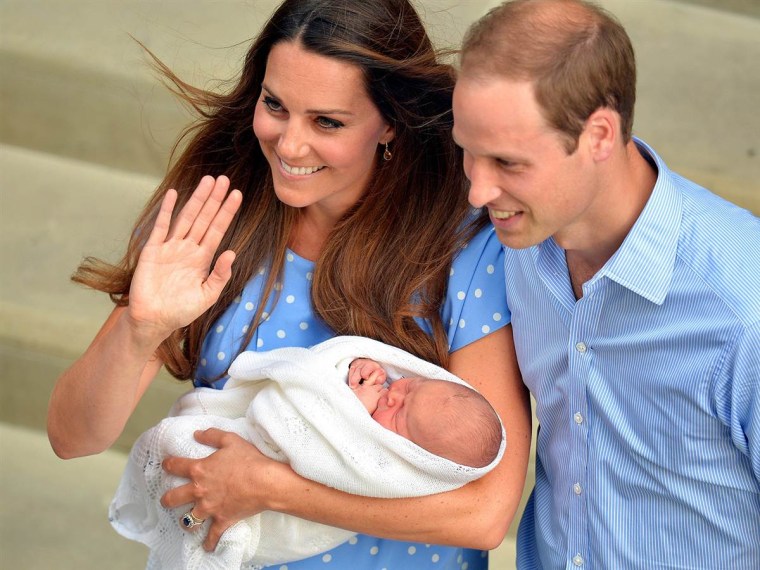 Prior to Diana's appearance, a weary but affable Prince Charles emerged from London's St. Mary's Hospital to a cheering crowd of baby watchers who had been chanting, "We want Charlie! We want Charlie!"
In a video taken by reporters, the prince appeared calm despite being immediately swallowed up by media representatives, cameramen and random well-wishers, including one who congratulated him with a peck on the cheek that left behind a smear of lipstick.

"I'm honestly relieved and delighted. It's marvelous," he said when asked how he felt about being a father. "It's rather a grown up thing I've found. It's rather shock to my system."
Much like in 1982, there was a horde of media camped outside of St. Mary's Hospital last week as the royal baby watch dragged beyond the middle of the month. Despite the heat wave that blanketed the city, journalists dutifully staked out spots that would give them the best view of the Duchess of Cambridge once she finally went into labor.
The newest royal infant, born at 4:24 p.m. local time (11:24 a.m. ET) on Monday, will be third in line to the British throne, after the child's father and grandfather, Prince Charles.

Of the latest royal birth news, Prince Charles told BBC News he was "thrilled and very excited", while Camilla, the Duchess of Cornwall, described the baby boy's arrival as "a wonderfully uplifting moment for the country". Both visited the new parents on Tuesday, chatting briefly with staff that was lined up on the steps before entering the building.
The Princess of Wales was known for her sense of style and that didn't change during her pregnancies. From William to Harry, Princess Diana continued wearing stunning looks while sporting her baby bumps.
Kate's parents, Carole and Michael Middleton, also visited the hospital Tuesday, speaking briefly to the gathered press on the way out. "He's absolutely beautiful," Carole said of the baby. "They're both doing really well. We're so thrilled."
On Tuesday, a Kensington Palace spokesman said, "Mother, son and father are all doing well this morning."
From the moment the royal couple announced in December 2012 that they were expecting, the world has been captivated by Kate's many maternity looks.