Earlier this week, we learned that visitors to Buckingham Palace would get a look at some of the late Princess Diana's personal items as part of a memorial tribute marking the 20th anniversary of her death.
But here's a glimpse at the beloved "People's Princess" that all of us can experience. Prince William, Duke of Cambridge and Prince Harry have released three new photographs from their mother's personal photo album. And for the first time, they're opening up about the last conversation they had with her: a brief phone call Princess Diana made from Paris as her sons played at Balmoral Castle in Scotland.
"I can't necessarily remember what I said but all I do remember is regretting for the rest of my life how short the phone call was," Prince Harry, who was 12 at the time, reveals in the documentary "Diana, Our Mother: Her Life and Legacy," which airs Monday on HBO in the U.S. and on ITV in the U.K. "If I'd known that that was the last time I was going to speak to my mother, the things I would have said to her."
The younger prince continued, "Looking back at it now — it's incredibly hard. I have to deal with that for the rest of my life: not knowing that it was the last time I'd speak to my mum, how differently that conversation would have panned out if I'd had even the slightest inkling that her life was going to be taken that night."
Prince William echoed his brother's sentiments. "Harry and I were in a desperate rush to say, 'Goodbye, see you later, can I go off?'" the older prince recalled. "If I'd known what was going to happen I wouldn't have been quite so blasé about it. That phone call sticks in my mind quite heavily."
The new photos show evidence of happier times: a radiant Princess Diana loving on her boys.
In one photo, Princess Diana holds a smiling toddler Prince William while pregnant with Prince Harry. Another photo shows a young Prince Harry looking positively thrilled to be getting a hug from his mom. And a last photo shows the two brothers posing on a picnic bench.
The photos will be featured in "Diana, Our Mother: Her Life and Legacy." The 90-minute film celebrates the life and legacy of Diana, Princess of Wales in the 20 years since her tragic death in a car crash.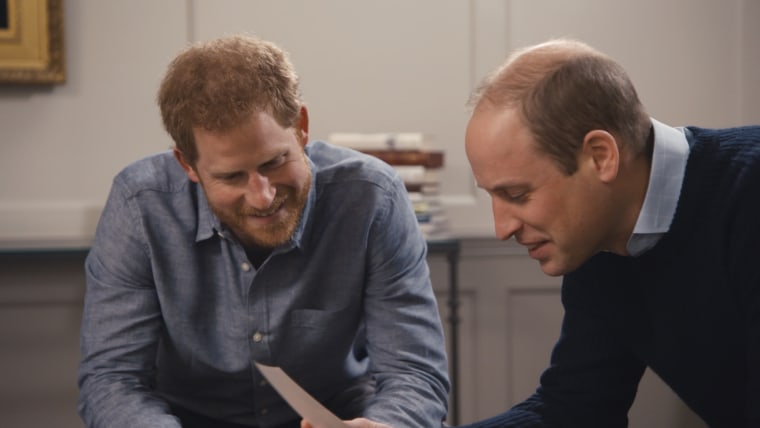 A press release tells us that in the documentary, the duke and Prince Harry will recall fond memories from their childhood as they look through photographs in a family album assembled by their late mother.
In other words, get the Kleenex ready.