Prince William keeps his mother's memory alive for his young children by "constantly talking about Granny Diana," he revealed in a new documentary about the late princess.
"We've got more photos up around the house now of her and we talk about her a bit," William said about how he teaches his children, Prince George, 4, and 2-year-old Princess Charlotte, about the grandmother they never will meet.
The prince says the task is made tougher by the fact that his mother died even before he met his wife, Catherine, the Duchess of Cambridge.
"It's hard, because obviously Catherine didn't know her so she cannot really provide that level of detail, so I do, regularly putting George and Charlotte to bed, talk about her and just try and remind them that there are two grandmothers, there were two grandmothers, in their lives," William said. "So it's important that they know who she was and that she existed."
Princess Diana, who would have turned 56 earlier this month, died in a paparazzi-fueled car chase in Paris on Aug. 31, 1997. William was 15 at the time, and Harry was 12.
In the ITV documentary, "Diana, Our Mother: Her Life and Legacy," which is airing on HBO, the two princes open up about their close relationship with their mother, sharing memories that describe her sense of humor, adventure and insistence they experience life beyond the palace walls.
They also describe the deep regret they feel over the last time they spoke with their mother. They had a phone call with her while vacationing in Scotland and she was in Paris.
"Harry and I were in a desperate rush to say, 'Goodbye, see you later, can I go off?'" Prince William recalled. "If I'd known what was going to happen, I wouldn't have been quite so blasé about it. That phone call sticks in my mind quite heavily."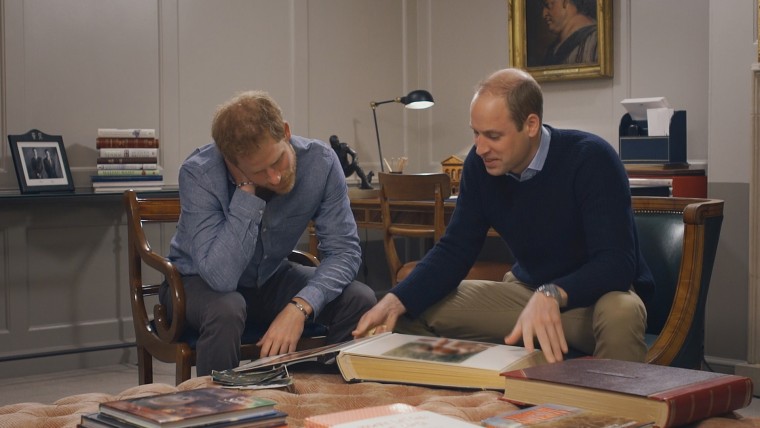 The producers of the film told TODAY they first worked with the princes while making another documentary about their grandmother, Queen Elizabeth, for her 90th birthday. The royal siblings liked what they saw and stayed in touch about future projects, including one about their mother.
"It's extraordinarily difficult stuff to talk about some of this, private and personal, but I think once they decided they wanted to make this film, to honor their mom, they were incredibly candid," director and producer Ashley Gething said Monday on TODAY.
Executive producer Nick Kent said the film touches on themes that nearly everyone can relate to.
"It's obviously a very personal film for the princes, but in some ways it's a universal film, because it's asking, how do you keep alive the memory of someone you loved and lost? And Prince Harry showed you do that, not just through looking through family photographs but the way you live your own life," Kent said, referring to the charity work Harry carries on behalf of his mother.
Leading up to Monday's debut of the documentary, Kensington Palace shared on social media a handful of pictures of Diana and the boys from a personal photo album that belonged to the beloved royal who was often called, "The People's Princess."
William explained in the documentary that 20 years after his mother's death, he and his brother felt "it was an appropriate time to open up a bit more about our mother." He also said the two probably won't ever again be as open publicly about their relationship with her.
"Hopefully this film will provide the other side, from close family and friends that you might not have heard before, from those that knew her best," he said, explaining he and his brother want to "remind people of the person that she was, the warmth, the humor, and what she was like as a mother, which probably hasn't come across before in many other pieces from other people."
He said working on the documentary has been difficult but cathartic for the royal siblings.
"Going through this process has been quite a healing process," he said. "It's been wonderfully refreshing bringing out memories and photographs and things and being able to share her and talk about her in a way that sometimes is quite difficult, but we want to share the happiness and the warmth that we had with her."