It's a prince!
The Duchess of Cambridge gave birth Monday to her first child, an 8-pound, 6-ounce boy at 4:24 p.m. local time (11:24 a.m. ET).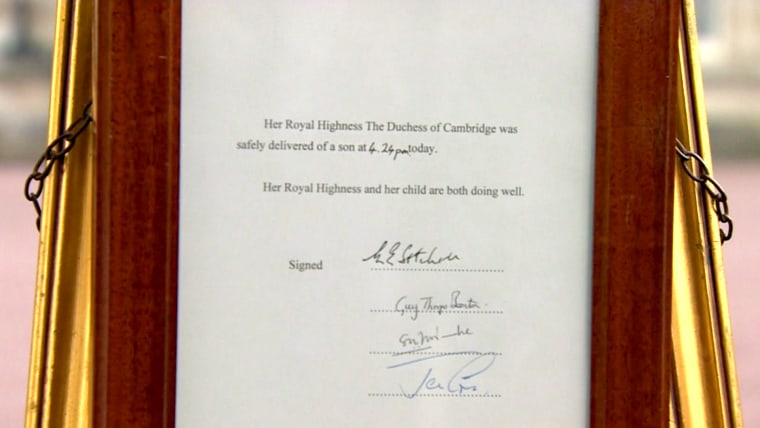 The palace revealed the news via press release at 8 p.m. local time following a hospital stay that lasted more than 14 hours at London's St. Mary's Hospital, the same facility where Princes William and Harry were born.
The baby's birth was to be announced to the world in a formal declaration placed in front of Buckingham Palace on an easel, the same one used to announce Prince William's birth 31 years ago. But the palace released the news to the media first; the formal notice was posted a few minutes later.

"Her Royal Highness and her child are both doing well and will remain in hospital overnight," the statement read.
"We could not be happier," new dad Prince William said via his spokesman. William will be spending Monday night in the hospital, his spokesman said.
The name of the baby, the palace said, will be announced "in due course." Prince William's parents, Prince Charles and Princess Diana, took a week to announce his name.
From restaurant decorations to dancing in the streets, check out how the world is celebrating the U.K.'s new royal heir.
The infant will be third in line to the British throne, after his father and grandfather, Prince Charles. He is the first grandchild for both Prince Charles and the Middleton family.

"Both my wife and I are overjoyed at the arrival of my first grandchild," said Prince Charles in a statement. "It is an incredibly special moment for William and Catherine and we are so thrilled for them on the birth of their baby boy. Grandparenthood is a unique moment in anyone's life, as countless kind people have told me in recent months, so I am enormously proud and happy to be a grandfather for the first time and we are eagerly looking forward to seeing the baby in the near future."
And according to a Buckingham Palace spokesman, "The Queen and Duke of Edinburgh are delighted at the news."
Monday evening, President Obama released a statement saying "Michelle and I are so pleased to congratulate The Duke and Duchess of Cambridge on the joyous occasion of the birth of their first child. We wish them all the happiness and blessings parenthood brings. The child enters the world at a time of promise and opportunity for our two nations. Given the special relationship between us, the American people are pleased to join with the people of the United Kingdom as they celebrate the birth of the young prince."
Duchess Kate, 31, was admitted to St. Mary's in the early stages of labor Monday shortly before 6 a.m. local time (1 a.m. ET).

According to NBC News' Jim Maceda, photographers reported seeing royal vehicles at a back entrance to St. Mary's Hospital at about 6 a.m. local time. About 90 minutes later, royal officials confirmed Duchess Kate, 31, traveled from Kensington Palace to the Lindo Wing of the hospital via car, not an ambulance.
St. Mary's Hospital is where Princess Diana gave birth to Prince William in 1982 and to his brother, Prince Harry, in 1984. The birth of William and Kate's child was overseen by a medical team that includes Marcus Setchell, 69, the Queen's former gynecologist, and her current gynecologist, Alan Farthing.
The baby's uncle, Prince Harry, remained at his military base in eastern England.

In England, thousands of Britons placed wagers on any possible detail related to the baby over the past several weeks. Interest around the world also surged as Kate drew closer to her due date, with many countries making arrangements to publicly celebrate the baby's birth.

In addition to keeping the world anxiously awaiting, the royal baby watch also kept the monarchy restless.
"I hope it arrives soon because I'm going on holiday," Queen Elizabeth joked during a July 17 visit with schoolchildren.
Just days earlier while touring a children's hospice, Camilla, the Duchess of Cornwall, also spoke about her hopes that the future king or queen would arrive.
"We're all waiting at the end of the telephone," she told the crowd.
Meanwhile, Camilla's husband expressed his eagerness about becoming a first-time grandfather.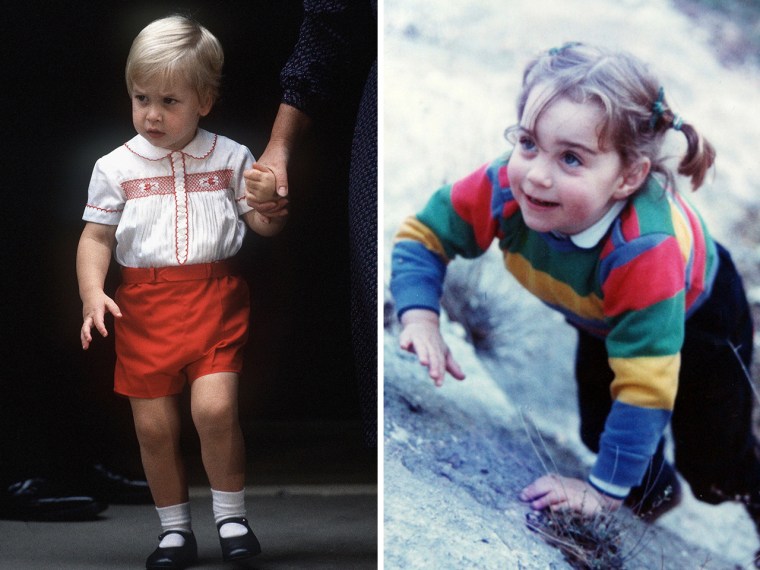 During his annual tour of Wales, a visibly excited Prince Charles took tips from a ladies' group and spoke about his plans for being an involved grandparent.
From the moment the royal couple announced in December 2012 that they were expecting, the world has been captivated by Kate's many maternity looks.
"The great thing is to encourage them. Show them things to take their interest. My grandmother did that, she was wonderful."
The Duke and Duchess of Cambridge married in April 2011, prompting almost immediate speculation over when they would have their first child. In December 2012, the world learned of the couple's pregnancy when Kate was hospitalized for several nights because of a severe form of morning sickness.
After a brief respite, the duchess returned to a schedule filled with charity visits and other public events. At every appearance, the media seized upon what she wore in search of an emerging baby bump.

Kate and Will brought their first child into the world on July 22, but they aren't the first royals to welcome a bundle of (titled) joy. Click through to check out other mini-majesties and their proud parents.
Just as she did before her pregnancy, Kate made headlines for what she wore as much as for what she did. Her maternity wear, along with the items the press caught her buying for the baby's nursery, sparked a buying craze by other expectant moms.

This updated story was originally published at 2:37 a.m. ET. TODAY's Jillian Eugenios contributed to this story.