Catherine, Duchess of Cambridge may not have accompanied her husband on his historic tour of Jordan this week, but she certainly did have a presence.
And Prince William proved that point when he visited a special area of a famed archaeological site in Jerash.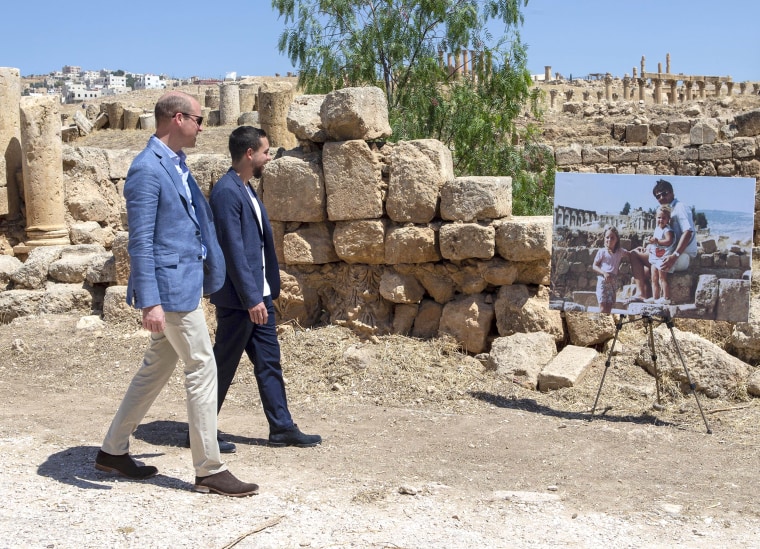 On Monday, Jordan's Crown Prince Hussein escorted the British royal to through the ruins and straight to a photo filled with a few familiar faces. As it turned out, back in '80s, when the now-duchess was simply known as young Kate Middleton, she and her family had posed for a pic in that very spot.
In the flashback photo, Kate's father, Michael, was seated on a partially eroded stone that was once part of a larger structure in the ancient city, and her little sister, Pippa, stood close by his side. As for 4-year-old Kate, she stood to his other side, to the left of the stone protrusion — which happens to be the same place Prince William posed when he reached the site.
Samia Khouri, the director of museums at the Jordan's Department of Antiquities, was on hand and told The Telegraph that the Duke of Cambridge "was very surprised when he saw the photo; he did not expect that. But that's why he was here — because he wanted to take a photo at the same spot where Kate was photographed."
And he hopes to pose there again someday with Kate — and his own kids — to properly re-create the scene.
According to the publication, the prince said, "Need to come back with the family for this shot."