During their visit to Scotland on Wednesday, Prince William and Catherine, Duchess of Cambridge, found a subtle way to pay tribute to William's late grandfather.
The royal couple arrived at a special film screening of "Cruella" for health care workers in a Land Rover that once belonged to Prince Philip, Duke of Edinburgh.
Queen Elizabeth's husband, who died at age 99 last month, loved Land Rovers and was frequently pictured behind the wheel of the rugged vehicles throughout his life. He even designed the special Land Rover that carried his coffin at his funeral.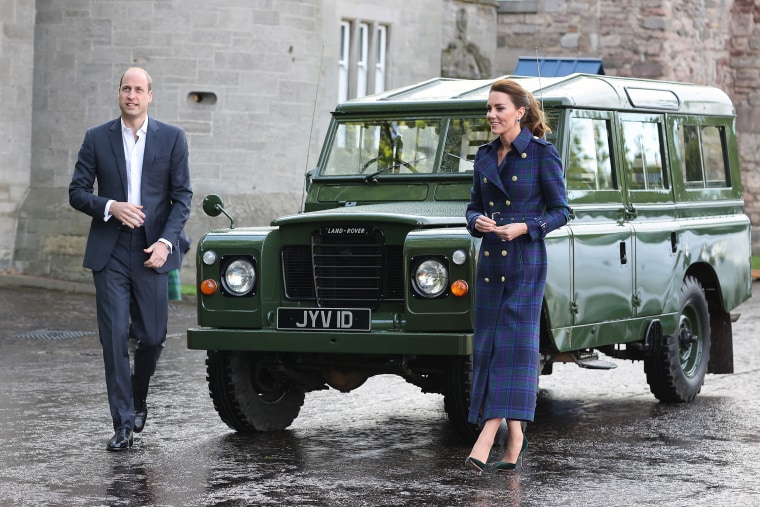 William and Kate were pictured in front of the vehicle at the Palace of Holyroodhouse in Edinburgh, where they hosted NHS Charities Together and enjoyed a special drive-in screening of the new film alongside National Health Service staff.
"William and I invite you to grab your popcorn, cuddle up under your blankets and be transported to 1970s Britain for an evening of much-deserved fun, drama, glamour and escapism! We wish you a truly wonderful evening! #Cruella," read a message from Kate on Twitter alongside a photo of the pop-up drive-in movie experience they hosted at the palace.
The couple had a packed schedule Wednesday. They started with land yachting on West Sands Beach in Scotland with members of the Fife Young Carers, an organization that helps young caregivers get a break from their roles through fun outdoor activities.
William and Kate wore yellow helmets and appeared to be having a blast as they cruised through the sand.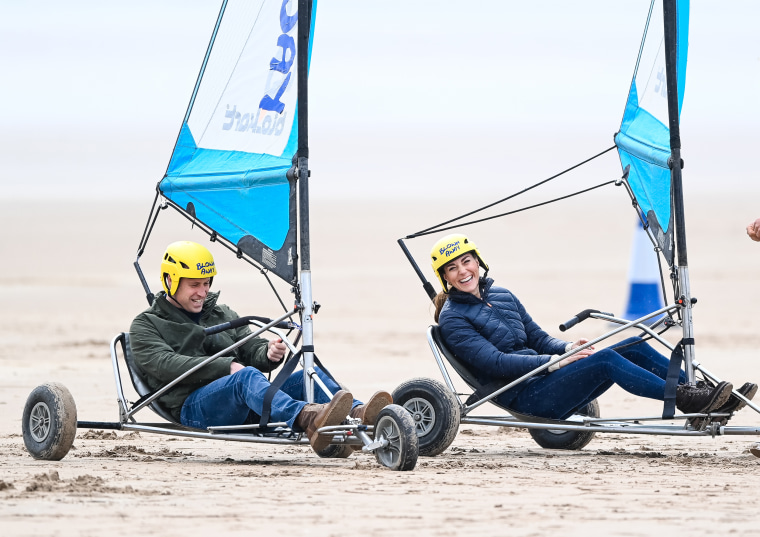 The couple, who just celebrated their 10th wedding anniversary, have a special affection for Scotland since it was where they first met.
They spent part of the day at the University of St. Andrews, where they first met 20 years ago. The couple talked with students about mental health and had a chance to check out their old stomping grounds.
When the royal tour of Scotland was announced, a spokesperson for Kensington Palace said the couple were eager to meet people and talk about how they've coped through the pandemic.
"The Duke is honoured to be fulfilling the role of Lord High Commissioner to the General Assembly of the Church of Scotland this year," the spokesperson said in a statement posted online. "Both he and The Duchess are very much looking forward to spending time in Scotland, hearing from a wide range of people on the issues they care about, and celebrating individuals who have gone above and beyond to support their communities over the past year."