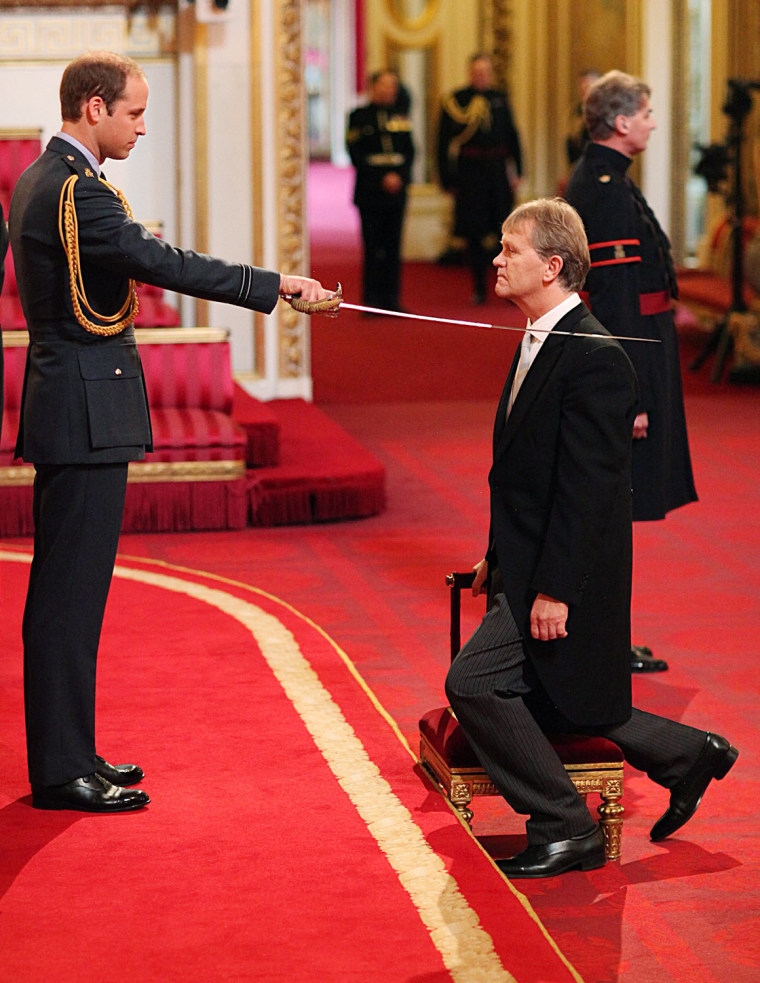 Britain's Prince William reached another milestone in his royal career Thursday by honoring scores of Brits in a knighting ceremony at London's Buckingham Palace.
Looking handsome in his ceremonial Royal Air Force uniform, the Duke of Cambridge stepped in for his grandmother, Queen Elizabeth, to help carry out the investiture of 88 recipients of various honors.
Family and friends of the honorees gathered in the grand ballroom of the palace to watch the prince —  flanked by other royal military officers — stand at attention as a live orchestra played "God Save the Queen."
William, 31, began the ceremony bestowing a medal on Professor Dame Nicola Collum for services in nursing research and wound care. Then he mastered dubbing his first knight — Sir Kenneth Gibson, honored for his work in education — by taking King George VI's sword from an attendant and carefully tapping a kneeling Gibson on each shoulder.
Take a look at the prince's life, from a privileged childhood to an exciting adulthood.
The duke awarded members of the armed services, local law enforcement, public servants, and philanthropists. Although there were many people to get through, he made a point to smile, shake hands and chat with each honoree.
The most recognizable recipient was tennis star Andy Murray, a Scot who won Wimbledon last summer and a gold medal at the 2012 London Olympic Games in his sport. Murray almost missed Thursday's ceremony, tweeting several hours before the event: "In the middle of a drug test, hahaha — I'm goin to be late!!"
But the tennis champ made it in time to receive his Officer of the Order of the British Empire medal for excellence on the court, and took a full minute to chat with William. The prince had sent Murray a note after he underwent back surgery. He hopes to be back on the court in a month.
"He just asked me about my surgery and asked me how I had been since Wimbledon," Murray told the Associated Press. He also revealed that Duchess Kate wrote to him after Wimbledon. 
"I told [Prince William] her handwriting is fantastic," he said.
William ended his military service last month and has recently been taking on more formal royal duties. He and Duchess Kate will mark the christening of their son, Prince George, on Oct. 23.