Prince Charles has teamed up with his son, Prince William, for a series of high-profile activities this week to promote their shared cause of protecting endangered wildlife.
The two royals kicked off their joint effort on Sunday with a video statement about the "unprecedented levels of killing and related violence" prompted by illegal wildlife trade.
"It now poses a grave threat not only to the survival of some of the world's most treasured species, but also to economic and political stability in many areas around the world," Prince Charles said in the statement.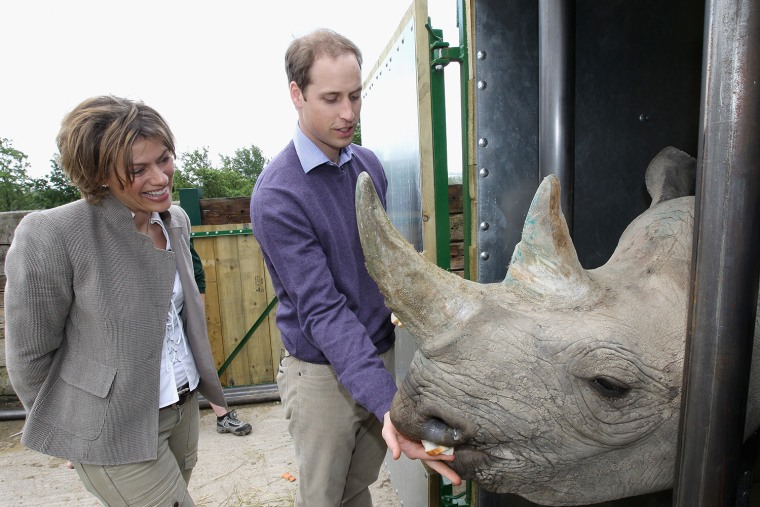 His son, the Duke of Cambridge, expressed optimism that the crisis can be curtailed and even reversed by his cohorts.
"We have to be the generation that stopped the illegal wildlife trade and secured the future of these magnificent animals and their habitats, for if we fail, it will be too late," he said.
Prince Charles and his son recorded different endings for the video, with each of them saying, "Let's unite for wildlife!" in various languages. They recorded the ending in Arabic, Vietnamese, Swahili, Spanish and Mandarin to reach as many people as possible living in the countries most affected by the illegal wildlife trade.
Queen Elizabeth may be famous for her love of corgis, but she's not the only royal to spend some quality time with members of the animal kingdom. From Camilla's close encounter with a kangaroo to Prince Harry's romp with a puppy, take a look at royals hanging out with animals.
The video was recorded last November at Clarence House, the London home of Prince Charles.
Both Prince Charles and his son are longtime conservation activists. On Wednesday, Feb. 12, Prince William will attend the United for Wildlife Symposium at Zoological Society before heading to a reception that night at the Natural History Museum to mark the beginning of London Conference on the Illegal Wildlife Trade.
The following day, both princes will participate in the conference, which will provide a forum for world leaders to coordinate a global response plan to eradicating the illegal wildlife trade.