A disabled Afghanistan veteran completing a grueling charity run through London got a special surprise at the finish line Tuesday — a pat on the back from Prince Harry.

Former Royal Marine Ben McBean, 27, who lost his left arm and right leg in a landmine blast in 2008, ran 31 miles through the British capital to raise funds for U.K. veterans' charity, the Royal British Legion's Poppy Appeal.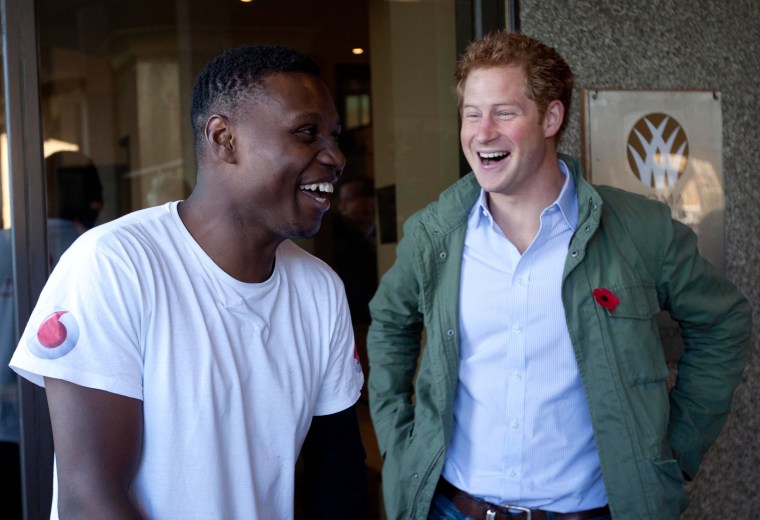 But after completing the course, McBean got an unexpected royal thank-you from the prince, who showed up to offer his congratulations in person.
Harry, 30, became friends with the double amputee after they rode on the same plane back from a tour of duty in Afghanistan. McBean, a former commando, was being evacuated and was so badly injured that medics feared he would die during the journey. But he made a tremendous recovery, and now has a career as a businessman and motivational speaker.
"I'm shocked," McBean said after being hugged and patted on the back by Harry in front of reporters. "I wasn't expecting that."
And what did the prince say to the man who he once described as "a true hero"?
"He told me to have a bath … and have a beer," McBean told ITV News.
McBean combined his running route with a smartphone to create the shape of a giant poppy on the map of London. Poppies are the symbol the Royal British Legion's annual veterans' appeal and are worn by British people in the lead-up to Remembrance Day, November 11. They represent the poppies that grow in the former First World War battlefields of northwest Europe where millions of soldiers were killed.