Goodbye, Captain Harry Wales!
Prince Harry officially retired from the British Army on Friday, ending a 10-year military career that included two tours of duty on the front lines of Afghanistan.
"The prince has had a fulfilling military career and considers it a huge honor to have served his country in the Armed Forces," Kensington Palace said in a statement Friday.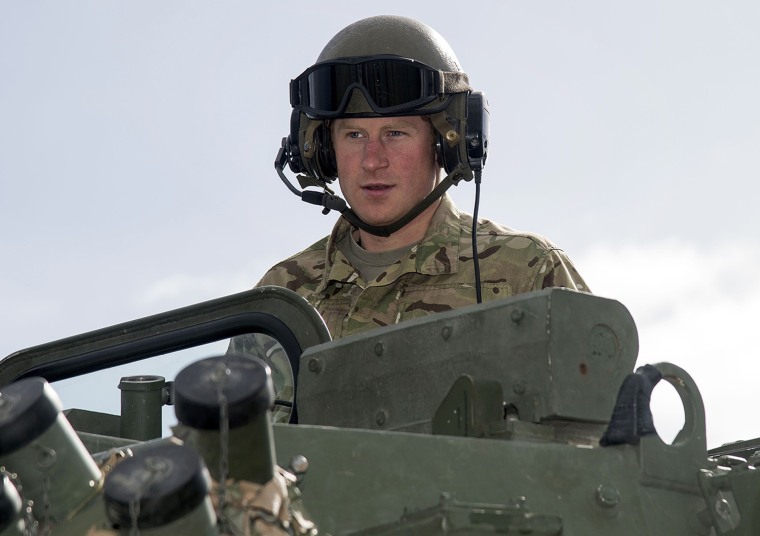 The 30-year-old prince announced his plans to retire in March, saying he wanted to spend more time helping wounded service members, battling AIDS and working with other charities he has worked closely with over the years.
Harry will spend the next three months in southern Africa to work on numerous field-based conservation projects, the palace said. His work to protect Africa's natural heritage and support wildlife and local communities will take him to Namibia, South Africa, Tanzania and Botswana. Harry shares a passion for wildlife conservation with his brother, Prince William, and their father, Prince Charles.
He then heads back to London to return to his volunteer work with the British defense ministry's personal recovery unit, where he has been helping wounded soldiers with their rehabilitation.
"Prince Harry has said that work in the service of military personnel throughout the Commonwealth will be a permanent feature of his royal and charitable duties for the rest of his life," the palace said.
His retirement also will allow him to continue supporting the work of his grandmother, Queen Elizabeth, through official engagements domestically and abroad.
Prince Harry joined the British Army in May 2005. He was first deployed to Afghanistan in late 2007 as a forward air controller. He was promoted to lieutenant in April 2008 and spent three years working his way up to become an Apache Aircraft Commander. He served his second operational tour of Afghanistan from September 2012 through January 2013.
In January 2014, he quit his job as an Apache helicopter pilot to take a staff officer role in London, where he helped organize the Invictus Games and currently works along case officers in the Army's personal recovery unit. Toward the end of his service, he engaged in a month-long deployment in Australia and a visit to New Zealand with his father.