Upon returning home to Britain Wednesday after a 20-week tour of duty in Afghanistan, Prince Harry began making headlines yet again — this time for his comments about killing Taliban fighters.
Prince Harry addressed frank comments he made while still in Afghanistan about his role in taking the enemy "out of the game" and the need to "take a life to save a life."
"I think for the thousands of guys that are on operations at the moment, we are continuing, essentially, to try and do a job — a job for ourselves, a job for the guys left and right of us, and from my point of view, especially for the guys on the ground," the royal told reporters Wednesday at Royal Air Force Station Brize Norton in Oxfordshire, England.
The 28-year-old Apache co-pilot gunner spoke has now completed two tours of duty in Afghanistan. He spoke with pride about Britain's military role there.
"We are supporting the Afghan people, supporting the Afghan army," he said. "The way that things are going are fantastic. ... Everything seems to be going in the right direction. It's very different to when I was last out there."
Meanwhile, members of the Taliban are outraged by comments the prince made earlier this week likening shooting insurgents to playing video games. On Monday, Prince Harry told reporters that "I am one of those people who like playing PlayStation and Xbox, so with my thumbs I would like to think that I am quite useful."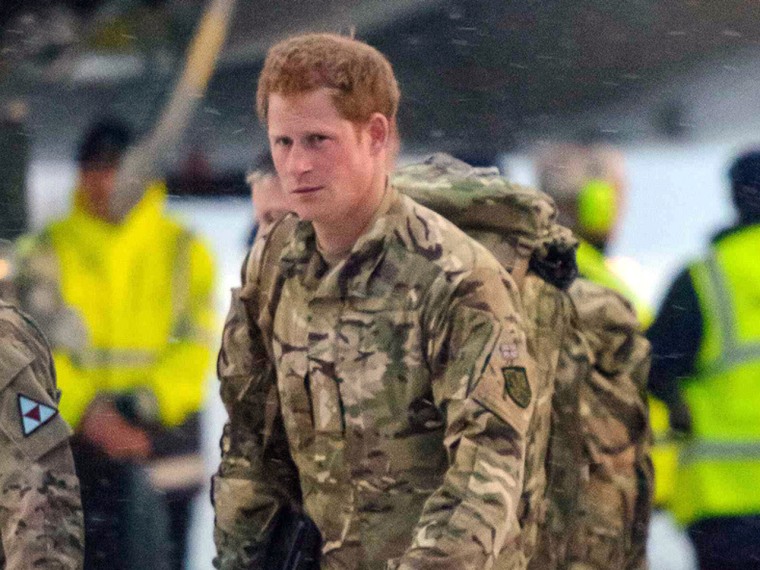 A Taliban spokesperson told Agence France-Presse that he suspected the prince may have "mental problems."
"This is a serious war, a historic war, resistance for us, for our people," the Taliban spokesperson reportedly said. "And now this prince comes and compares this war with his games, PlayStation or whatever he calls it."
For his part, Prince Harry said he's grateful for the experiences he's been able to gain while serving in the military.
"You get asked to do things that you would expect to do wearing this uniform, and it's a simple as that, really," he said Wednesday. "It's a hell of an experience."
He added that he enjoyed his 24-hour stopover in Cyprus on the way home from Afghanistan and said he is "thrilled to be back." He said he's looking forward to turning his attention toward charity work and spending time with his brother, Prince William, and sister-in-law, Duchess Kate.
"I really am longing to catch up with people behind closed doors," Prince Harry said. "You guys [the media] are not invited."
Connect with TODAY.com writer Laura T. Coffey on Facebook, follow her on Twitter or read more of her stories at LauraTCoffey.com.
Take a look at Prince Harry's life, from being cradled as a baby in the late Princess Diana's arms to his recent charity work.
More from TODAY.com: