For most people, going to war is an obligation. But for Britain's third-in-line to the throne, it's an escape.
"It's a chance to be away from you guys," Prince Harry, 28, told journalists as he sat astride a parked Apache helicopter in Afghanistan during a recent series of rare interviews. "A chance to be away from everyone."
In the uniquely candid set of interviews, the prince described life as a soldier as one of his three faces. "There are three me's," he said.  "One in the army, one sort of socially – my own private time – and then one with the family."
It was during this private time that those infamous pictures were taken in a Vegas hotel room in August.
"I probably let myself down, I let my family down, I let other people down," he admitted.  But "at the end of the day, I was in a private area and there should be a certain amount of privacy."
Prince Harry nude photos leak from Las Vegas party
But the prince seemed to feel affronted that the media invaded his privacy as he was preparing to go to a war zone and fight for his country. 
"The newspapers knew that I was going away to Afghanistan, yet still published the photos," he said.  "So the way I was treated by them I don't think is acceptable."  
Afghan Taliban threaten to kidnap, kill Prince Harry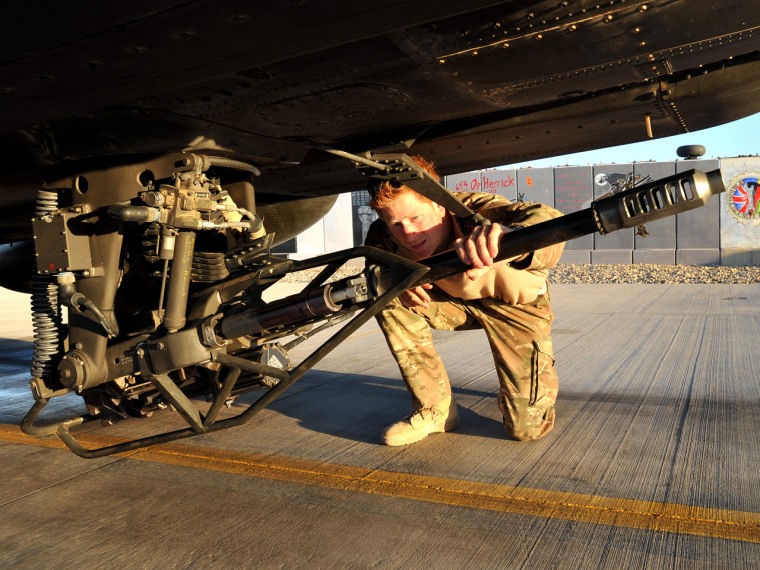 As Capt. Wales – how he is known while in the army – the prince is far from royal duties and from his sometimes scandalous private life, as well as oppressive media attention.
For four months Harry has been a gunner on board an Apache over Afghanistan.  Based at camp Bastion, he has engaged and killed the Taliban, often to protect U.S. forces, he said, adding,  "Take a life to save a life."   
"The American guys, they've been really nice to us -- had us over for Thanksgiving," he said of the British military's partners. "(We) didn't have the turkey, we had chicken instead, but still it was really nice."
Ex-'Party Prince' Harry: Combat 'changes you'
The interviews, given to a number of news outlets including NBC, were under strict embargo until the prince was out of the warzone. Unlike his last tour of duty, there was no blackout preventing the press from reporting that he was in Afghanistan this time, but an agreement was reached that media would not speculate on his deployment. 
In the interviews, the prince looked happy seeing action and being out of the spotlight.  Running through the controls of his cockpit –  "two computer screens with video, comms, mapping, fire control radar, trigger grips" –  he looked at home.
Asked about his brother Prince William and his wife Kate's recent pregnancy news, he again complained about the media.
"I think it's very unfair that they were forced to publicize it when they were, but that's just the media for you," he said in an apparent reference to the media environment and not one news outlet in particular.
Given how striking Harry's distrust of the media is, many might be surprised to learn that he reads articles about himself.
"If there's a story and something has been written about me I want to know what's being said, but all it does is upset me and anger me that people get away with writing the stuff they do," he said.
"My father says don't read it because it's always rubbish," he added.
Asked how far back the mistrust goes, the prince said:  "I think it's fairly obvious how far back it goes, it's when I was very small." 
It was a poignant answer for a young man who lost his mother Princess Diana in a car crash while she was being pursued by paparazzi.
Sometimes his mistrust is blatant, and he tells the camera crew filming with him: "I never wanted you guys to be out here."
Despite this, he shows a television crew the cot where he spent Christmas in this army camp in southern Afghanistan.  The third-in-line to the British throne spent much of his time in Afghanistan camping in a room so makeshift that it was once a gym.  "Please replace the weights after use," reads a sign on the wall.
Prince Harry clearly loves his life in the army, and is disarmingly grateful for it.
"Obviously (after) not going to university, the army presume you to be less intelligent, which is nice of them," he said, then laughs and adds: "It's probably true." 
He hints at his preference for being a soldier:
"Once you are wearing the uniform you are part of the gang.  I am the Queen's grandson and all that good stuff and I love representing her, but to be honest with you and as far as I can see it, and as far as William sees it as well, our service towards our country in the military in whatever shape or form it takes will always come first."
Harry has already served twice the time he had planned to in the army, and will not be drawn on when it might all end.
"It's tucked away. It's quieter for me.  It's an easier way of life," he said.
And when he's called up again – another chance to escape the cameras.
Follow NBC correspondent Keir Simmons on Twitter.
More:
Ryan Lochte dishes on Vegas party with Prince Harry
Wedding for Prince Harry? Not 'for a long time'