Prince Harry is a member of the royal family and fifth in line to the British throne. But among the injured war veterans at the Invictus Games, the international Paralympic-style competition for veterans he founded, he's just another serviceman.
"Yes, fine, I'm Prince Harry. But to me, I'm Captain Wales, and to them, I'm Captain Wales," the 31-year-old Prince told TODAY's Jenna Bush Hager on Sunday TODAY. "These are people — soldiers — 15 different nations, that I've served in Afghanistan with. We've all signed up to serve our country, and some of us have been less fortunate than others."
Sitting down in Orlando, Florida, where the third Invictus Games kick off Sunday, Prince Harry described the inspiration for the games he helped found.
RELATED: 'It's always in there': Prince Harry says he gets flashbacks from Afghanistan
"I got pulled out of Afghanistan after 10 weeks," he said. On his plane home was a Danish soldier who lost his life in thew war. "His coffin was on the same plane. And once we had taken off, I opened up the curtain to find three young British soldiers, all in induced comas, strapped to stretchers, wrapped in plastic, tubes coming out of their mouth."I just spent a little bit of time sitting there, looking at them, taking it all in. So, that's where it all started for me and I realized I had to do something."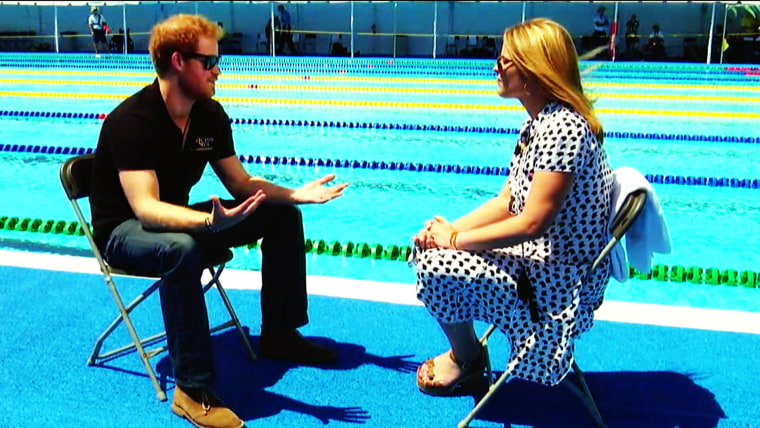 More than 500 athletes from around the world are expected to compete at events taking place all next week. To help promote the Games, Prince Harry has spoken frankly about the impact his military service had on his life, revealing the he still suffers from flashbacks from his service in Afghanistan, where he worked as an Apache helicopter pilot flying rescue missions.
RELATED: Queen Elizabeth, Prince Harry reply to mic drop challenge
But the Invictus Games also has brought out opportunities for fun. Last week, soon after he arrived in Florida, the prince took time to play in a charity polo match, which raised money for his charity, Sentable, which helps HIV-positive children in Lesotho.
And of course, the lead-up to the games included the mic drop heard around the world, from none other than Queen Elizabeth herself.
Watch more of Prince Harry's sit down with Jenna Bush Hager on TODAY Monday.