Prince Harry has long been passionate about supporting injured servicemen and women. He's the patron of the Invictus Games, a multisport event for wounded veterans that he launched in 2014, and just last month, he helped build homes for U.K. vets in need.
But on Wednesday, Harry brought his passion across the pond.
The royal, who retired from the British Army in June, joined First Lady Michelle Obama to visit wounded members of the military at Virginia's Fort Belvoir.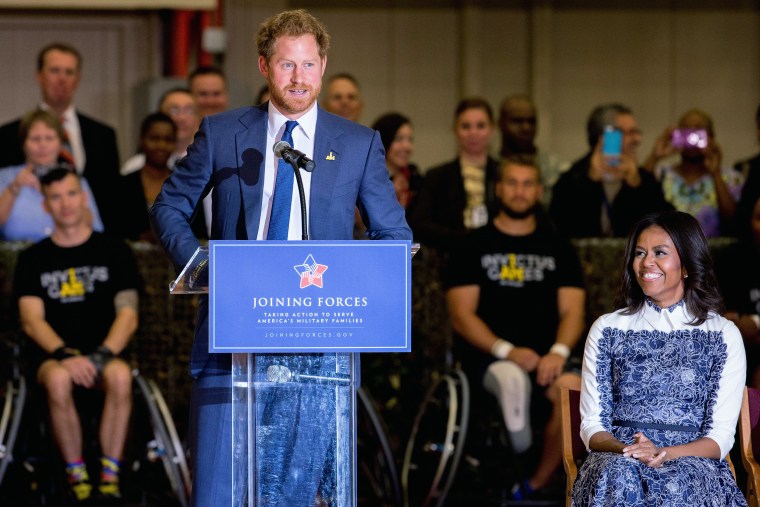 "I am in no doubt that my two deployments to Afghanistan changed the direction of my life," Harry said while at Fort Belvoir. "There is very little that can truly prepare you for the reality of war. The experiences can be stark and long lasting."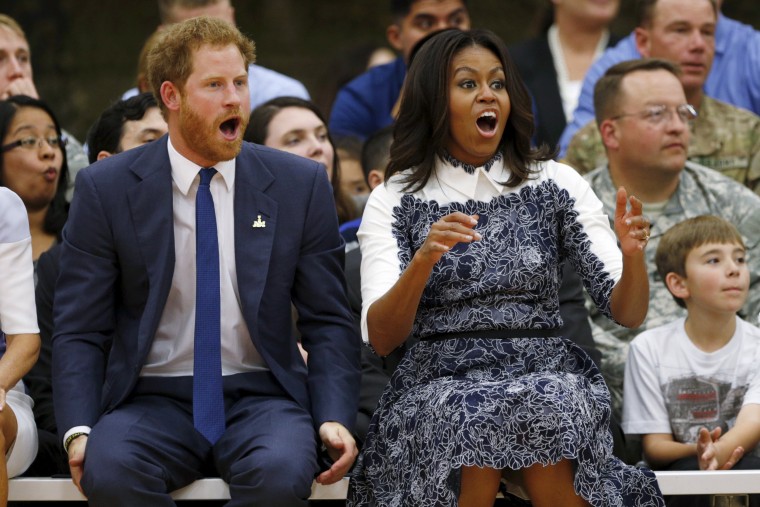 The prince said that his calling came after sharing a flight home with his injured compatriots during his first deployment.
"From that moment, I knew I had a responsibility to all veterans, who had made huge personal sacrifices for their countries, to lead healthy and dignified lives after service," he explained.
Dr. Jill Biden, wife of Vice President Joe Biden, was also on hand as Harry toured the USO Warrior and Family Center, a facility that offers assistance to injured or ill troops and those who care for them.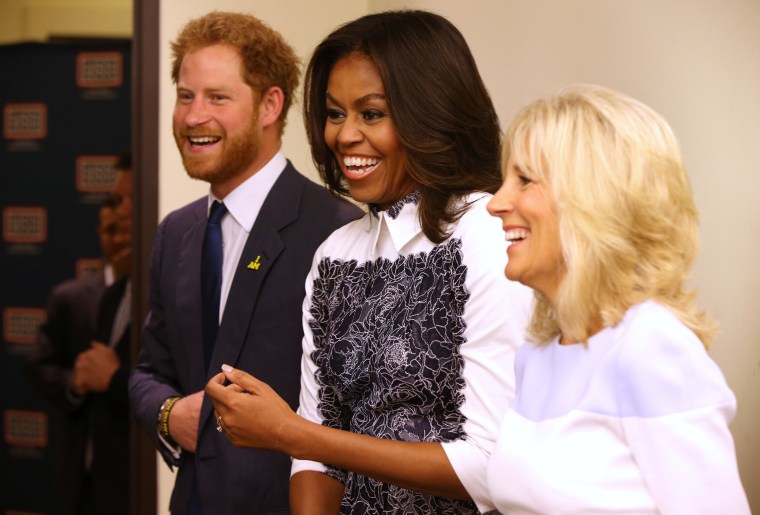 "To him, our wounded warriors aren't just a distant cause," the first lady told a crowd gathered there. "To him, they're brothers and sisters in arms."
The prince also visited Washington later in the day to attend a board meeting for the Invictus Games, which will be held in Orlando next year, and he met with the president.
During his stop at the base, the prince, the first lady and Biden sat courtside at a wheelchair basketball game.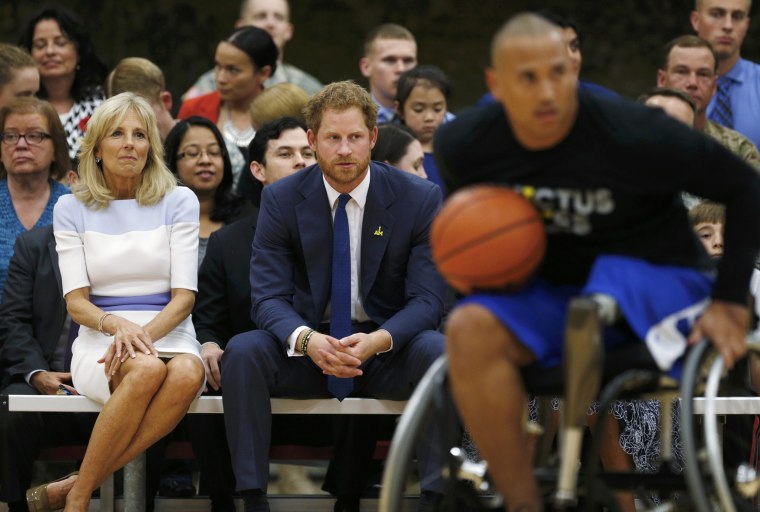 The sport is one of the events at the Paralympic-style games.
During a speech to the athletes, Harry threw out a friendly challenge to his American competitors.
"You better bring it, USA," he said.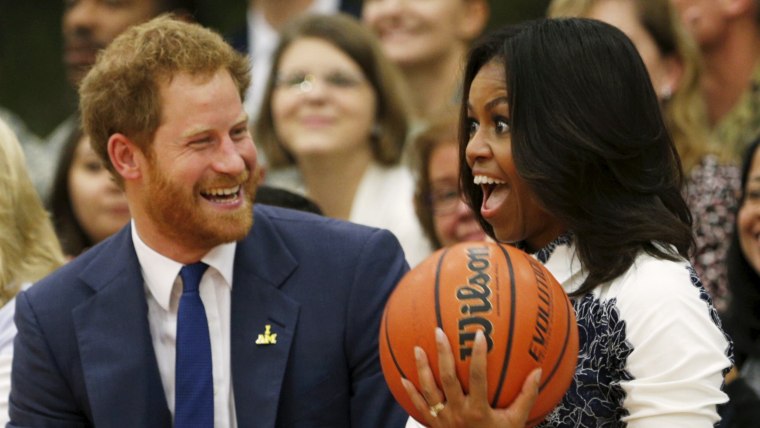 MORE: Prince Harry in a hard hat? See what tough work the royals are tackling
Army Specialist Sydney Davis, who battles post-traumatic stress disorder, stressed the importance of sports therapy and the Invictus Games when she spoke to TODAY.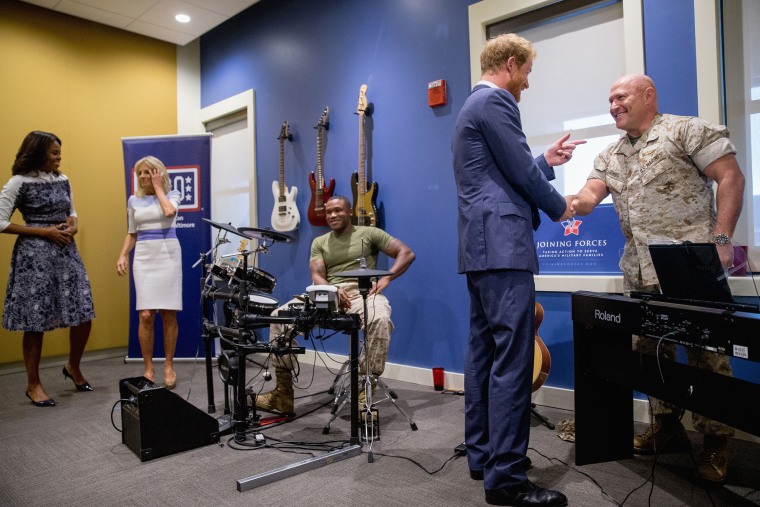 "It pulls you out of that hole that you're in, and you start to see your depression lessen," Davis said.
MORE: Prince Harry brings Invictus Games for wounded vets to America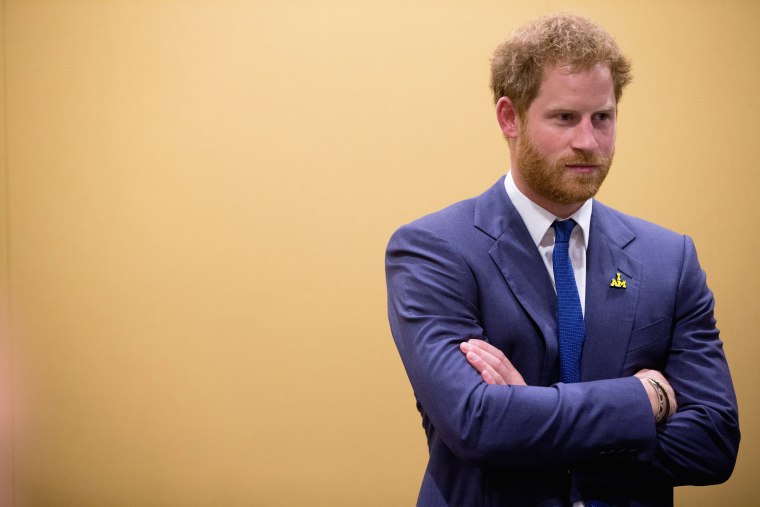 It was a short visit for Harry, who arrived in the U.S. Tuesday night and will depart Wednesday evening.
The Invictus Games Orlando 2016 will take place from May 8 through 12.