As Queen Elizabeth II's annual birthday celebration, Trooping the Colour, was in full swing for all to watch on Saturday, one small group of people were so clearly having the best time: the young royals!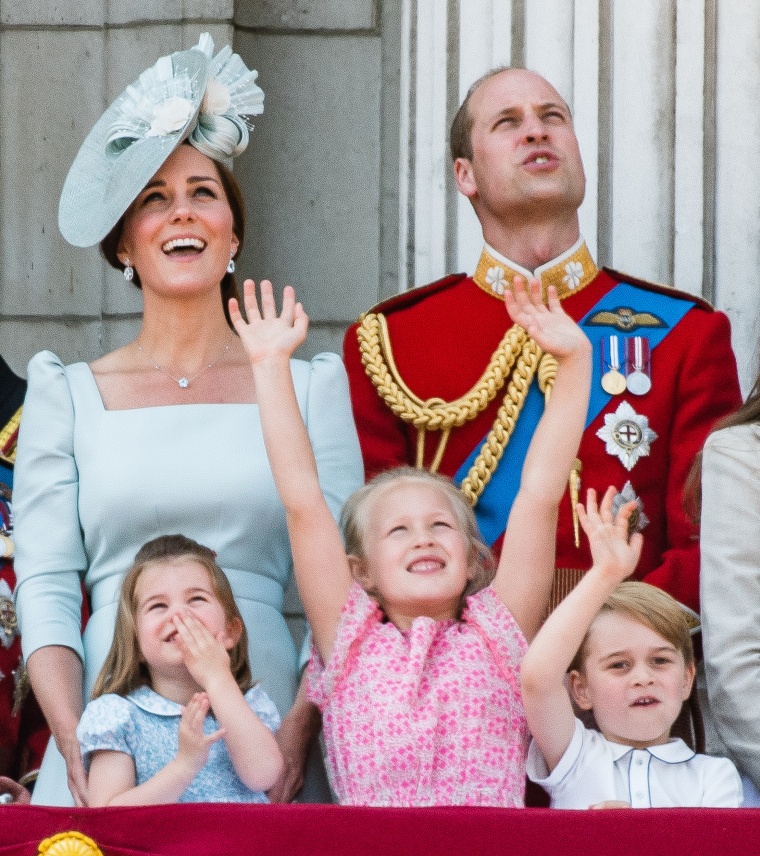 Prince George, 4, and Princess Charlotte, 3 — the two oldest children of the Duke and Duchess of Cambridge — were seen on the balcony of Buckingham Palace with the rest of the British royal family to wish the queen a happy 92nd birthday. (Newborn Prince Louis was not in attendance.)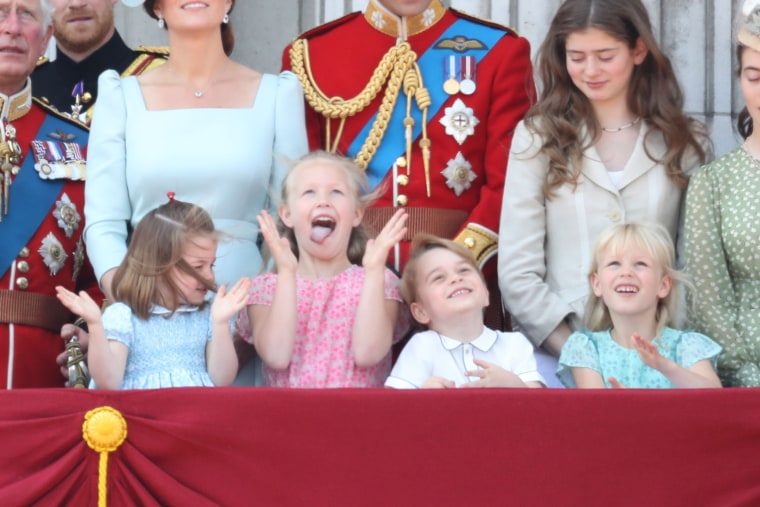 Appearing before cheering crowds, and more than 1,400 soldiers, 200 horses and 400 musicians, the prince and princess were "ooh"-ing and "aw"-ing at the beautiful flypast, all while playing around with cousin Savannah Phillips, 7, Peter and Autumn Phillip's eldest daughter.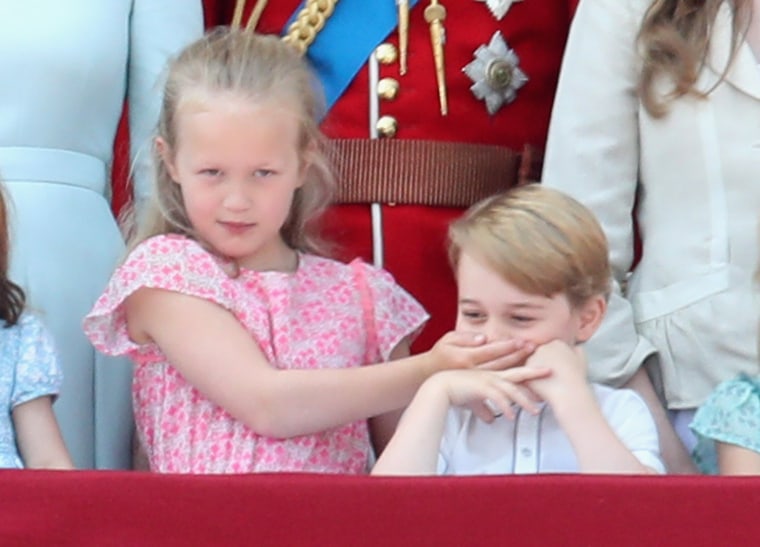 Trooping the Colour is an annual parade to honor the birthday of the British Sovereign. The queen was actually born on April 21, but the big event usually occurs on a Saturday in June so that it can take place in the summer. (It's been this way for over 260 years.)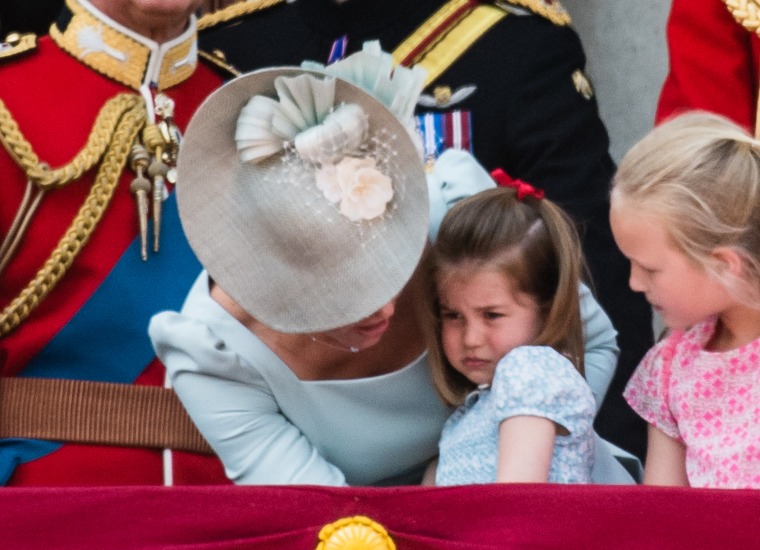 During the event, many eyes were also on Meghan, Duchess of Sussex who experienced the pomp and pageantry of the ceremony for the first time, just three weeks after marrying Prince Harry.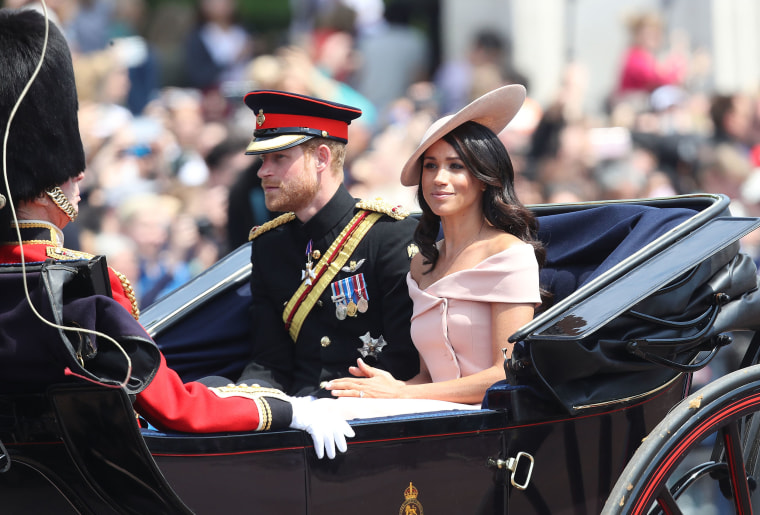 The former Meghan Markle arrived with new husband Harry in a carriage, looking sleek and sophisticated in a pale pink dress by Carolina Herrera and a hat by Philip Treacy.
Her sister-in-law, Catherine, Duchess of Cambridge, was not far behind the newlyweds, sharing a carriage with Camilla, Duchess of Cornwall. The former Kate Middleton wore a light blue dress by Alexander McQueen and a hat by Juliette Botterill.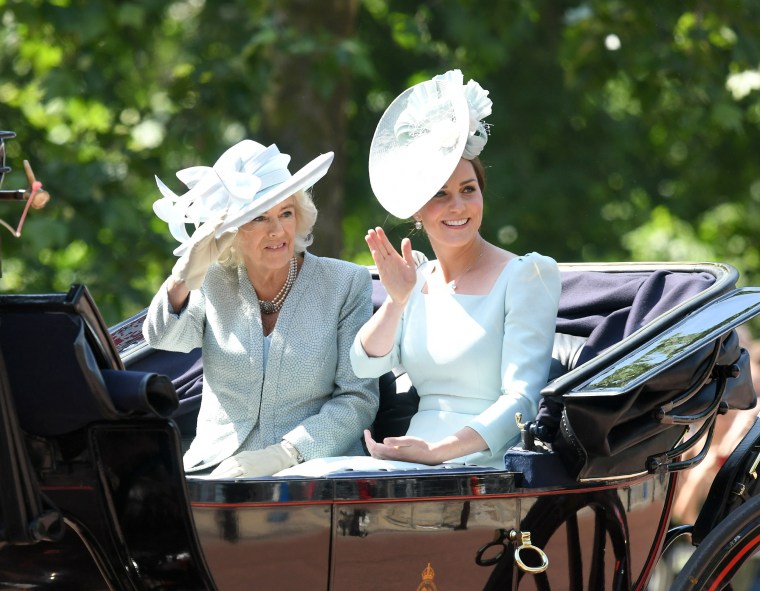 Both Catherine and Camilla were sans husbands since both Prince William and Prince Charles were riding horseback in the parade, accompanying the queen (who used to ride on horseback herself, but in recent years has traveled by carriage.)
Queen Elizabeth II, wearing a blue dress and festive hat, seemed in good spirits. Her husband, Prince Philip, Duke of Edinburgh, did not attend the event as he has retired from official public duties. He will be celebrating his 97th birthday on Sunday.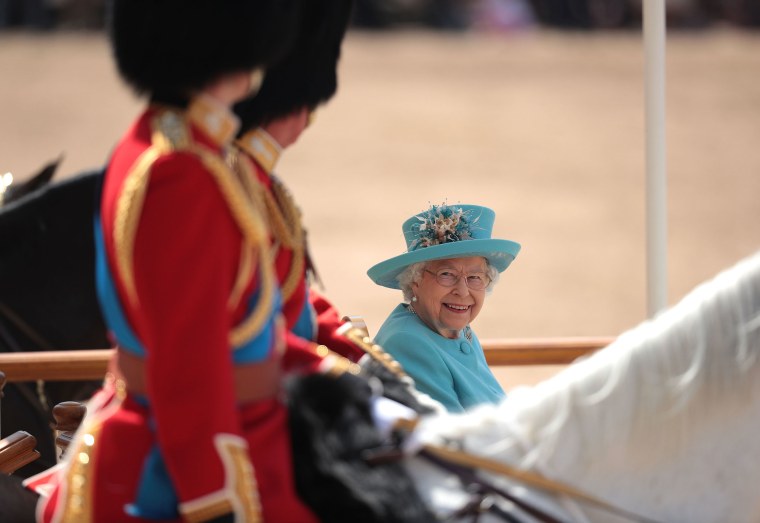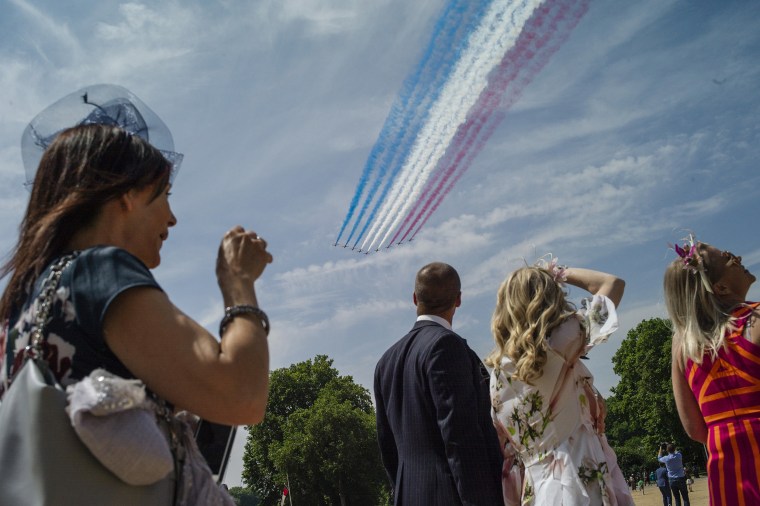 The ceremony included music from love bands, a 41-gun salute and an air show that decorated the sky with blue, white and red smoke — officially one-upping your backyard birthday party with the pinata.