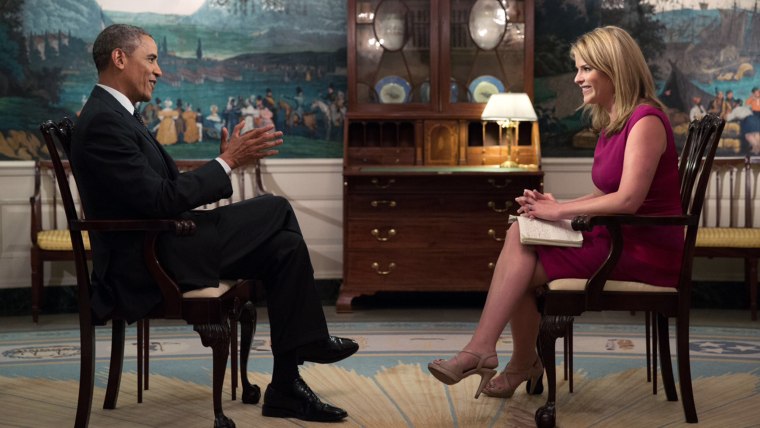 As Father's Day approaches, President Obama shared his thoughts about fatherhood and raising kids in the White House during an exclusive interview with TODAY's Jenna Bush Hager, who knows what it's like to have a dad who is the commander-in-chief.

Obama said his two daughters, Malia, 15, and Sasha, who turned 13 this week, would describe him as a good, fun dad who "teeters on the edge of being embarrassing sometimes."
WATCH: President Obama gets personal about his childhood
"The one thing the girls know about me is I love 'em to death," Obama said. "Younger parents… ask me why it is that Malia and Sasha turned out so well. I say, 'Well, first of all, you know — marry somebody who's going to be a great mom,' which I did. But second of all, unconditional love sure makes a difference."
While he had little contact with his own father, Obama said he decided as a young adult that he would make sure to be there for his own kids. So even as his political ambitions grew and his schedule became more hectic, he tried not to miss parent/teacher conferences, ballet recitals or soccer games.  
Obama said he enjoys "a good, close relationship" with his daughters and keeps the lines of communication open, though he noted that Malia talks to him a little more than Sasha, perhaps because Sasha finds him a little more embarrassing, Obama admitted with the weary insight of a father of a teen.
"I think they would say that I am good, fun dad who teeters on the edge of being embarrassing sometimes," Obama said. "As Malia put it, I'm right on the edge but I usually stay on the right side of the edge of being funny rather than totally humiliating to them."
But he and Mrs. Obama have always sought to be the girls' parents, not just their buddies, setting firm rules, the president said. The First Couple worried at one point the girls would "start getting an attitude" inside the privileged bubble of the White House, but Obama said he's very pleased that hasn't happened.
"They don't take this for granted. I think they understand that this is a moment in time… overall, I think they're really thriving," Obama said.
"These days, we really don't have to do a lot of parenting. We're almost like coaches now. They've gotten to the point now where they've got their acts together and we really don't have to check on their homework or nag them too much about stuff. They handle their business, so we're really proud of them."

Obama is also proud that despite the media glare and constant Secret Service presence, his daughters have been able to lead pretty normal lives and grow into strong, confident young ladies. The girls have great friends, Obama noted. They host sleepovers, go to the mall, see the movies, attend football and basketball games, and play sports.
Hager noted that for her and twin sister Barbara, it was often hard to handle public criticism of their father, George W. Bush. "It was hard to listen to people criticize our dear dad. Can they stay away from that, or do they take the criticism to heart?"
Obama said the girls don't really feel deeply burdened by "chatter in the news" because it's not part of their lives. "Up until recently they have shown absolutely no interest in what I did."
Now that Malia is getting older, he said, political discussions are becoming a bigger part of her life. "But I think she has a pretty good head on her shoulders, partly because during dinner time, we talk. And I explain to them, 'Here's why I made a decision that I made'... And so in some ways, they're getting a sense of how I think through problems."
Obama said he appreciated the note that Hager and her sister wrote to Sasha and Malia before his inauguration, and noted that Chelsea Clinton has also reached out. "You guys are a fairly exclusive club of people who had to put up with this nonsense and turned out to be just amazing young women. So it makes me a little more confident and optimistic about how things can turn out."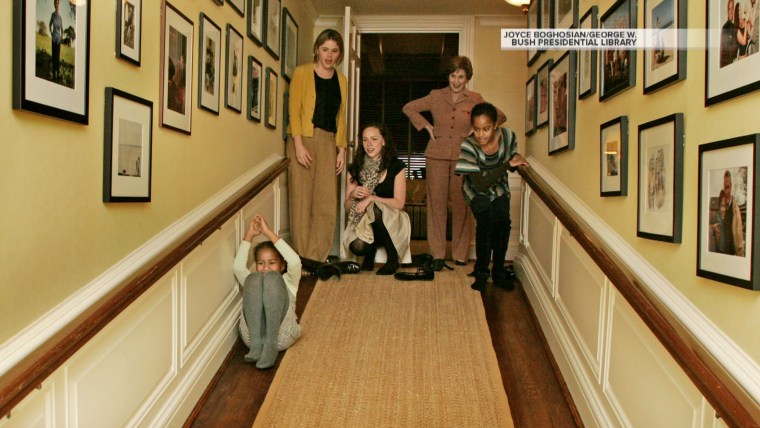 Hager added that she taught the Obama girls how to slide down the bannister in the White House: "So you can thank me later."
And now that Obama's daughters are entering dating years, the main advice he gives them about interacting with boys is that they should expect to be treated with respect. "They've got their heads on straight. They've seen their mother's example," he said. "They're strong, confident young ladies."
As Malia and Sasha blossom into young women, Obama is realizing they will be setting off on their own soon, so he tells new dads to be aware that the time goes by quickly.
"Don't just spend time with your kids because it's good for the kids; understand that there's nothing that's going to be more precious in your life and you are going to savor every memory," the president said.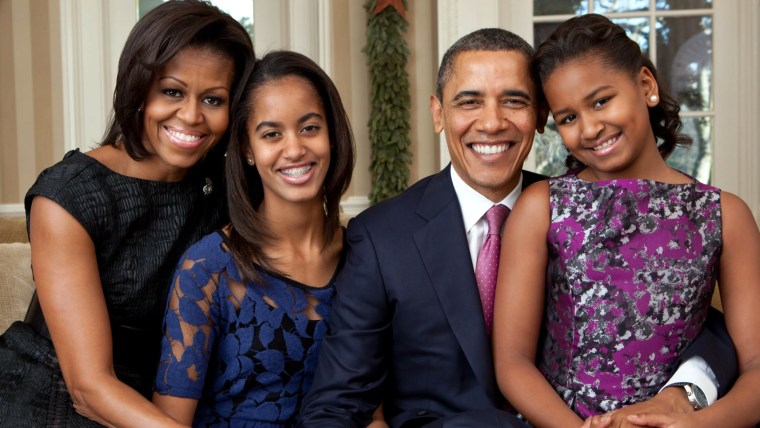 "When you're on your death bed, that's the stuff you're going to remember: you holding hands with your daughter and taking them to the park and pushing them on a swing and hearing them laugh… You just want to make sure you don't miss out on that."
Obama also discussed his initiative My Brother's Keeper, which provides support for young minority men. Many aren't doing well, partly because their dads aren't around, and partly because they don't have networks of support, Obama said. The goal is to try to break that cycle through mentoring, internships and other ways to get them on the right path.
"We want to encourage fathers to get into their children's lives," Obama said. "Parenting is the biggest, most important project you have."