President George H.W. Bush, the 41st leader of the United States, passed away on Friday, according to a statement from the Bush family released early Saturday morning.
In a statement on Instagram, son President George W. Bush, shared the news:
"George H.W. Bush was a man of the highest character and the best dad a son or daughter could ask for. The entire Bush family is deeply grateful for 41's life and love, for the compassion of those who have cared and prayed for Dad, and for the condolences of our friends and fellow citizens," he wrote.
In the photo, his father and mother, the late Barbara Pierce Bush embrace. The former first lady passed away in April at the age of 92.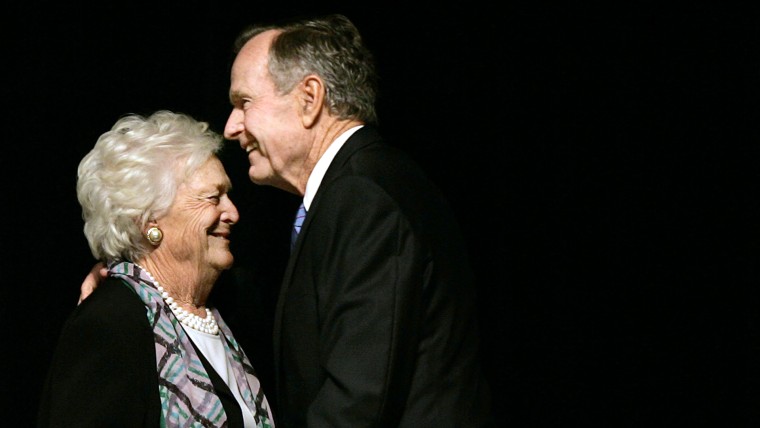 President George H.W. Bush shared many personal moments with TODAY over the past years. He celebrated his 90th birthday with a sky dive, recalled overcoming the sting of a presidential election loss and repeatedly flashed his undeniable sock appeal.
Bush discussed many of those moments during interviews with TODAY correspondent Jenna Bush Hager, one of his 17 grandchildren (from five living children; a sixth sibling died in early childhood) who fondly, and famously, called the nation's 41st president "Gampy."
Here's a look back at some of those moments.
1. Babysitter-in-chief
Jenna interviewed her grandfather in a sit-down along with her father, President George W. Bush, to talk about the biography he wrote, "41: A Portrait of My Father."
The three recalled how the elder Bush spent the night before a 1988 debate with Democratic challenger Michael Dukakis babysitting Jenna and looking for her sister's lost — and beloved — stuffed animal. Jenna said the incident demonstrated how he always put family first.
"You are a great grandfather," she told him. (And in both senses of the words: Bush is also survived by seven great-grandchildren.)
2. Learning from defeat
In 2012, during an interview to mark his 88th birthday, the elder Bush spoke to Jenna about how much losing his presidential re-election campaign in 1992 to Bill Clinton hurt him.
"A terrible feeling, awful feeling. I really wanted to win and worked hard. And later on people said, 'Well, he didn't really care,' which is just crazy," he said. "I worked my heart out. It was terrible to adjust but then you figure, well, life goes on. You do what the next challenge is."
3. His 90th birthday skydive
To commemorate his 90th birthday in 2014, the thrill-seeking president celebrated the occasion with his eighth sky-diving trip, similar to jumps he took for other milestone birthdays, including his 80th and 85th.
Bush acquired his love for sky diving while serving as a Navy pilot during World War II, and continued to pursue the sport — even though his first jump didn't go well.
"I did it wrong,'' he said. "I pulled the ripcord too early and hit the tail of the plane with my head, just [taking a] glancing blow. I've decided that later on, well, I want to do it right. And so that did spark my interest in making another jump."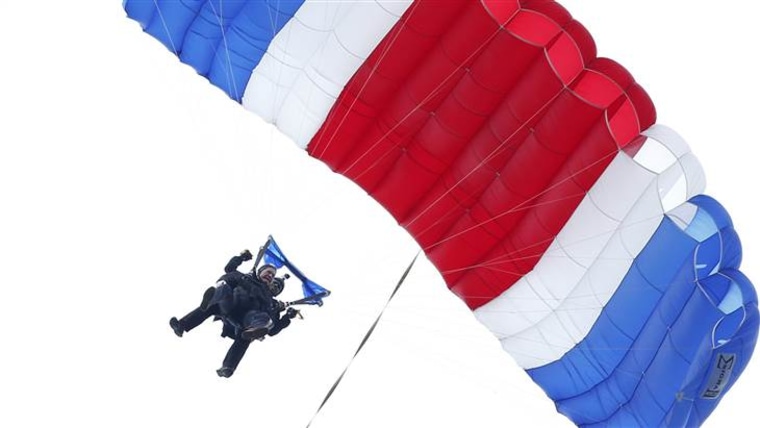 4. 'It was the right thing to do'
In addition to his wife, children, grandchildren and great-grandchildren, Bush had also described being close with his security detail.
"They're a wonderful group of people," Bush said. "They're like family with us."
That's why when more than 20 Secret Service men in his unit shaved their heads to show support for one of their member's son, who was battling leukemia, Bush did the same.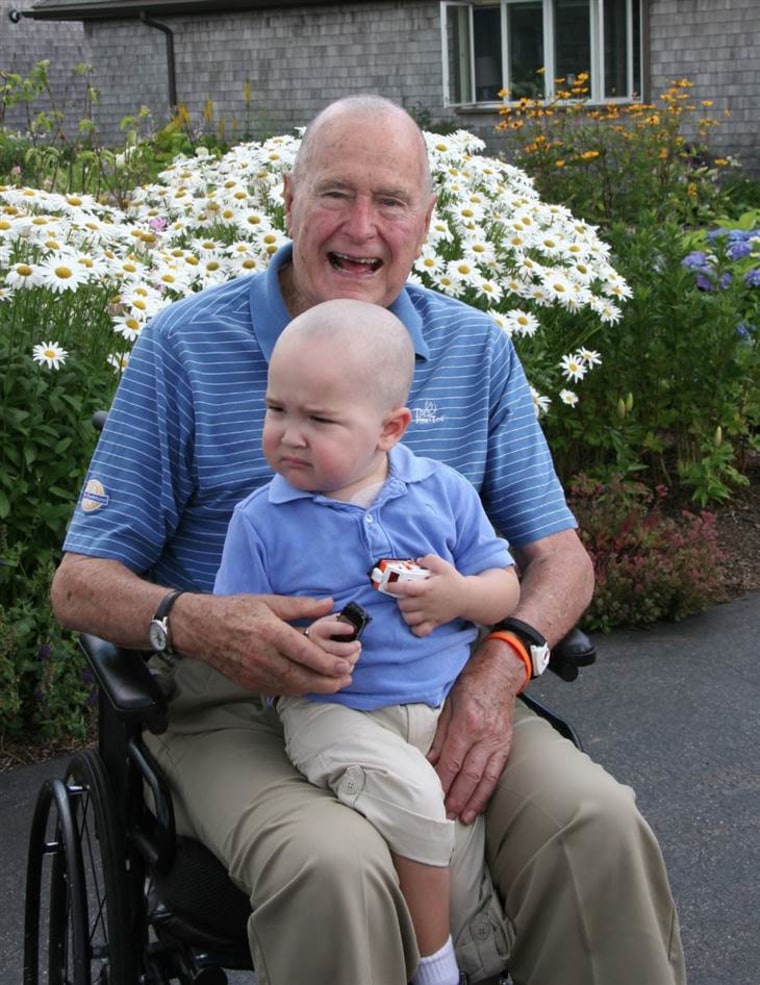 The act touched many hearts after a photo of the bald Bush and the 2-year-old boy on his lap went viral, but the for the former president, who lost a young daughter to leukemia, it was a no-brainer.
"I said, 'Well why not me?' It was the right thing to do," he said.
Mrs. Bush was moved when she saw her husband's new 'do, too.
"I was shocked, surprised and thrilled," she said. "But I think he looks beautiful and looks younger."
5. 'I love a good sock'
Beyond being known for political service and history, Bush also earned a reputation over the years for his personal collection of bright and decorative attire — on his feet.
"I love a good sock," he told Jenna in an interview.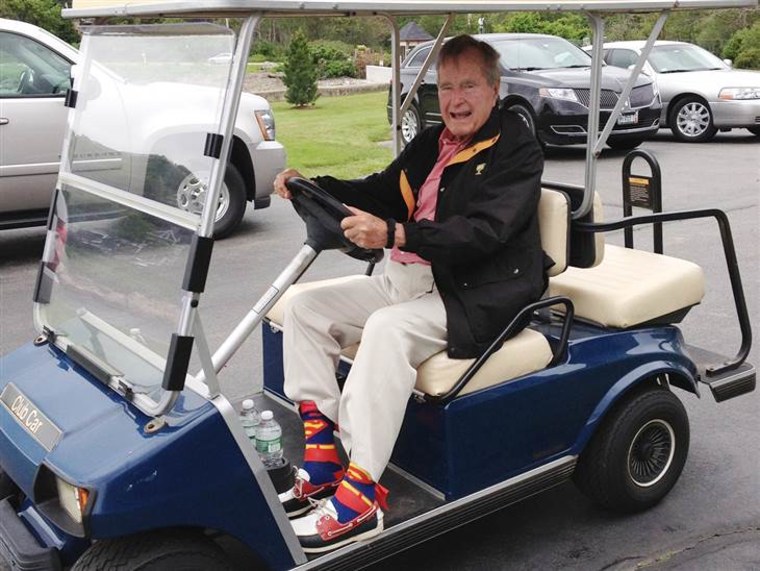 And the nation loved him for the fetish: When the George Bush Presidential Library Foundation asked folks to snap a picture of their favorite, most colorful socks and post them online in honor of the former president, Americans responded enthusiastically, digging deep into their sock drawers.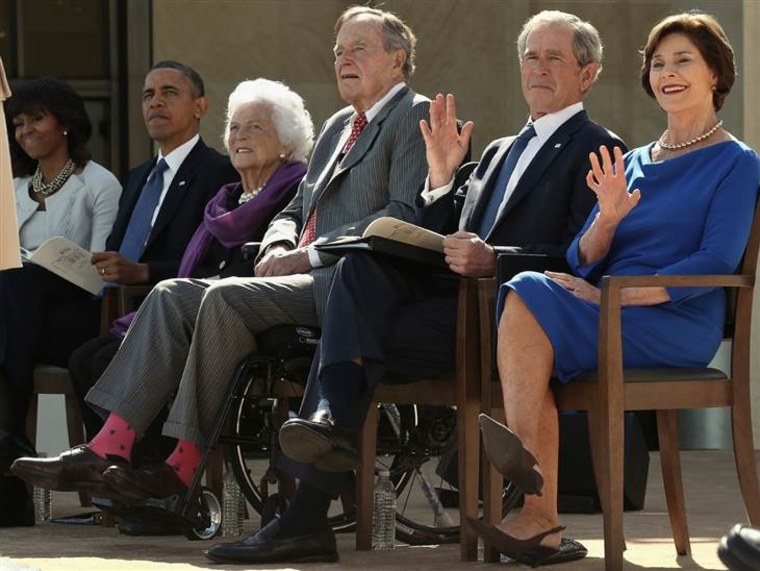 Jenna once compared her grandfather's sock-love to that of Justin Bieber.
"Is he a sock man?" Bush said with a wry smile. "I don't know much about the Bieber. Never seen him. I don't know what he does."
6. 'History will get it right'
In all his moments with TODAY, Bush expressed a peace with the life he lived yet refused to define, at least in terms of legacy.
"I've kind of banned the use of the 'l' word, legacy word. I think history will get it right, point out the things I did wrong and perhaps some of the things we did right," he said.
"I'm sure I could have done a lot of things better, but it's been a fulfilling time in my life, and a lot of experiences, including being president of the United States,'' he said. "Not too shabby. It was an interesting time, and I enjoyed it all, enjoyed life and all."