Former President Bill Clinton feels he's apologized enough over the Monica Lewinsky scandal and said he has no plans to directly ask the former White House intern for forgiveness.
"I do not. I have never talked to her. But I did say, publicly, on more than one occasion, that I was sorry," he told TODAY's Craig Melvin. "That's very different. The apology was public."
Clinton reflected on Lewinsky against the backdrop of the #MeToo movement as he and author James Patterson sat down with TODAY to discuss their new thriller, "The President Is Missing."
While some Democratic leaders, including Sen. Kirsten Gillibrand of New York, have suggested that Clinton should have resigned at the time, the former president defended his decision to instead fight impeachment charges. He said he wouldn't have changed his approach, in light of #MeToo.
"Well, I don't think it would be an issue. Because people would be using the facts instead of the imagined facts. If the facts were the same today, I wouldn't," he said.
In 1998, Clinton first denied, but then admitted to having an affair with Lewinsky, a scandal that launched a lengthy investigation and resulted with the second-ever presidential impeachment in United States history.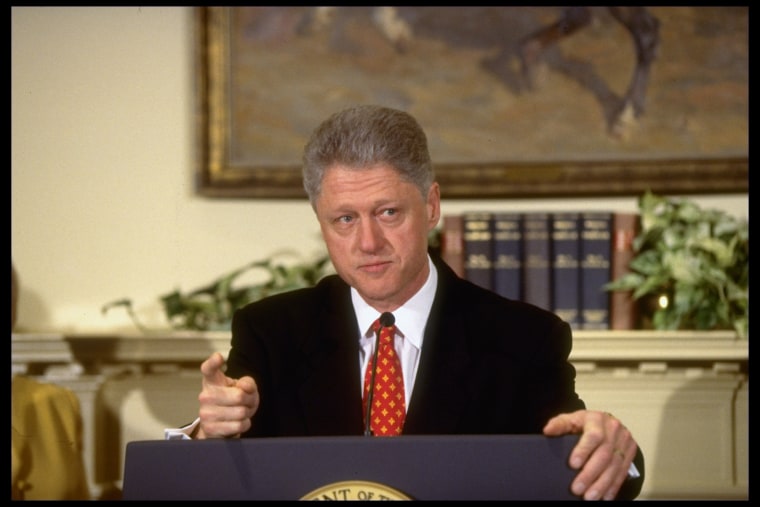 Clinton said his critics are now pouncing on that affair because of their frustration with President Trump, who has been accused by numerous women of inappropriate sexual behavior, all of which Trump has denied.
"A lot of the facts have been conveniently omitted to make the story work, I think partly because they were frustrated that they got all these serious allegations against the current occupant of the Oval Office. And his voters don't seem to care," Clinton said. "I think I did the right thing. I defended the Constitution."
Clinton said Trump's alleged sexual predatory behavior "hasn't gotten anything like the coverage that you would expect."
Earlier this year, Lewinsky penned an essay in Vanity Fair taking responsibility for her part in the White House scandal. But she also pointed out that Clinton used his power to his advantage.
"He was my boss. He was the most powerful man on the planet. He was 27 years my senior, with enough life experience to know better," she wrote. "He was, at the time, at the pinnacle of his career, while I was in my first job out of college."
Lewinsky also admitted that she was diagnosed with PTSD from the unrelenting public scrutiny.
Clinton said he doesn't feel any more responsibility about the affair now then he did when the scandal rolled out 20 years ago.
"I felt terrible then. And I came to grips with it," he said.
"And nobody believes that I got out of that for free. I left the White House $16 million in debt," he added. "But you typically have ignored gaping facts in describing this. And I bet you don't even know them. This was litigated 20 years ago. Two-thirds of the American people sided with me and they were not insensitive to that."
He also reiterated that he asked for forgiveness publicly.
"I apologized to everybody in the world," he said.
But Clinton also questioned why other past presidents haven't been held to the same standards as he has.
"Do you think President Kennedy should have resigned? Do you believe President Johnson should have resigned?" he said.
Clinton did defend the #MeToo movement, calling it "way overdue." But, he added, "it doesn't mean I agree with everything. I still have some questions about some of the decisions which have been made."