It may be the height of summer, but if you're the parent of a preschooler, the first day of school for your little one is right around the corner. And chances are you're more anxious about this milestone than your kids are. Nancy Schulman and Ellen Birnbaum are directors of Manhattan's 92nd Street "Y" preschool and authors of  "Practical Wisdom for Parents: Demystifying the Preschool Years." In their new book, they offer guidance for parents to help navigate this exciting and challenging time in a child's life. Here's an excerpt from the book:
Chapter One: Choosing an Early Childhood ProgramFrom the moment your child began to walk or even before that time, you've probably been hearing playground chatter from parents about preschools in your area. If you're coming to this experience for the first time, it can feel as if you're being introduced to a whole new language: "sibling places," "traditional versus progressive approaches," "cutoff dates," "competition for places," "applications," and perhaps most perplexing of all, "child interviews." It's guaranteed that everyone you meet will have an opinion on this subject, usually based on something that they've heard from someone else. But even if other parents seem well informed, it's likely that they're feeling just as confused. As a new parent, you probably have very little knowledge about preschool, and it's only natural to ask questions: What exactly do you need to know about a school before considering sending your child there? How do schools differ? What are their educational philosophies and what do they mean? How do you identify a quality program?It wasn't always this complicated. When we were growing up during the 1950s, it was rare for children to attend nursery school. In those days, many mothers (ours included) were stay-at-home moms, and, as a result, there simply wasn't the need or desire to send children to school at very young ages. In general, childhood was a much less hurried affair, without the pressure to "get ahead" that we've come to associate with modern family life. The assumption was that five years old was the appropriate age for children to have a first school experience and kindergarten would provide children with the skills they needed to transition from home to school.By the time Ellen's eldest child, Alice, was nearing the age of three in the late 1970s, however, the situation had already begun to change. By then, it was much more common for families to send their children to school before kindergarten, beginning at age three. This shift had occurred for a number of reasons. Many more mothers were working outside the home, and parents wanted to know that their children would be spending time in a stimulating, sociable environment rather than staying at home all day with the babysitter. Research into children's early brain development revealed the potential that exists for learning during the first five years of life, and parents felt they should capitalize on this if they wanted their children to develop to their full potential. Although a nursery school movement had been in existence since the early 1900s, by the late 1970s, many more early childhood programs were springing up, especially in urban areas. For Ellen, the process of enrolling Alice in school was remarkably easy: She looked around the neighborhood, identified a program that she liked, and had an informal meeting with the director. After a brief chat, the director asked Ellen if she wanted to enroll Alice for the mornings or the afternoons. It was as simple as that — no applications, school tours, or interviews needed.Four years later, when Nancy's eldest child, Michael, was nearing the age of two, the situation had already begun to change. By then, many preschools in New York City had started toddler programs in response to pressure from families who wanted to send their children to school before the age of three. As a result, Michael would be able to attend school two months after his second birthday. The growing popularity of such programs also meant that there was now a formal application process, and Nancy's son would have to undergo an "interview" before being enrolled. Michael was eighteen months old when he went on his very first interview, the winter before he would attend school. Needless to say, the prospect made Nancy incredibly nervous. Even though it seemed absurd that a one-and-a-half-year-old was going to be judged in any way, Nancy still wanted the teachers and director to think that Michael was the perfect candidate for a school, in fact, that her child was perfect, period.On the day of the interview, Nancy dutifully woke Michael from his nap in order to arrive at the school on time, thereby also ensuring that her son was cranky. When they got to the school, Nancy and Michael were escorted to a classroom where teachers and the school director were observing a group of children at play. The minute they walked into the classroom, Michael spotted a rabbit cage with a carrot sticking out of it. Michael, who loved carrots, immediately grabbed the half-gnawed vegetable and went to put it in his mouth. Nancy said, "No, sweetie, that's for the bunny." But when Michael started to whine, she panicked. Rather than have her son cry at his very first interview, Nancy let him have the carrot. She was actually more concerned about Michael doing well in the interview than she was about him catching a disease from a rabbit.Each year, when Nancy tells this story to parents who are applying to send their children to the nursery school at the 92nd Street Y, there's always plenty of sympathetic laughter. Twenty-five years after Michael attended preschool, the competition for places at quality early childhood programs in New York City has increased tenfold. Demand has long since exceeded the number of spaces available, with the result that many popular schools have a ratio of ten applicants to every available place. Many parents no longer see preschool as a good opportunity for their children; they see it as an absolute necessity. And it's not just New York. In many urban areas, the high-pressure preschool admissions process has become legendary, with parents signing up for programs the minute a child is born. Preschool enrollment is no longer the straightforward affair it was when Ellen enrolled Alice after a chat with the director.In the twenty-five years since we began working in early childhood education, this atmosphere of competitiveness is one of the most significant changes we've witnessed in the lives of families with young children. Since the days when our children were preschoolers, more and more emphasis has been placed on the brain development of infants and toddlers so that there's now an entire industry marketing educational products and programs to families. The positive side of all this emphasis on early learning has been the emergence of a wide range of high-quality educational programs that serve young children very well. Preschool teachers today tend to be highly trained, and there are national organizations that promote their professional development. The downside is that parents feel they must keep up if they are going to give their children the "best possible start in life" and fulfill their obligations as parents. It's not unusual for perfectly well-meaning parents to send us two-page résumés for their two-year-olds with a list of classes they've already taken. Although it's true that classes for infants and toddlers can be fun and stimulating, we believe that too many programmed activities without a balance of time to simply play and explore does not make a child better prepared for learning.These days, so much importance gets placed on where your child goes to school that it's easy to lose perspective as to how your child is benefiting. For many parents, the whole process of applying to preschool can become agonizing. Competition for limited places can make you feel anxious, judged, frustrated, and unable to control the outcome when all you want is the best for your child. If you are already feeling a little overwhelmed, it can help to remember that your child will likely benefit from a school experience in many different settings. Core learning experiences such as socializing with other children and learning to follow a teacher's instructions will be the same wherever your child begins school. While it's very important that you look carefully and thoughtfully at the schools in your area, always remember that you are the most influential factor in your child's growth and development. A quality early childhood program can enhance your child's experience, but it can only do so much.A quality early childhood program can:• Provide your child with a safe and happy place to spend time in where everything is child sized, where the pace and tone is child-centered, and where there are stimulating and interesting things to learn, and friends to make.• Help your child to take the first steps toward independence — learn how to separate from you, how to be part of a group, how to play cooperatively, how to listen, and how to take direction from a teacher.• Help your child acquire the skills and confidence needed to be prepared for the next stages of learning.A quality early childhood program can't:• Guarantee your child success later in life.• Replace the importance of your involvement in your child's life.• Be a substitute for simply spending time with your child.
Beginning the ProcessWhen Should My Child Start School?If you are thinking about sending your child to preschool, you may be wondering at which age your child should start. Most early childhood programs offer parents a choice. With preschool, this is an important consideration. Of course, day care is another matter—many parents choose day care as child care for their children from infancy onward, and age doesn't need to be a factor in this decision. When it comes to preschool, however, we believe that parents should send a child only when that child is able to take full advantage of a school experience. The right age varies from child to child. Some two-year-olds are able to express themselves verbally, enjoy new experiences, and are comfortable with unfamiliar adults. Other children need more time to develop before they'll be ready. If a child isn't ready yet, this doesn't mean he's less advanced than other children or that he's going to fall behind. It simply means that he'll be ready to benefit from school when he's older.For most children, three is the natural age of readiness. Children of this age are curious about their peers and the world around them and have enough facility with language to communicate with their teachers and classmates. In hindsight, Nancy can see that her son, Michael, really wasn't ready to attend school at the age of two. Although he had good language skills, he wasn't particularly interested in interacting with a group of children. By the time he was three, he was more intrigued by his classmates and more interested in experiencing what the school had to offer. At this age, children are also better able to understand the concept that parents come back at the end of the school day. A three-year-old will be able to imagine you at work or home, shopping, or being with the baby; he can retain a mental picture of you while you're away from him, and this will help him to handle the separation.Although three is an ideal age for most children to begin school, the practical reality is that in areas where preschool places are limited, many parents feel the pressure to send a child to school at age two, rather than waiting until he's older when there may be fewer places available. If you do live in an area where there is competition for places, this is going to be a consideration. However, it's very important to balance considerations about your child's future against what he needs now. Remember that in order for him to have a positive first experience at school, he must have enough language to communicate his needs and feelings to teachers and he must be able to separate from you. If your child has difficulty making himself understood, if you've never left your child with a babysitter or relative, or if he regularly shows signs of distress when you leave him, you may decide to put off school for another year. Two-year-old programs are not a prerequisite for attending school at age three.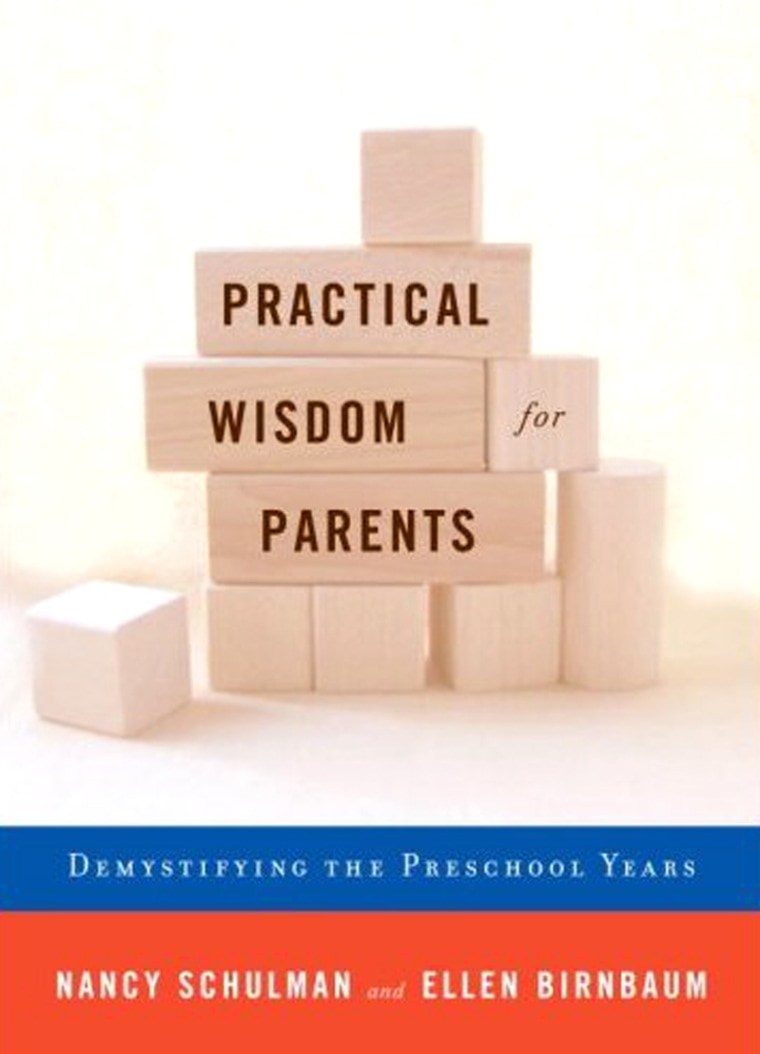 In our years of working in early childhood education, we've observed that many children under the age of two and a half are not yet ready for a meaningful school experience. For example, Andrew, who began school at the age of two and three months, really wasn't ready and struggled throughout his first year. At this age, Andrew was too young to communicate his needs to the teacher. Instead, he either dissolved in tears or hit the other children in frustration. He was inconsolable when his mother left in the morning because his lack of language ability made it difficult for him to adequately express his needs to his teachers. This did not make for a happy beginning to school for Andrew, his parents, the teachers, or the other children in the class. Over time, with the teachers' support and his mother's help, Andrew's ability to cope with frustration and to communicate improved. He was able to tolerate being at school, but he wasn't able to enjoy the experience and neither was his mother. Andrew wasn't the only very young child we had watched struggle in this way. Since Andrew attended the nursery school, we've changed the age for the youngest children in the school to two years and six months.Rather than sending a child to school before he's ready, you can always choose to wait a year and enroll him in other programs instead. Most communities have classes appropriate for two-year-old children. "Mommy and me" gym, music, art, and cooking classes are good alternatives. In this environment, your child can be introduced to social experiences with you or his caregiver in attendance, and you can meet other parents with children the same age. In truth, you shouldn't even feel compelled to sign your child up for classes. Two-year-old children thrive on one-on-one attention. Being at home with Mom, Dad, or a caregiver is just fine at this age. Informal playgroups with other parents and children are another good idea.Above all, know your child and respond to his needs and the needs of your family. It may be hard to do this when all of your friends and neighbors are making other choices, and you feel the pressure to keep up. But if you keep your focus on your child instead, we're certain he'll benefit and so will you.When Should I Start Looking?While it's essential that you learn about the appropriate times to apply to the schools in your area so that you don't miss any deadlines, there's rarely a need to call the school minutes after your baby is born. In some cities, parents are encouraged to apply months before school begins; in other places, you can sign up the week before school starts. A good rule of thumb is that you should probably start finding out about schools a year before your child is old enough to attend. Before this, you are not going to have enough knowledge of your child and his needs to be able to make decisions about where he goes to school.
Excerpted from "Practical Wisdom for Parents" by Nancy Schulman and Ellen Birnbaum Copyright © 2007 by Nancy Schulman. Excerpted by permission of Knopf, a division of Random House, Inc. All rights reserved. No part of this excerpt may be reproduced or reprinted without permission in writing from the publisher. To learn more about the book, visit: www.randomhouse.com