Madeleine Albright, the first woman to serve as the U.S. secretary of state, died Wednesday, her family said in a statement.
She was 84.
Albright died of cancer, her family said, adding that she was "surrounded by family and friends" at the time.
"We have lost a loving mother, grandmother, sister, aunt and friend," the statement said, as well as a "tireless champion of democracy and human rights."
President Joe Biden remembered Albright as "a force for goodness, grace, and decency—and for freedom." She "defied convention and broke barriers again and again," Biden said in a statement.
He ordered flags to be flown at half-mast in her honor until March 27.
Then-President Bill Clinton named Albright the U.S. ambassador to the United Nations shortly after he was inaugurated in 1993, and nominated her as the secretary of state three years later. She was confirmed in 1997 by a vote of 99-0. At the time, she was the highest-ranking woman in the history of the U.S. government.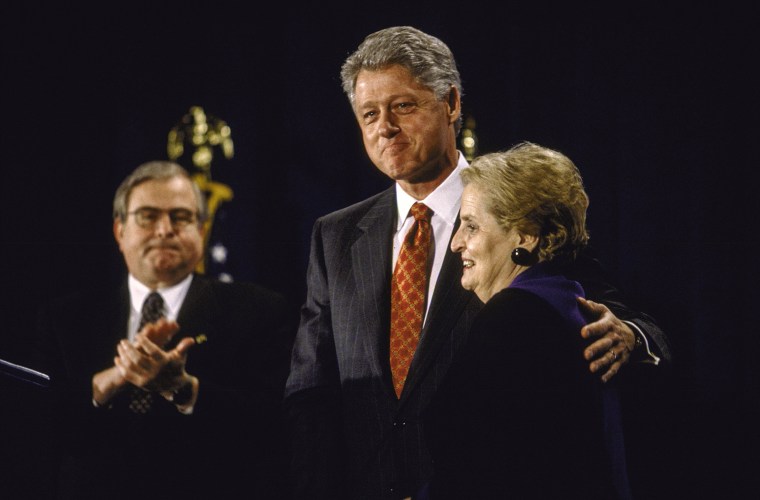 Albright served in the post for four years, actively promoting the expansion of NATO and military intervention in Kosovo.
On Wednesday, Clinton remembered Albright as "an extraordinary human being."
"Because she knew firsthand that America's policy decisions had the power to make a difference in people's lives around the world, she saw her jobs as both an obligation and an opportunity. And she made the most of them in advancing peace, security and shared prosperity," the former president said, adding he last spoke to Albright two weeks ago.
"She never lost her great sense of humor or her determination to go out with her boots on, supporting Ukraine in its fight to preserve freedom and democracy," Clinton said.
Hillary Clinton, who became the country's third female secretary of state, said she and her husband would "always be deeply grateful for the wonderful friendship" they shared with Albright and "the unfailingly wise counsel she gave us over so many years."
"So many people around the world are alive and living better lives because of her service," Hillary Clinton said.
Albright was born May 15, 1937, in Prague, where her father was a diplomat, and her family fled Czechoslovakia when she was 2 years old to escape the Nazis.
They initially moved to England, before settling in Denver in 1948. Albright became a U.S. citizen in 1957, and graduated from Wellesley College. She later earned her doctorate in public law and government at Columbia University.
In 1976, she went to work as a legislative assistant for Democratic Sen. Edmund Muskie, who went on to become the secretary of state. She joined the staff of the National Security Council two years later, during the Carter administration.
It wasn't until 1997, after she'd become the secretary of state, that Albright found out from a Washington Post reporter that she was of Jewish descent. She had been raised Roman Catholic, and was "stunned" when reporter Michael Dobbs' research showed that "three of my grandparents and numerous other family members had died in the Holocaust," Albright told Politico in 2012.
"I was shocked and, to be honest, embarrassed to discover that I had not known my family history better," she wrote in her book "Prague Winter."
After leaving public office, Albright went on to teach at Georgetown University's School of Foreign Service and became a prolific author, writing seven New York Times bestsellers.
In 2012, then-President Barack Obama awarded Albright the Medal of Freedom, the country's highest civilian honor.
In a statement Wednesday, Obama praised Albright's "trailblazing career," and said she had "paved the way for progress in some of the most unstable areas of the world."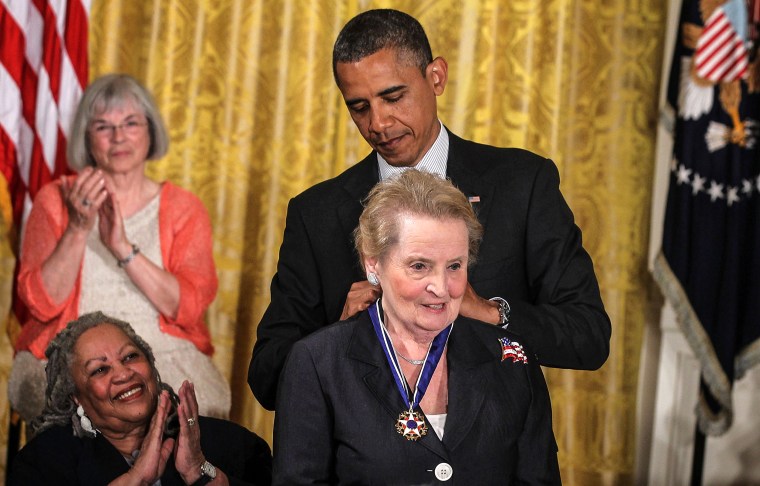 "I never thought that I would have the kind of life I've had," Albright told Elle magazine in a 2020 interview. Asked about her best job experience, she said, "Being Secretary of State and sitting behind the sign that said the United States, especially since I wasn't born here, and I am a very grateful American."
Remembrances poured in Wednesday from other politicians, on both sides of the aisle.
Former President George W. Bush said he was "heartbroken" to hear of Albright's death.
"She served with distinction as a foreign-born foreign minister who understood firsthand the importance of free societies for peace in our world," he said in a statement that was accompanied by a painting he'd done of Albright.
Condoleezza Rice, who became the second female secretary of state in 2004, said she was "truly saddened" by Albright's death, calling her an "invaluable colleague and a very dear friend."
In a statement posted on Twitter, Rice noted that she and Albright had something else in common besides serving as the nation's top diplomat.
"When I was studying music at the University of Denver, I took a class on international politics from a professor who changed the course of my life. That professor was Madeleine's father, Josef Korbel. How extraordinary that two female secretaries of state, from opposite sides of the political spectrum would be influenced by the same man," Rice said.
Secretary of State Antony Blinken said Albright had "mentored a generation of diplomats and national security experts. I'm one of many who benefited from her wisdom and encouragement."
"To our very first Madam Secretary — thank you," Blinken said Wednesday.
Donna Shalala, who served in the Clinton administration with Albright as health and human services secretary, called her friend and former colleague, who was 4'10'', "small in stature" but "a giant in world affairs. She broke barriers and fought for human rights and peace."
Sen. Chuck Grassley, R-Iowa, tweeted a statement calling her "a role model for women in public office & foreign service."
Albright is survived by three daughters and six grandchildren, as well as a brother and a sister.
This story first appeared on NBCNews.com.