Jackson Scherlen's father wasn't able to bring him to his first day of pre-kindergarten last week, so a group of officers from his dad's family in blue made sure he didn't feel alone.
Nearly two dozen officers from the Amarillo Police Department in Texas surprised Jackson, 4, and his two older siblings from the family of four by escorting them to their first day of school in August, along with mom Jessica Scherlen.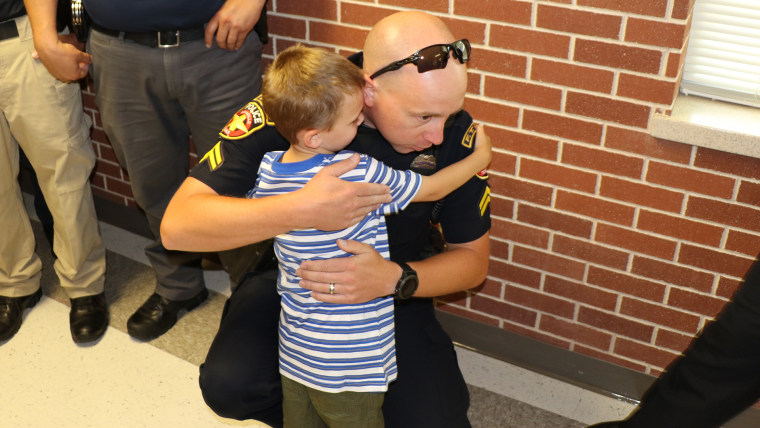 The gesture came only weeks after their fellow officer, Justin Scherlen, 39, died on a family trip in New Mexico.
"Everybody was having a hard time controlling their emotions that day,'' Officer Jeb Hilton told TODAY. "The family was surprised to see everybody there, and it was just one of those things that really touches your heart."
Justin had suffered extensive injuries in a traffic accident while on the job in September 2015 that required multiple surgeries and physical rehabilitation, according to the Amarillo Globe-News. The cause of his death is undisclosed.
Jackson was so appreciative that he went around and individually hugged the police officers in the hallway of Coronado Elementary School.
Officers who worked closely with Scherlen came up with the idea, showing up earlier in the day to escort the two older siblings and then coming back for Jackson's first day of school.
"That was Jackson's first day of school ever, so we really wanted to be there for him and support him,'' Hilton said.
RELATED: Daughters of slain Dallas police officers share touching moment at memorial
The officers wanted the Scherlens to know that they are always there for them whenever they need their family in blue.
"We spend a lot of time with each other on this job and go through a lot of tough situations,'' Hilton said. "We consider ourselves family, and we definitely wanted to step in there and show their family that they'll be taken care of."
Follow TODAY.com writer Scott Stump on Twitter.