It was a sweltering hot day in Halifax, Virginia, last Friday, so Officer Brian Warner and Police Chief Kevin Lands decided to cool down their community in the best way possible.
While sitting at a local diner ahead of their shift, the two officers came up with the idea to hand out ice cream cones instead of tickets. They went to pick up some ice, a cooler and a few dozen ice cream cones and set off to spread some cheer.
"We just wanted to make people smile," Lands told TODAY.
RELATED: Police officer dishes out ice cream — not tickets — to people he pulls over
"It was just so hot that day, we wanted to do something fun and brighten people's days," Warner, 35, told TODAY.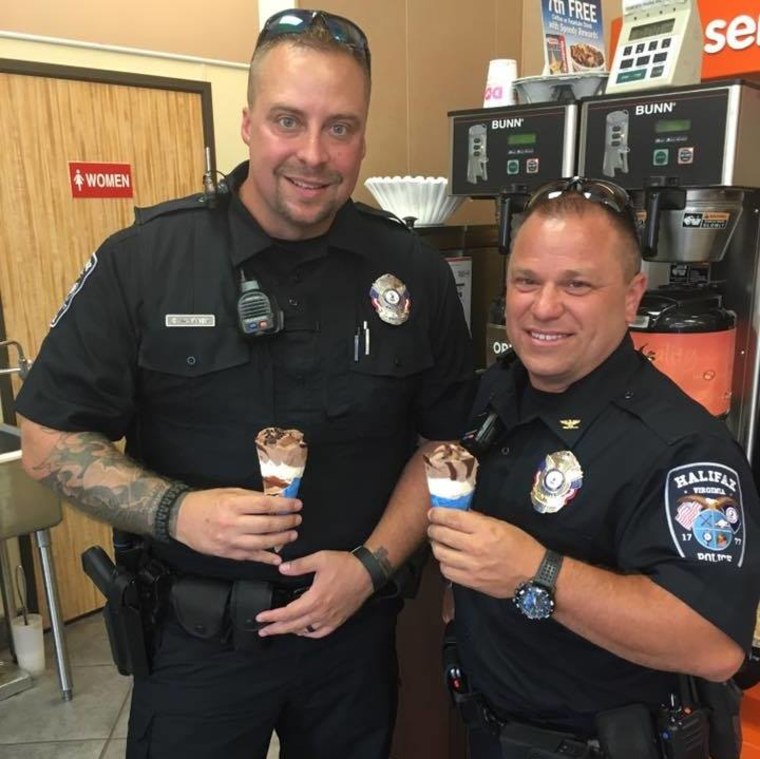 They pulled over cars for minor traffic violations — like texting while driving or forgetting a turn signal — that they'd usually let off with a warning,
"We're pretty tolerant and try to give out a lot of warnings because we want our community to be aware of the danger they could've caused to others, but still not ruin their day," Warner said.
The officers pulled over about 10 cars that day and made sure no passengers drove away without a sweet treat in hand.
This wasn't the first time the duo has done something like this. Just this past Mother's Day, they handed out cards to every car they pulled over.
RELATED: Police officer helps woman who couldn't afford a birthday cake for her son
Lands captured one of the encounters on video and uploaded it to Facebook later that day. In the clip, which has now been viewed nearly 8 million times, a solemn-looking woman behind the wheel learns about "vehicle code 1739," which says "it's against the law to drive on a hot day without an ice cream cone." The woman bursts into laughter, along with her passenger, after hearing the news.
"Her reaction was priceless — the way she was laughing and having a good time was really neat to see," Warner said. "We wanted to get the word out there that we have fun with our community."