/ Source: TODAY contributor
Domino's pizza was the staff of life for Jean Wilson: For three years, every morning the 82-year-old Memphis, Tenn., woman called like clockwork at 10 a.m. for her daily delivery of one large pepperoni pie, along with two Diet Cokes.
It turned out that daily order may very well have saved her life.
When the local Domino's didn't receive her order on Monday, Wilson's regular delivery driver, Susan Guy, became concerned, knowing from personal experience what it might mean. In much less than the 30 minutes Domino's famously promises, Guy made a beeline to Wilson's home and banged on the doors and windows. When she received no response, she called 911.
Paramedics arrived to find Wilson lying on her floor and unable to reach the telephone for help.
'I gotta go'
Today Guy is being hailed as a hero — paramedics say Wilson fell on Saturday and could have died if help hadn't reached her.
On Wednesday, Guy described Wilson to TODAY's Willie Geist as "a really kind woman; I think she's happy to see us every day," and said she immediately sensed something was amiss when Wilson's regular order didn't come in. Arriving for her morning shift Monday, Guy was told Wilson hadn't called in her order for the day — and hadn't called over the weekend, either.
"I said, 'She hasn't called in three days?' " Guy told NBC. "I go, 'I gotta go, I gotta go.' "
But Guy's manager told her, " 'Nah, you don't have to do that,' " she related. "And I said, 'Yeah, I do. Clock me out if that's what you've got to do.' "
Guy told Geist she may have been especially attuned to Wilson's peril from the experience of caring for her own elderly mother before she passed away two years ago.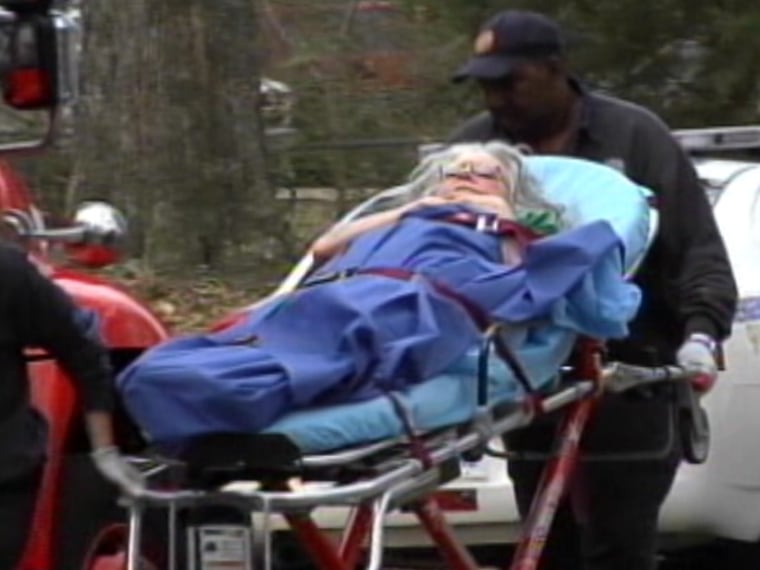 "My mother had cancer, and twice she had fallen while she was [living] with me," Guy said. "I'd come home and she'd have been on the floor — three hours one time, and a couple of hours the other time — so I knew that was a possibility."
Arriving at Wilson's home, Guy told Geist she "banged on all the windows, the door — I'm hollering in there, 'Mrs. Wilson!' I'm listening to hear if she's trying to make some sounds. I don't hear anything. So then I started knocking on all the neighbors' doors."
Guy talked to a neighbor, who guessed Wilson was out. "I said, 'Well, not home? How many times have you seen her leave home?' " Guy told NBC. "And he goes, 'Never.' "
After calling 911, Guy returned to work at Domino's. When she returned to Wilson's home a short time later, she told Geist, "I saw the paramedics, and one of the police officers was leaving, and he stopped and said, "Are you Susan?' I said, 'Yes, sir.' And he's like, 'Well, she's OK.' "
The police officer told Guy that Wilson "probably didn't think anyone would call. She asked who called, and [we] said, 'Domino's, a pizza delivery driver.' And they said she smiled a really big smile."
Wilson was found to be disoriented, but is expected to make a full recovery and to be released from the hospital today. Guy told Geist she phoned Wilson's hospital room after the octogenarian was admitted. "She's doing well; she wants out," she reported.
While Guy said she looks forward to resuming her daily deliveries to one of her favorite customers, she's gained plenty of notice from Domino's home office. In a statement to TODAY, company spokesman Tim McIntyre said, "We're all so touched by Susan's act of kindness and caring. For something so simple (noticing a change in a customer's ordering and wanting to check it out) to turn into something as magnificent as saving a life — well, how do you put that into words?"