How do you say "shirtless, oiled-up Olympian who stole the show at the opening ceremony" in Tongan?
It's pronounced Pita Taufatofua.
The taekwondo competitor who drew a roar from the crowd and melted Twitter during Friday's Parade of Nations in Rio de Janeiro joined TODAY Monday, where he had Hoda Kotb and others admiring his oiled torso up close.
Taufatofua had everyone wondering about the shining star carrying the Tongan flag when he came out bare-chested, covered in coconut oil, and wearing a Tongan ta'ovala (decorated cloth) and ornamental waist girdle.
RELATED: 10 things we didn't know about coconut oil: From myths to miracle uses
He learned about a month ago that he would be Tonga's flag bearer and immediately decided he would walk out in traditional Tongan dress.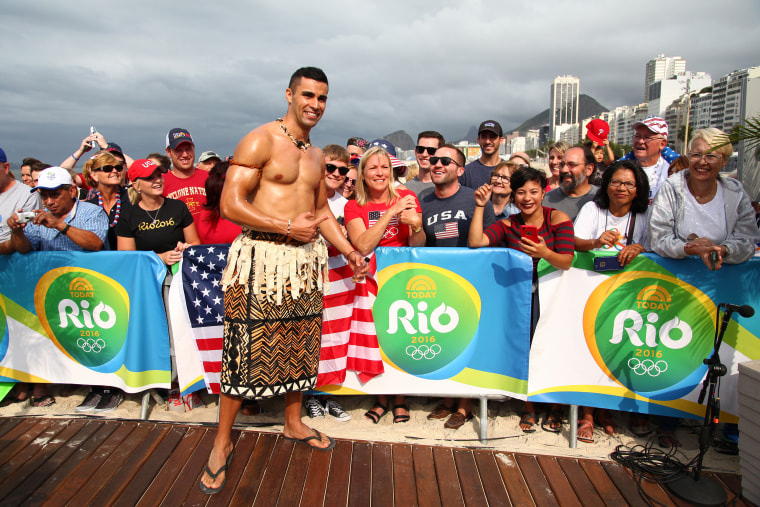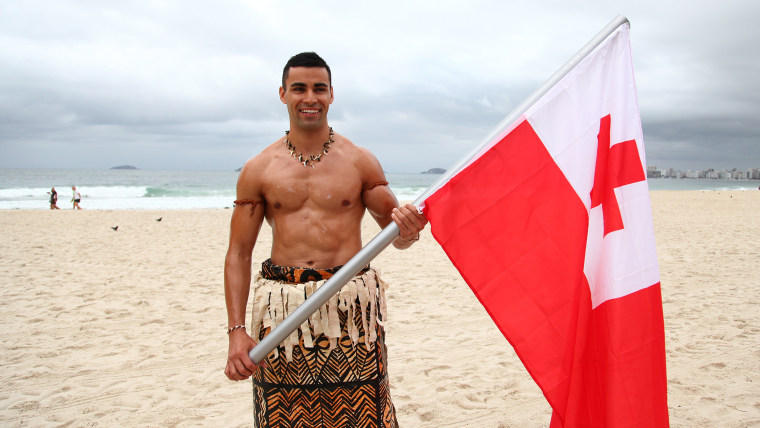 "For us it was important to get our culture out to the world,'' Taufatofua said on TODAY Monday. "I said to them I want to march in what our ancestors wore 200 years ago and this is what it was."
Hoda, Natalie Morales and Jenna Bush Hager made sure to conduct an up-close investigation of his traditional Tongan dress on Monday.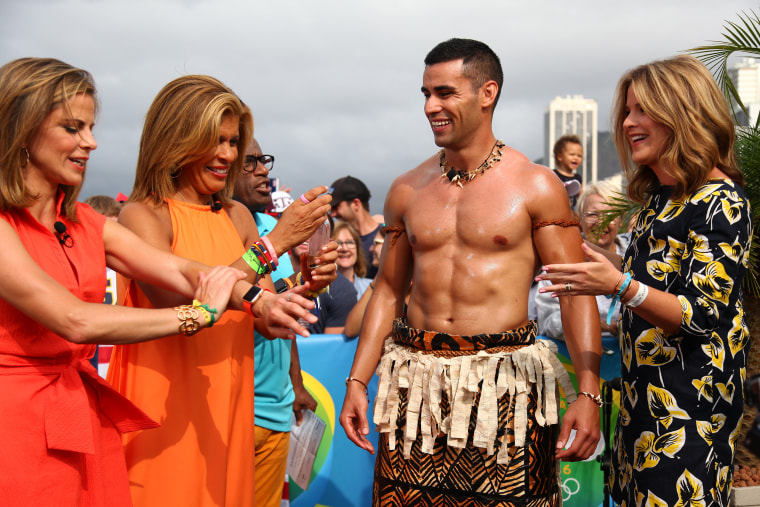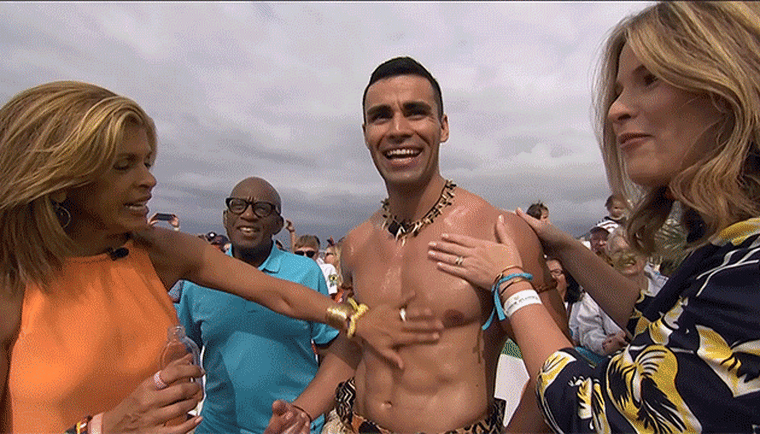 Taufatofua was informed in the midst of the ceremony that he had social media buzzing.
"I was walking through the opening ceremony, and someone came up to me, they were just taking photos nonstop, and they said to me, 'You know you're trending on Twitter in every major country?'" he said. "Once I had a look, it had just gone everywhere."
He also didn't forget to have a good time himself, writing on Instagram that it was "fun, bright and shinier then my coconut oil!"
A first-time Olympian, Taufatofua, 32, is one of just seven athletes competing in Rio from the island nation of 105,000 people and the first in Tonga's history to compete in taekwondo. He will be in action on August 19 in Rio.
Born in Australia, Taufatofua moved as a small child back to Tonga, where his father is from, according to his biography. He currently lives in Auckland, New Zealand, where he trained for the Olympics to realize a dream he said on Monday was 20 years in the making.
Taufatofua also crowd-funded nearly $9,000 to help him make the journey to Rio.
Physically, he endured six broken bones, three torn ligaments, three months in a wheelchair and 18 months on crutches during his two previous bids to qualify for the Olympics, according to an interview with an Australian radio station.
There was plenty of curiosity about what his chiseled torso was covered in during the ceremony. The coconut oil is an expression of ancestral ties to the land and its people and a celebration of the symmetry of the human body, according to Taufatofua.
WATCH on NBCOlympics.com: Taufatofua on the importance of his traditional garb
"We use it culturally for all these sorts of things,'' he said.
The decorated cloth he was wearing is made from the barks of a paper-mulberry plant and symbolizes a oneness between islanders and their land. He also wore a shark-tooth necklace as a symbol of his Tongan ancestors and the reverence for sharks in the country.
As for his medal chances, he probably will be remembered more for his splash at the opening ceremony.
Tonga has only one medal in its entire history, a silver in boxing by Paea Wolfgramm in 1996.
"As a kid I waited on the side of the road when the boxer Paea Wolfgramm had come back from the Olympics with his silver medal,'' Taufatofua wrote on his blog. "That's where the dream started for me, for all of us."
Follow TODAY.com writer Scott Stump on Twitter.