Whether you are a traditionalist, modernist, girly-girl or even a living Charlie Brown, there is a tree out there for you! TODAY lifestyle expert Elizabeth Mayhew gives eight tips for picking the best real tree, plus a buying guide for those choosing to go the artificial route.
Real trees
If you are a traditionalist and you pine (pun intended!) for the yearly hunt for the perfect fir, then a real tree is a must. Just keep a few things in mind:
1. If you are buying from a tree lot, make sure you go early because as the cut trees sit, they dry out.
2. Gently pull at the needles; they should not come off easily. They should bend and be flexible.
3. Ask the salesperson to cut a couple of inches off the bottom of the trunk if the tree has been sitting out of water for a while. When you get home, immediately put the tree in a bucket of clean, warm water.
4. Make sure your tree stand is sturdy and clean. Transfer tree to stand and fill the stand with cool water. Keep water filled at all times — it should never dip below the cut bottom of the tree (if the cut area is exposed to air, it will seal and no longer be able to take in water).
5. Set tree up away from heating vents and fireplaces.
6. Before you hang tree lights, make sure they are working by plugging them into a socket.
7. Hang tree lights going up and down the tree as opposed to around and around the tree. Begin at the bottom weaving lights around branches to the top of the tree and back; this makes for easier installation and takedown.
8. Once the tree starts to shed, get it out! Remove lights and ornaments and take the tree to a recycling center or cut off all branches and use them as mulch for your bulb and perennial beds.
Artificial trees
Over the past several years, artificial trees have gained in popularity and it's no wonder: They don't need water, they don't shed and they last for years. But not all artificial trees are created equal. You want to look for trees that are molded from polyethylene (or PE) because they have the best color and shape. You also want to look for branches that have a mix of brown and green and, if you choose a pre-lit tree, make sure it has about 100 lights per foot.
The one thing that an artificial tree cannot replace is the smell of a real tree, so I suggest investing in a good-quality evergreen (or peppermint, for a more feminine scent) scented candle to make up for the lack of smell. Try the Winter Forest candle or Peppermint candle, both from Williams-Sonoma ($19.95 each).
1) The "I am crazy busy" tree
Balsam Hill's artificial tree comes fully lit with lights that can be switched from clear to color with a remote control. Trees come in 3 heights: 6.5', 7.5', and 9'.
What you saw on TODAY: Vermont White Spruce from Balsam Hill, from $329 for a pre-lit tree with stand and storage bagVelvet tree skirt, $89 from www.potterybarn.com.
2) The "I have no space" tree
This artificial tree appears to be a full tree, but is flat on one side so that it can be pushed against a wall, thereby creating extra space in a room. After the holidays, the tree folds up smaller than most artificial trees so that it can fit in a tight storage space.
What you saw on TODAY: Manhattan Flatback from Balsam Hill, $219 for a pre-lit 7' tree with stand and storage bag  Zebra tree skirt, $49 from www.westelm.com.
3) The "I am a girly-girl" tree This artificial pink tree is for the woman who isn't afraid to say that "Pretty in Pink" was one of her favorite movies, or for your little girl's room. The tree comes pre-lit with pale pink lights.
What you saw on TODAY: Pretty in Pink tree from Treetopia, $299 for a 6-foot tree with stand and storage bagDecember Flora tree skirt, $118 from www.anthropologie.com.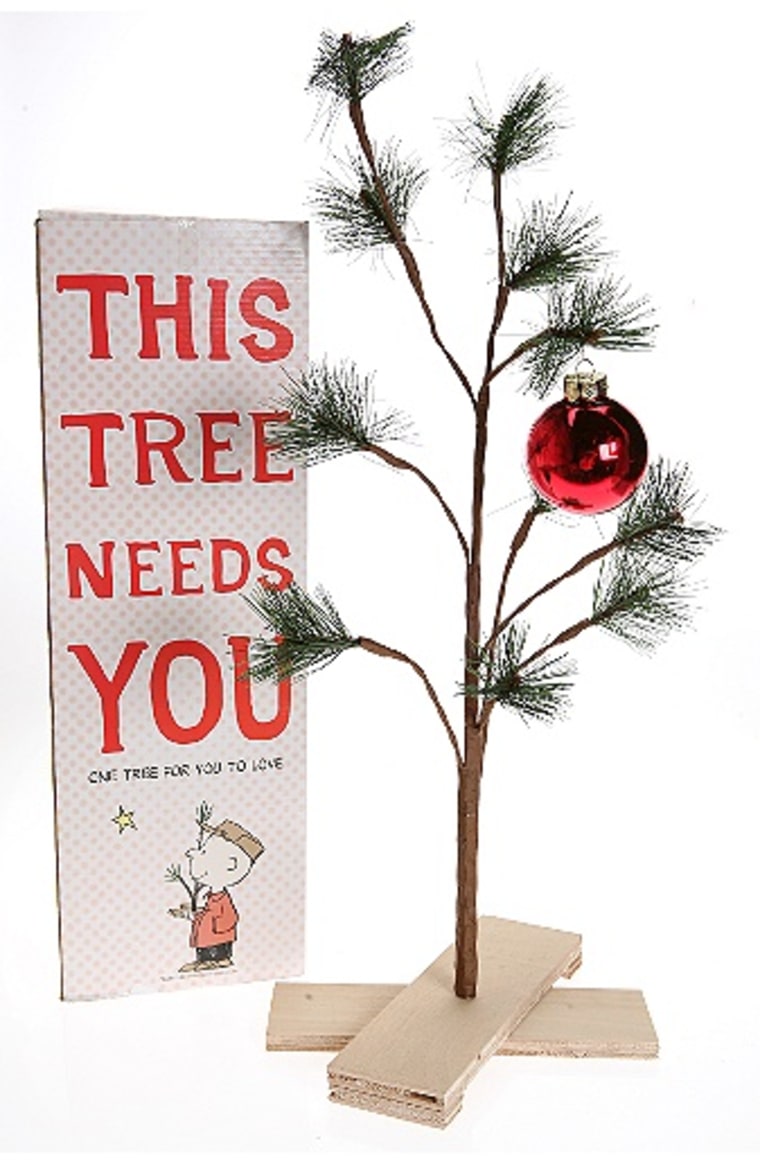 4) The "I am a minimalist" tree An all-white artificial tree is perfect for the modernist who doesn't go for color or tradition.
What you saw on TODAY: Winter White Christmas tree from Treetopia, from $199 for a pre-lit tree with stand and storage bagStarburst tree skirt, $49 from www.westelm.com.
5) The "I am a living Charlie Brown" tree
For those short on space and full of nostalgia, opt instead for the classic and scrawny Charlie Brown Christmas tree!  This Tree Needs You from Urban Outfitters, $24