Peyton Manning set two records Sunday night: the oldest quarterback to start in the Super Bowl and, more importantly, the oldest to win one.
And though only hours have passed since the 39-year-old's Super Bowl 50 victory (the 200th win of his career!), everyone seems to be wondering whether Manning will hang up his cleats for good.
The Denver Broncos QB stopped by TODAY Monday morning and revealed, for now, he's still following one coach's calls.
"When I think about those 200 wins, I think about all those teammates and coaches that I've play with and one of those coaches, Tony Dungy, called me last week and said, 'Hey, I need to talk to you,'" Manning recalled. "He said, 'Do me a favor, I'm still your coach.' He said, 'Do not make an emotional decision right after the game.' He had heard from some previous coaches who had done that and kinda regretted that one way or the other."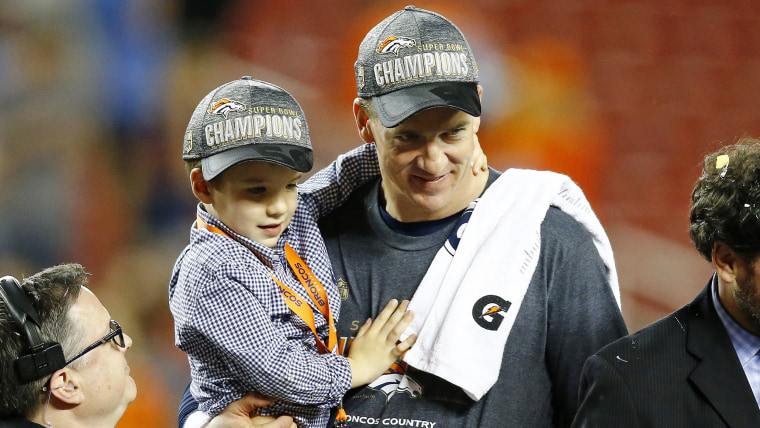 MORE: Peyton Manning celebrates Super Bowl win with family: See the precious pics!
Dungy told him, "Listen to your coach, take some time, get away with your family, reflect on what's occurred this past season, what's occurred in this Super Bowl, then take some time and make a calmer decision."
And that's just what Manning plans to do.
MORE: Coldplay, Bruno Mars, Beyoncé pay tribute to halftime history with colorful show
"I'm going to follow my coach's advice," he said. "I'm going to enjoy this Super Bowl victory. I'm going to celebrate with my family, and I'll keep doing it for a few more weeks. And then at the appropriate time, I think I'll make a decision. ... Whatever the decision is, I'm at peace with it."
He also had kind words for his opposing QB in Sunday's game, Cam Newton. He and the Carolina Panthers quarterback exchanged some words on the field after the game, and during his chat with TODAY, Manning shared what Newton said.
MORE: What was your favorite Super Bowl 50 ad? Vote here!
"I'll tell ya', Cam couldn't have been nicer to me," he said. "He was extremely humble, congratulated me, wished me the best. I told him just congratulations on his outstanding season, and just what a great future he has ahead of him. He'll be back in that game, I can promise you."
So now we'll just have to wait to find out if Manning will be back in that game, too.
Follow Ree Hines on Twitter.