Choosing to adopt a dog is just the beginning of a much bigger process. Petfinder.com's "The Adopted Dog Bible" shares information on what steps you should take and what challenges you should expect. An excerpt.
You may have thought that deciding to adopt a dog rather than buy one from a breeder would be the toughest part of the whole dog acquisition process. But choosing to adopt a dog isn't the end of a process, it's the beginning.
You might feel a bit overwhelmed when you try to figure out where to look for your adopted dog. Lots of options confront you: animal shelters, rescue groups, advertisements, and even dogs that might choose you by following you home. But take heart! This chapter gives you all your adoption options to find the dog of your dreams.
Gimme shelter
Your local animal shelter can be a great place to find your dream dog. Generally, shelters are run by local governments or local humane organizations. Almost every county and medium-to-large city in the United States has a shelter; some may have several.
However, all shelters are not created equal. Some are state-of-the-art facilities with climate-controlled apartments, piped-in music, and full-time trainers who socialize the canine guests, teach them some new tricks (literally), and otherwise keep them as happy as possible until they're adopted. Such shelters are in the minority, though, because building, creating, and maintaining these ideal shelters requires funding and personnel that most communities don't have. These communities do the best they can with the relatively meager resources available to them, and they make every effort to provide a safe, clean refuge for the animals they shelter. And almost all shelters, regardless of the luxuriousness of their accommodations, have employees who do their very best to care for the unfortunate animals who need a shelter's services, and to find permanent homes for as many as they can.
In addition to paid staff, many shelters have volunteers who help with duties such as socializing dogs, screening adoption applications, and introducing applicants to available dogs. Some fortunate shelters have full-time trainers who show selected volunteers how to teach the dogs basic manners. A dog who responds to simple cues such as "come," "sit," and "heel" is much more likely to make a good impression on a prospective adopter than a dog who hurls himself at an approaching human in a joyous frenzy or hugs the rear wall of his enclosure when someone passes by. But keep in mind that just because a dog has not yet learned basic manners does not mean that he won't make an excellent companion once you put in some time socializing and educating him.
There are as many reasons for a dog to wind up in a shelter as there are dogs that need homes. According to Petfinder, purebred dogs make up at least 25 percent of the adoptable dogs available. While young puppies occasionally come to a shelter (often with their mother), many shelter dogs are adolescents — between six months and two years of age. Among these canine teenagers are dogs whose former families adored them when they were cute little puppies, but couldn't or wouldn't cope with their adolescent unruliness just a few months later. Other shelter dogs are senior citizens whose folks might not have wanted to be bothered with taking care of an elderly animal, or perhaps, whose people were seniors themselves and no longer able to provide their beloved friend with a home.
Shelter dogs also come in all sizes and shapes. One enclosure might house a high-strung silky-haired toy-sized pooch; in the next might be a big couch potato of a Pit Bull mix. When it comes to shelter dogs, diversity is the name of the game.
Regardless of their age, appearance, or temperament, many shelter dogs find themselves homeless due to circumstances beyond their control, or because they have minor issues that would respond to a little time and effort by a caring human being or a family.
Most shelters have a three-part adoption procedure: preparing a dog for adoption, selecting an adopter, and following up after the adoption.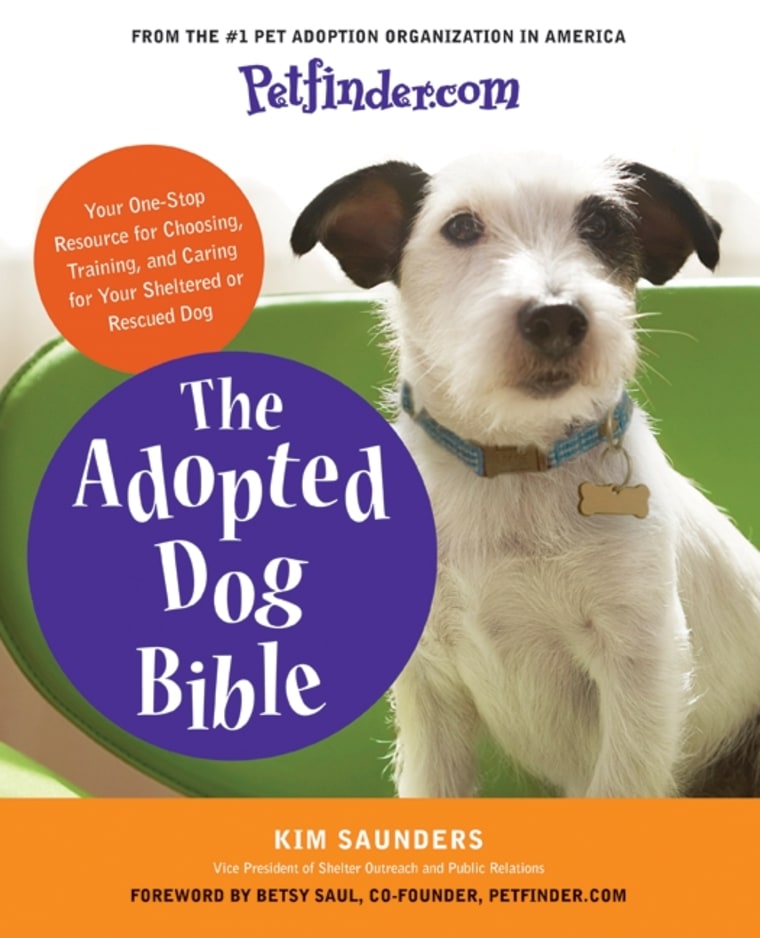 Typically, when a dog first arrives, shelter personnel evaluate his temperament, immunize him against rabies and other serious canine diseases, perform a heartworm test, and check for internal parasites. The dog then goes to live in his own enclosure among the other canine guests. The enclosure may include a blanket, toys, or other goodies to help the dog feel more at home. During his stay, shelter employees and volunteers not only feed the dog but also try to spend some quality time with him: taking him for walks, playing with him outdoors, and even teaching him basic good manners such as coming when called and sitting when told. Such efforts not only help acclimate the dog to the shelter but also help prepare him to be adopted.
While the dog is being prepped for a forever home, other shelter staffers and volunteers work to find that home. They might photograph the dog and advertise his availability on Petfinder.com and/or on their own web-site. They also might place a classified advertisement in their local paper, or put up flyers on community bulletin boards or at pet supply stores. When prospective adopters show an interest in the dog — through phone calls, e-mail, or a visit to the shelter — employees usually ask them to fill out a questionnaire or application. Such applications can be quite extensive (see "So You Think You Can Just Adopt a Dog?" on page 9), but if used properly, they can open a constructive dialogue between shelter personnel and would-be adopters to make the best possible match between the dog and a prospective family.
Shelter employees evaluate each application, check references, and interview the applicant either by phone or in person. Based on those evaluations, shelter staff can help match the right dog with the right family. Some shelters will then perform a home evaluation in which a shelter staffer or volunteer visits the adopter's residence to make sure that it's a good place for the dog to live and to help the new pet-parent-to-be with dog-proofing tips.
If you think your dream dog may be waiting for you in a shelter, take these steps to advance your quest:
Find some shelters. Don't know where your local shelters are? Simply log on to the Internet and point your browser to  Petfinder.com/shelters.html. If you don't have access to the Internet at home, work, or through a friend, log on to a computer at your local library. There you'll find Petfinder's searchable database of animal welfare organizations. Decide whether you want to search by location or by state, and follow the prompts.
Visit online. Almost all shelters maintain a web page on Petfinder.com — along with a list of available dogs for adoption. Some also link to their own website. Whether on Petfinder or through an organization's website, you should be able to gain vital information about the shelter's visiting hours, adoption procedures, and how dogs are made available for adoption. You may also find the organization's adoption questionnaire or application.
Visit in person. Once you have all the information you need, pay the shelter a visit — even if their current listings don't include a dog who interests you. If you're a parent, try to make this visit on your own, so that you're not subjected to the nagging pleas of your kids. Visit the dogs there and fill out an application. Talk with the shelter employees or the volunteers who handle adoptions, and let them know about the kind of dog you're hoping to adopt. They may remember you when a dog who may be suited to your needs comes along. As you chat with the shelter staff and watch them at work, evaluate your experience: Do you feel welcome? Does the staff seem genuinely interested in helping you find the right dog for your family? Do they show real compassion and concern as they interact with the dogs in their care? (For more suggestions on what to look for in a shelter, see Chapter 5.)
Bring your checkbook. Although adopting from a shelter is a relatively economical way to acquire a dog, it's not free. If you find a dog and the shelter approves your application, there will be an adoption fee or donation. Adoption costs vary, depending on location and whether the dog needs to be spayed or neutered. Shelters need to charge an additional fee for any spaying or neutering they perform to recover some of their costs. For example, the Washington Humane Society, which operates the District of Columbia's animal shelter, charges $35 to adopt a dog who's already spayed or neutered, and $135 for one who needs the procedure. The Madison County Humane Society in Anderson, Indiana, charges $100 for all dog adoptions, and states on its website that the fee includes the cost of spaying and neutering. On the west coast, Sacramento (California) County Animal Care and Regulation charges a variety of fees, depending on the gender and spay/neuter status of a dog. An unspayed female costs between $106 and $126, plus $15 extra for a heartworm test. An intact male costs between $96 and $111, not including the $15 heartworm fee. Spayed females and neutered males each cost $50 less. Keep in mind that these fees help keep the shelters running and allow them to care for the dogs they have. See Chapter 2 for more information on the costs associated with caring for a dog.
Once the adoption is approved and your new dog joins your household, shelter personnel may phone or e-mail you to see how you're both doing. Many shelters also offer telephone and e-mail help lines as well as dog training classes that are discounted for shelter dog alumni and their adoptive families.
Shelters aren't the only places to find adoptable dogs. Rescue or adoption placement groups also give second chances to dogs who have lost their homes, but their working methods differ somewhat from those of shelters. While a shelter generally employs both staff and volunteers to house dogs in a single structure, rescue groups typically rely on networks of volunteers who provide temporary care for dogs from their own homes. In essence, rescue group volunteers provide temporary foster care to dogs who are awaiting adoption into a permanent home.
Some rescue groups focus on purebred dogs exclusively; there are groups for Labrador Retrievers, groups for Rottweilers, and so on. Others work with both mixed-breed dogs and purebreds. You can find rescue groups in your area by logging on to Petfinder's website at www.petfinder.com/shelters.html. There you'll find a database of animal welfare groups that you can search by distance from your zip code, or by state. If you're interested in a specific breed, search Petfinder.com for that breed and you will likely find some at general rescue groups and shelters and others in their own purebred rescue groups.
Generally, a rescue group's adoption procedure is similar to that of a shelter. While a dog's foster caregiver readies the dog for adoption, she or other volunteers will also search for a suitable permanent home. Like shelters, rescue groups require applications, references, and often, home visits. However, sometimes it takes rescue groups longer to respond to you. This is because most groups are made up of volunteers for whom this is a labor of love. These volunteers usually have full-time "real" jobs, families, and other commitments. They often create a second full-time job for themselves by fostering and finding homes for adoptable pets. Knowing that these big-hearted volunteers are doing the best they can may make the wait less frustrating.
While shelters' and rescue groups' adoption procedures may be similar, their caregiving approaches often differ. Because some shelters house a fairly large number of dogs in one place, shelter employees may have relatively little opportunity to get to know an individual dog. That can make it difficult for you to learn much about a dog's behavioral tendencies until you meet the dog yourself. By contrast, a rescue group foster caregiver lives with a dog in her own home 24/7. Moreover, a dog often remains in a rescue group's foster care network longer than would be the case in a shelter, mainly because a rescue group doesn't need to set a deadline for adoption to make room for additional dogs. Either way, the foster caregiver has more time than a shelter employee to develop considerable knowledge about the dog (or dogs) in her care — knowledge that she can share with you.
Some rescue groups aren't able to offer as many dogs to choose from as a shelter can. In addition, some rescue groups' adoption fees may be higher than those of a shelter. For example, Golden Retriever Rescue, Education and Training in southeast Virginia charges $350 to adopt a dog under four years of age, $300 for a dog between the ages of four and seven, and $225 for a dog eight years of age or older. Central Illinois German Shepherd Dog
Rescue charges $325 for a dog under one year old, $275 for a dog between one and six years of age, and $250 for dogs six years of age and over. Dogs Without Borders, an all-breed rescue group in Los Angeles, charges $250 for most adoptions, but raises the fee to $300 for puppies less than six months of age. Paws Animal Rescue, an all-breed rescue group in Alvin, Texas, charges a minimum of $125, while Save Our Setters, Inc., a setter rescue group in Denver, Colorado, charges adopters between $150 and $350, depending on a dog's age.
Before you balk at those higher prices, remember that a rescue group depends entirely on these fees and other donations to continue its work, whereas a shelter may be able to augment income from its adoption fees with money allocated in a city or county bud get.
Look to both sources in your search for the dog of your dreams. In fact, many shelters work in partnership with rescue groups. If, for example, an adoptable shelter dog is slated for euthanasia due to overcrowding at the shelter, a shelter adoption director may ask a local rescue group to take that dog in. The same might be true if a newly arrived shelter dog has special dietary, training, or medical needs.
For more information on adopting pets, go to www.petfinder.com.
Excerpted from "The Adopted Dog Bible" by Petfinder.com. Copyright (c) 2009, reprinted with permission from HarperCollins. To read more, click here.