/ Source: The Associated Press
In this Andean nation far from glamorous runways, some of the most fashionable residents have four legs: vicunas, alpacas and llamas.
Exports of the animals' fleecy coats have nearly doubled to more than $43 million in the past four years, as models strut catwalks from Paris to New York wearing fur from the long-necked animals in the form of pricey ponchos, pants and pea coats.
Fleece shorn from the three species — known collectively as camelids — is "really soft and luxurious," said New York-based designer Rachel Comey, who says she sold about $200,000 worth of alpaca knitwear last year, including hats, gloves and alpaca-lined boots.
Vicuna is the costliest, trimmed once every two years from the rarest of the three breeds, which roams the plateaued border region between Bolivia and Peru. A yard of the fabric sells for at least $3,000, while a basic stole starts at about $950 at the factory store.
A similar stole made of alpaca — which is farm-raised and makes up 99 percent of camelid exports — sells for about $47, while llama fleece is rarely commercially sold.
The warm, dyeable fibers, long used for sportswear fleece, are being recast as a sexier luxury thread, spun into casual clothes and evening wear to appeal to deep-pocketed young professionals. Demand is partly driven by the fleece's popularity with environmentally conscious designers, who want the softness of fur without the guilt, said Laird Borelli, a senior features editor at Style.com.
"If you have a fabric that can get as close to fur as that, it's an amazing thing," said New-York based designer Daryl Kerrigan, who has used alpaca to make coats.
Incans once wore alpaca, carefully breeding the doe-eyed animals and weaving their fleece on delicate hand looms into soft cloth that local royalty draped as robes. But Spanish conquistadors replaced those techniques, spinning raw fibers into coarse thread with a more mechanical wheel.
Those rougher methods ensured alpaca was considered a sportsman's textile for much of the 20th century: warm but scratchy, it was relegated to rough sweaters bought in bulk by tourists, senior citizens and campers.
Yet designers and textile producers are finding ways to recreate Incan precision on a larger scale, and now use the fleece to weave softer fabrics that remind some of the world's finest furs, said Lima-based designer Jose Miguel Valdivia.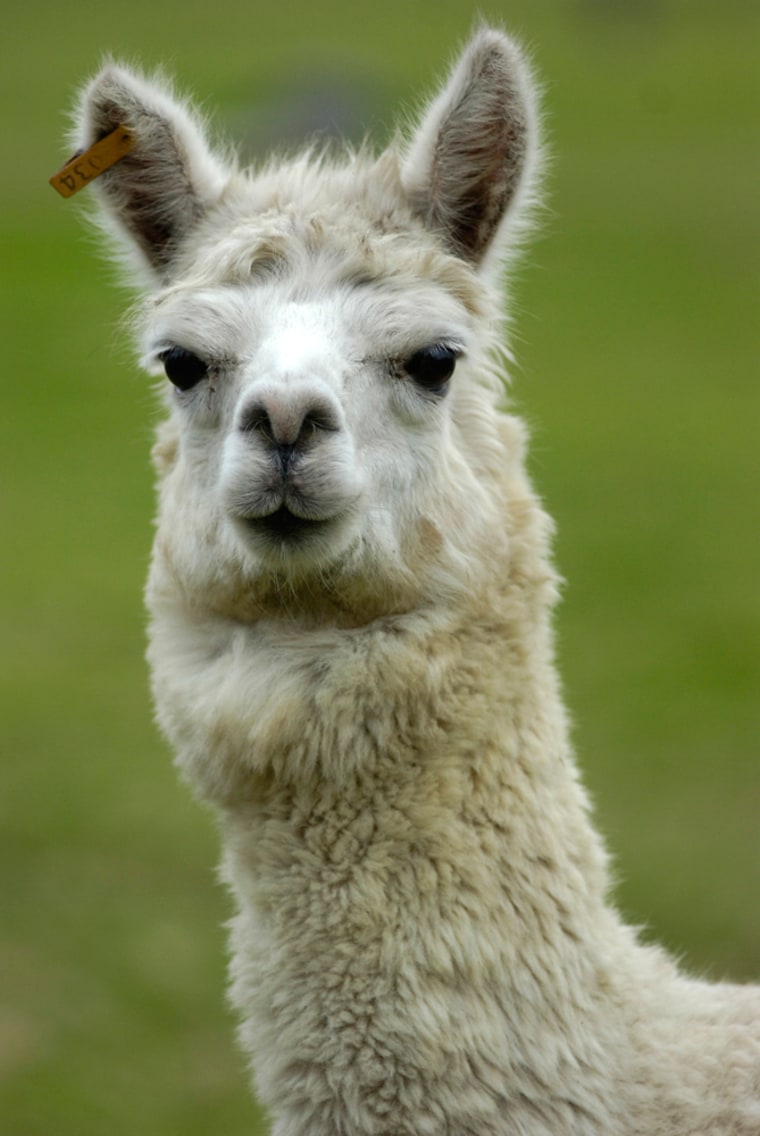 Peru's government is also boosting efforts to promote the fibers, sending local designers to Europe to lobby fashionistas. Nine traveled to Paris' famed ready-to-wear show last January on behalf of state-run trade group PromPeru, showing alpaca-made slacks, coats, dresses and jackets to journalists and potential buyers.
"I try to use what we're strong in ... (and) in Peru, what we're strong in is alpaca, cotton and silver," said Claudia Bertolero, one of the designers who brought her alpaca trapeze dresses, fringed ponchos and vests to Paris.
Andean breeders in still-poor parts of rural Peru are seeing an income boost, providing steady supply of top-grade fleece.
Breeders and textile companies are trying to improve their techniques for separating coarser, cheaper fibers, shorn from alpacas' necks and hoof-areas, from longer, more delicate flank hair.
They're looking for a scientific way to boost fleece quality, too.
In 1995, Michell & CIA S.A. — the world's largest alpaca fleece producer — opened a breeding center in Peru's southern Puno province to isolate traits responsible for finer fleece. Now, its scientists breed alpaca, teaching their methods to small farmers who independently raise most of Peru's stock and sell the fleece to big weavers. Michell's competitor Grupo Inca does the same.
The idea is simple: the finer the fleece, the lighter, more sought-after and expensive it is.
But rising popularity has brought a familiar problem — counterfeiting — which threatens to dissuade buyers. Peru's government has failed to regulate the fleece with quality controls, so many popular alpaca scarves, for example, are in fact made from synthetic fibers, said Edita Vilcapoma, a researcher with the Lima-based Association of Peruvian Consumers and Users.
Still, exports are booming. About 3,863 tons of alpaca, vicuna and llama fleece were sold in 2006, the last year for which figures were available — mostly to Italy, the U.K. and China, as ready-made clothing and yarn.
The fleece still fills a tiny niche in an already-small luxury fiber market. About 46 percent of textiles sold worldwide last year were polyester, 39 percent were cotton and 2 percent wool — leaving little room for other fibers.
For now, that gives alpaca an advantage, insulating it from big-time competition and giving smaller breeders, weavers and designers time to grow, said Jeffrey Silberman, chair of the textile and marketing department at New York's Fashion Institute of Technology.
Back in Lima, the decision to start stitching a hometown fiber into high-fashion has been easy.
"It's a great romance," designer Valdivia said of his work. "I really think it's more like alpaca chose me."