When U.S. Army specialist Michelle Williams and Sgt. Drew Fidler tied the knot this summer, neither of them could make it to the wedding.
The couple fell in love while serving in Afghanistan, but military chaplains don't perform weddings in war zones. Williams, a combat medic, and Fidler, a personal security officer, were worried about not being automatically notified if something happened to the other one during a deployment because they had no legal ties.
"It was pretty scary to think about if something happened to one of us, we wouldn't even know,'' Fidler told NBC News.
Scouring the Internet for a creative solution that would allow them to get married, they found  non-denominational minister Marty Stuehler in Montana. He is one of the few people in the country who perform what are called "double-proxy'' marriages.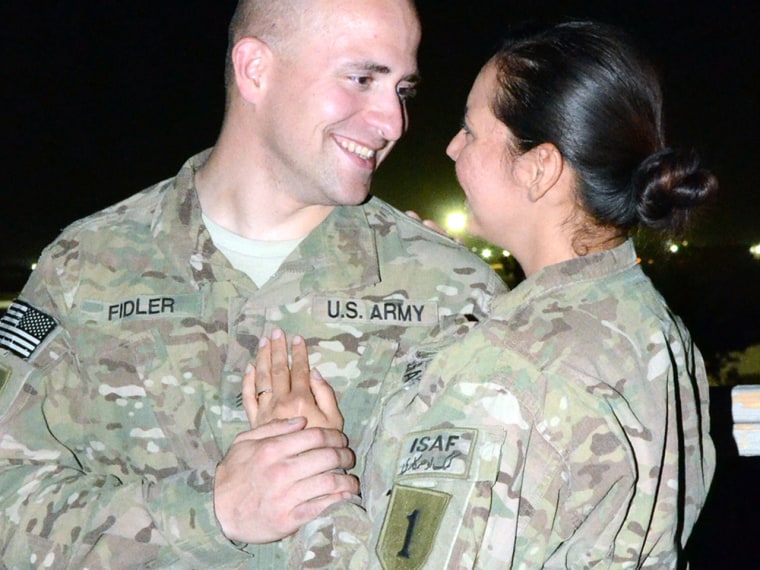 "It just means that neither one needs to show up for their own wedding, so they hire a company like mine, Big Sky Events,'' Stuehler told NBC News. "I as a minister marry them. Proxies stand in on their behalf, and they give us written permission to do that.''
Montana is the only state that allows double-proxy ceremonies as long as one person lives in state or is a member of the military. Stuehler takes advantage of an obscure law that dates back to Montana's gold rush in the 1800s. Miners migrating to the territory for work needed a way to marry their sweethearts from back home.  
That loophole has been exploited more and more by military couples. Stuehler said that he has performed nearly 1,200 double-proxy ceremonies over the past five years, and 99 percent of them involve clients in the armed services.
"It's just this flukey law from Montana from the 1820s, and just an honor to do it,'' Stuehler said.
In the case of Williams and Fidler, Stuehler had his assistant and her boyfriend handle the paperwork and stand in for the couple. Assistant Jamie Mahan signed for the brides, and boyfriend Steve Dooling signed for the grooms in a process that cost about $600 to process the paperwork and have it run through the courts. The proxies didn't actually exchange "I do's,'' they just signed the marriage license "Jamie Mahan for Michelle Williams" and "Steve Dooling for Drew Fidler.''
Fidler and Williams got an email from Mahan on Aug. 23, one day after they were "married'' by proxy, to confirm the union. The newlyweds got a surprise party from their friends on the rooftop of the Joint Operation Center at Bagram Airfield to celebrate. They had non-alcoholic beer and a cake with an army figurine on the top and some decorative doves.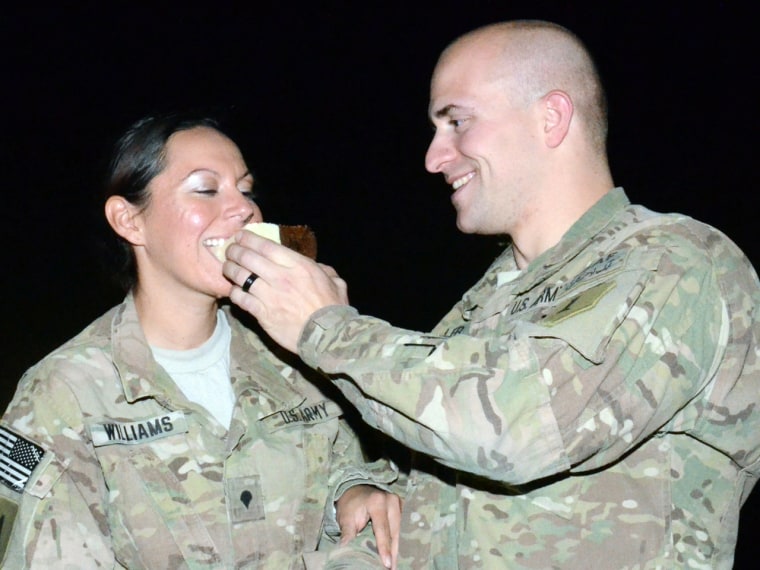 "Of course, when you're growing up, you picture the big church and the big pretty dress and all your friends and family there and the flowers and delicious food and just decorations, all that nice stuff,'' Michelle said. "What actually happened was I opened an email and saw that, 'Oh, I got married yesterday.'''
"I definitely did not think it would be in the US Army, deployed in Afghanistan, but you know, things happen for a reason,'' Drew said.
While the wedding may not have been what they had always conceived, they both now say they wouldn't have done it any other way. One immediate benefit was that their change in marriage status earned them dual-person rooming on the base, so they no longer had to meet late at night in a coffee shop for alone time. They also plan on having a regular service in the future.
"The purpose of getting married isn't for the party itself, it's to be with that person, and to make that commitment to that other person,'' Michelle said. 
Apparently standing in for married couples so many times made Mahan and Dooling want to have a wedding of their own. Dooling surprised Mahan with a proposal live on TODAY Saturday. "This is crazy," Mahan said as Dooling proposed. "Honey!"
Read more: 
Video: Wedding gets announced with a video game
Marine makes first same-sex proposal in the White House