An aggregation of more than 10,000 social media messages using the #DearCongress hashtag on Tuesday hints that government employees, paychecks and Obamacare are top of mind after lawmakers failed to agree to a deal to avert a shutdown, and that women are chatting about the shutdown nearly three times as often as men. 
TODAY's Carson Daly launched the #DearCongress hashtag during Tuesday's broadcast, and it quickly became a top trending term on Twitter and Facebook, receiving 36,000 mentions as of 6 p.m. ET on Tuesday.
TODAY and NBC News analyzed about 5,000 tweets sent within roughly two hours after the hashtag launched, ranking 94 keywords ranging from "panda" to "treason" to create this word cloud. In an exclusive peek into Facebook worldwide user data, editors also analyzed aggregate data of more than 5,000 posts on that social network to create a demographic breakdown of users joining the conversation.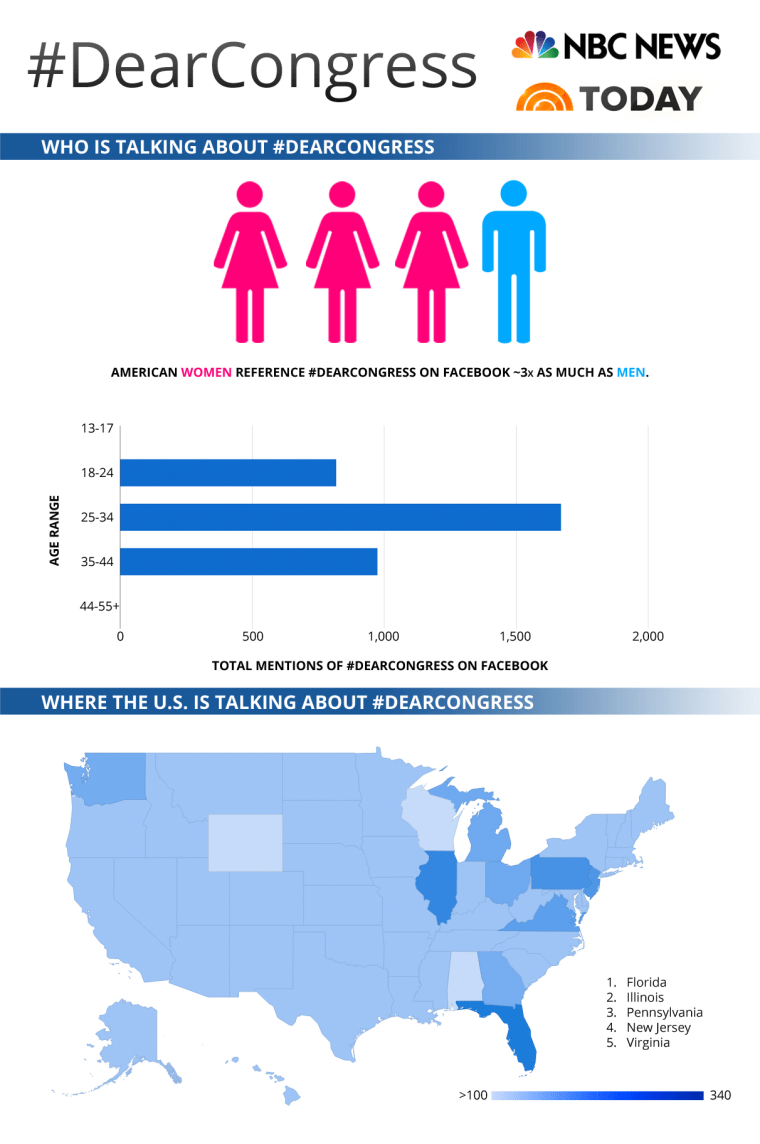 "Paycheck" was the most-used term on Twitter, with more than 350 mentions. Viewers used the word primarily in two ways: expressing concern that government workers are now not getting paid, and annoyance that lawmakers still are.
Senate Majority Leader Harry "Reid" (D-Nev.) was the most cited politician overall, with mentions of his name coming in slightly ahead of those for President Barack "Obama."
Both Republicans Sen. Ted "Cruz" and Speaker of the House John "Boehner" were mentioned less frequently, though the terms "Republican" and "GOP" together were used about 2.75 times more often than "Democrat," potentially indicating that social media users were discussing Republicans as a broad group rather than singling out specific party members. 
"Vote" was also highly mentioned, with tweeters saying they'll punish the lawmakers responsible in the next election.
Those in social media urged lawmakers to "compromise" — especially over "Obamacare" — with "Do your job," "Serve the people" and "You're fired" also ranking highly as suggestions for lawmakers. In terms of sentiment around the shutdown, "shame" emerged as the top emotional term.
Among over 5,000 Facebook status updates, women referenced the #DearCongress hashtag nearly three times as often as men, 74 to 26 percent, with 25-34 year-old women as the most active conversationalists.
From a state-by-state perspective, the most mentions of the hashtag came from Florida, Illinois, Pennsylvania, New Jersey and Virginia. 
More on TODAY.com: 
Sad about panda cam shutdown? Try these critter cams
#ByeByeBye: *NSYNC angers fans with Obamacare tweet
Government shutdown just one big joke on the Internet 
Yosemite celebrates 123rd birthday, Google style, on day it shuts down

Lou Dubois and Steve Veres are social media editors at NBCNews.com and TODAY.com.
This updated story was originally published at 4:15 p.m. ET on Oct. 1.