House Speaker Paul Ryan said that if controversial candidate Donald Trump wins the Republican presidential nomination, he will support him.
"Yes, I will. I'll support whoever our nominee is," Ryan told TODAY's Matt Lauer on Wednesday.
However, Ryan said he doesn't agree with Trump on every issue, particularly Trump's call for a ban on Muslims entering the U.S.
"I've already spoken clearly about how we shouldn't have a religious test on people coming to America," he said. "We should defend the First Amendment, which is religious freedom."
Ryan was elected to the speaker's office after House Republicans ousted John Boehner in October. Ryan said it was a job he didn't initially want, given its demands on his time as a parent.
RELATED: Nikki Haley says Donald Trump has contributed to 'irresponsible talk'
The biggest surprise, Ryan said, is that he likes it.
"It wasn't my plan," he said. "I'm kinda like the dog who caught the car who wasn't chasing it in the first place. I actually was able to redesign the job. I was actually able to do it with my own circumstances, like family weekends at home with my family."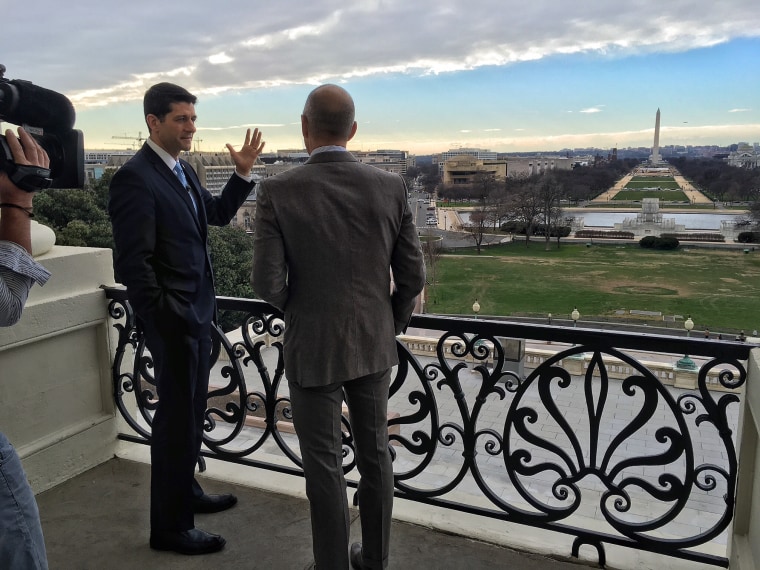 One thing the speaker had to fix, though — the office space. Former Speaker Boehner reportedly left behind an overwhelming smell of tobacco.
Ultimately, to get rid of the lingering odor, Ryan had to replace "everything," from the carpeting to the upholstery.
"And they had to repaint the walls," he said. "I couldn't get the smell out of here."
RELATED: See the highlights from TODAY at the White House
Two months into the job, Ryan's days in and out of the office are a blur of meetings, briefings and shepherding his party's agenda through Congress. High on the priority list is health care; just last week the House and Senate passed a bill that would have repealed the Affordable Care Act.
President Obama vetoed the bill, and on Monday told Lauer that if the Republicans want to repeal Obamacare, they will need to come up with a better plan.
A point that was "exactly right," Ryan told Lauer. "We do have to show what we would replace it with."
"We owe the country," Ryan said. "By the end of this year, by the time we're talking about this in the summer and the fall, I believe we owe the country, 'Here's what we should replace Obamacare with.'"
Ryan's position as a mediator of sorts in Washington led Democratic presidential front-runner Hillary Clinton to say he's an "honest broker."
As for what Ryan would say of Clinton?
"She's a very smart person," he said. "She's a determined woman. And... she will be a great former first lady and senator for here on out."
Ultimately, Ryan said, he's still amazed that a kid from Wisconsin became Speaker of the House.
"I still don't believe it sometimes," he said. "Only in America."