A Royal Caribbean passenger was rescued this week after falling overboard from the 10th deck of a cruise ship near the Dominican Republic, according to the U.S. Coast Guard.
Officials were alerted to the rescue of the 42-year-old woman, an American citizen, at about 5:44 p.m. Sunday, according to a statement from the Coast Guard.
The Mariner of the Seas cruise ship was about 27 nautical miles south of Punta Cana on its way to Willemstad, Curacao, when the passenger went overboard, according to the statement.
"The passenger was recovered alive and reported to be in good health, after reportedly falling into the water from 10th deck of the ship," the Coast Guard said in a statement. "No medical evacuation of the passenger was requested by the cruise ship. The passenger was being kept on the cruise ship's medical facility and later transferred to the Hospital in Willemstad, Curacao for evaluation."
The Coast Guard said it is investigating the circumstances that led to the passenger going overboard.
In a Wednesday statement to NBC News, Royal Caribbean confirmed a passenger went overboard Sunday close to the Dominican Republic.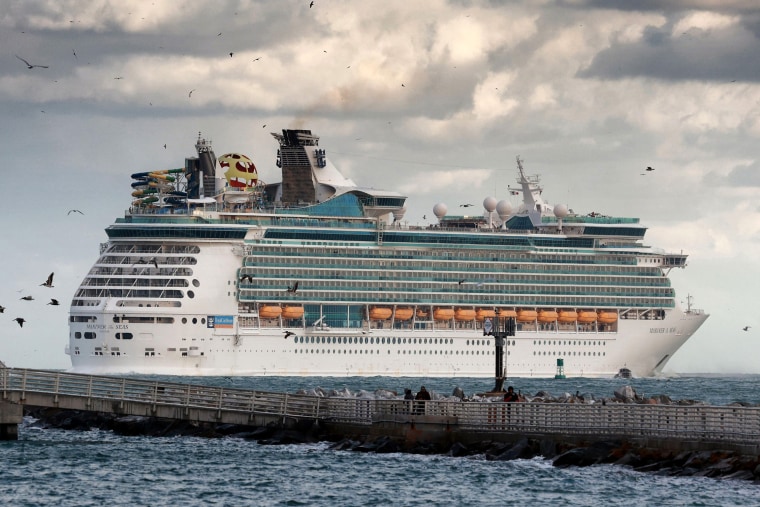 "The ship and crew immediately reported the incident to local authorities and began searching for the guest. Thankfully, the guest was successfully recovered and was brought on board. Our Care team is now offering assistance and support to them and their traveling party. Out of privacy for the guest and their family, we have no additional details to share," the statement said. 
The ship continued the trip as planned, Royal Caribbean said.
Fox affiliate WOFL of Orlando spoke with passenger Matthew Kuhn, who was on the cruise ship with his family. He watched rescue efforts from his balcony, he told the news outlet.
"I think it was amazing to see everyone was on their balcony. Everyone was trying to help, and the crew was very receptive to everyone," he said.
Kuhn said he didn't expect the passenger to be found alive and was pleasantly surprised he was wrong.
"Holy crap, they found her, and she's alive," he told WOFL.
NBC News reached out to Kuhn on Wednesday. He declined comment but shared some videos he posted on Twitter of the rescue efforts.
In one video, a small boat can be seen in the distance and people aboard the cruise ship are heard clapping, whistling and cheering.
This story first appeared on NBCNews.com.