A French journalist who was at the concert venue in Paris where at least 100 people were killed by attackers on Friday described a scene of chaos he called "a bloodbath" in which he was fortunate to survive.
Julien Pearce, a journalist and radio host with Europe1, was at the Bataclan theater where the American rock band Eagles of Death Metal had played for about 45 minutes before attackers stormed the building with bombs and assault rifles. It was part of a coordinated attack that marked the deadliest day in Paris since World War II.
"It was a bloodbath,'' Pearce said in a phone interview with Matt Lauer and Savannah Guthrie on TODAY Saturday. "It was the worst day of my life, and it was the worst day of everybody's lives there. So many people lost their lives in front of my eyes. I keep watching them even when I try to sleep."
Pearce said he saw three to four men in masks wearing all black and carrying Kalashnikov rifles burst into the venue and open fire.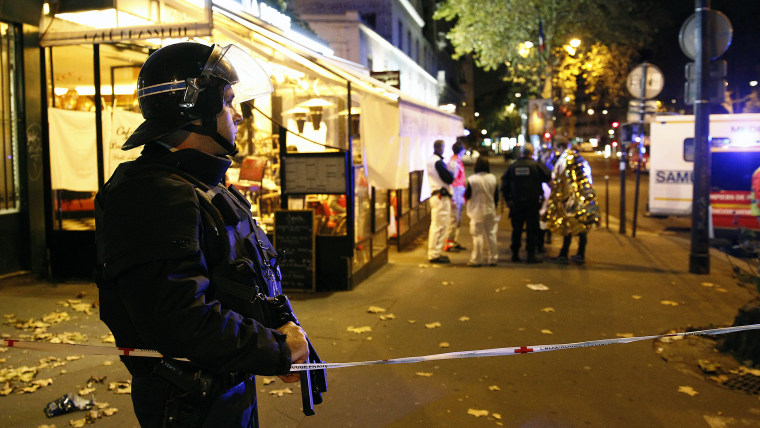 RELATED: Paris attack survivor shares harrowing details of 'unfathomable' scene
"It was war crimes,'' Pearce said. "The blood was everywhere, but what struck me was the calm of the gunmen. They were prepared. They knew exactly how to carry a gun, how to reload it very quickly. They knew exactly what they were doing, and they had one goal, just to kill the most people they could."
Concertgoers hit the ground as the men began shooting into the crowd, according to Pearce.
"I stayed on the floor for about 5-6 minutes basically playing dead,'' he sasid. "From what I've seen, they divided the crowd. I was staring at two men and I had a few seconds to see them reloading at the same time. They were the two men who were shooting at us on our positions, so I said to the people around me to stand up, they said exactly the same to me, and we managed to climb out of the scene and take shelter in a small room behind the scene."
French President Francois Hollande has blamed ISIS for the attack, which left 127 dead and around 200 wounded. Eight attackers are dead, seven of whom were suicide bombers, according to Paris prosecutor Francois Molins' office.
Follow TODAY.com writer Scott Stump on Twitter.