We've all seen it on Saturday afternoons: Middle school or high school students setting up a car wash to raise money for their school band or football team. Schools are strapped for cash and cutting back, so the kids rely on booster clubs to raise money.
Typically, booster clubs are nonprofits run by parents. But an NBC News investigation found dozens of cases nationwide where some of those parents were stealing from the kids — tens or even hundreds of thousands of dollars.
Kimberly Compitello was treasurer of a booster club for the Oscar Smith High School marching band in Chesapeake, Va. Alicia Yoakem and Jason Berkley, who are seniors and members of the band, looked up to her. "She was just another mom, you know?" Jason said. "Like when you were there, she would always help you with everything you needed there at band."
But meanwhile, Compitello was stealing nearly $14,000 from them behind their backs between 2011 and 2012. She was writing checks to herself, right under the parents' noses.
Do you want a scam, rip-off or issue investigated? Email Rossen Reports
"I just felt hurt," Alicia said. "This was someone we knew, we trusted them." Her mother, Bobbie Yoakem, added: "It was just shocking that she stole from the children, and even her own child."
Without the booster money, the kids were left with nothing. Say goodbye to scholarships and new uniforms; they couldn't even fix their instruments. Showing one of them, Jason said, "if this duct tape wasn't there, this trumpet wouldn't stay together."
Compitello was busted when the booster club started bouncing checks. She was arrested and pleaded guilty to embezzlement. The sentence: 90 days in jail. After 79 days, she's out now. NBC News caught up with her outside her home.
"I'm trying to get along with my life," she said. "I've had bodily threats to my life, I've had people calling my job."
As for the kids, "I've already told them I was sorry, OK?" Compitello said.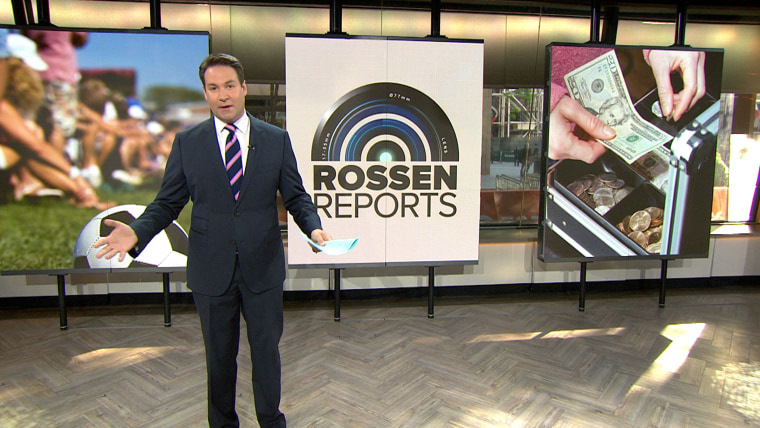 And she's not alone. Booster club thefts have had a devastating impact on schools and communities across the country.
NBC News found at least three dozen similar criminal convictions since 2011, and another 10 arrests over the past year. The thefts ranged from $2,200 to $439,000, with parents stealing funds over months, and some even for years. 
"A person could be skimming off week after week. Really, no one would know it," Ohio Attorney General Mike DeWine told NBC News.
DeWine has pushed for increased oversight of booster clubs in his state. In 2012, his office began requiring booster clubs with more than $25,000 in assets to file reports with the state, following reports of embezzlement and misuse of funds involving volunteer-run clubs.
In one case, an Ohio man admitted to stealing at least $439,000 from a local athletic booster club over eight years. Local investigators found the man had signed and cashed more than 300 unauthorized checks from the club's bank account for his own personal purposes. 
"Booster clubs are susceptible to crooks for several reasons. Number one, they're dealing in cash. Number two, they rarely have any internal checks that a business would normally have," DeWine said. "They're all volunteers. And people trust them."
It was a lesson learned the hard way for the Oscar Smith High School band, where parents and kids are pulling together to make up the money.
"You should be able to check on what's going on," Alice Yoakem said. "Because one person can really be the end of you. And it should have been the end of us, but it wasn't."
Kimberly Compitello was ordered to pay restitution as a part of her sentence; so far she's paid back $1,600 of the nearly $14,000 she stole. Meanwhile, the band kids at Oscar Smith High School are raising money for a trip to the Gator Bowl next year. They're hoping to go with new uniforms. The parents there have put in stricter procedures to watch over the money.
How can you make sure your child's booster club is protected from theft? Sandra Englund of Parent Booster USA, a group that advises parent-run nonprofits, recommends all booster clubs institute, at a minimum, a few basic procedures:
Cash should be counted at the event site, and with at least two people present. 

All cash should be deposited immediately. 

Make sure bank statements are regularly reviewed by someone without check-signing authority. 

Booster club boards should adopt annual budgets and conduct reviews once a year. 

Have an idea for a future edition of Rossen Reports? Email us.