The parents of multiple victims of the Parkland school shooting have angrily reacted to what they believe is a weak explanation by school resource officer Scot Peterson for why he didn't confront the gunman that day.
Parents of three of the 14 students who were among the 17 people killed at Marjory Stoneman Douglas High School on Feb. 14 spoke with TODAY's Kerry Sanders about their disgust after watching Peterson's interview with Savannah Guthrie on Tuesday. Other families wrote to NBC.
"I listen to this and I get enraged,'' said Fred Guttenberg, whose daughter Jamie, 14, was killed by suspected gunman Nikolas Cruz.
Peterson faced fierce criticism after being seen on surveillance video stationing himself outside the school's building during the shooting instead of running inside and confronting the gunman, who was armed with an assault rifle. The former Florida sheriff's deputy was the only armed guard at the school when the shooting began.
"He feels sorry for himself and wants us to feel sorry for him," Guttenberg said. "I'm not joining him in this pity party. I'm sorry he failed. He failed our children and they're gone."
President Trump called Peterson "a coward" in comments before an appearance on Feb. 23, adding that Peterson "didn't have the courage" and "did a poor job." Peterson, who resigned from his position following the shooting, refuted that characterization in the interview.
He said he was "doing things the whole time," including communicating on his radio with local police.
Max Schacter, whose son Alex, 14, was one of the shooting victims, became openly exasperated watching the interview.
"What was he doing?" Schacter said. "Doing nothing."
Peterson said he remained outside because he believed there was a sniper in the area. He said he didn't know there was an active shooter inside and couldn't tell where the gunshots were coming from.
"It haunts me that I didn't know at that moment, you know, that — those are my kids in there," Peterson said. "I never would have sat there and let my kids get slaughtered."
That struck a chord.
"Don't call them 'my kids,' those were not his kids, OK?'' Guttenberg said. "They were Max's kids, they were my kids."
"He didn't go to a funeral, he's not going to miss a birthday. Unlike Max and I, he won't miss Father's Day," he said.
The two fathers were offended that Peterson even presented his side of the events.
"He should go away into the sunset,'' Schacter said. "We gave him $100,000 a year in his pension. We should never hear from that coward again."
Manuel Oliver, whose son Joaquin, 17, was killed, felt that Peterson's interview put the focus in the wrong place.
"I don't want this Mr. Peterson to become another victim,'' Oliver said. "You're not a victim sir. He doesn't get my sympathy."
Debbi Hixon, whose husband Chris, the athletic director at the school, was killed pursuing the gunman, was left with more questions than answers.
"Why didn't (Peterson) go in there and save those kids on the third floor?" she said.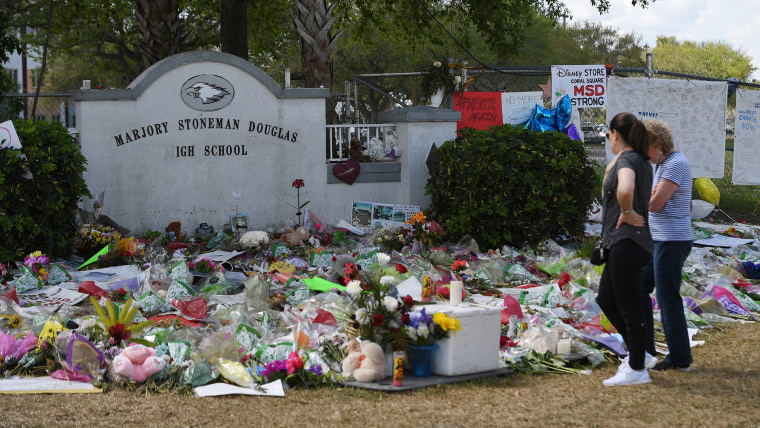 In the aftermath of the shooting, Peterson is now facing lawsuits, including one from Andrew Pollack, the father of 18-year-old victim Meadow Pollack.
In a letter to NBC, Pollack's lawyer, David Brill, accuses Peterson of lying.
"The notion that Peterson didn't know that there was an active shooter in Building 12 and would have had only about 46 seconds to engage the shooter even if he had is farcical," the letter reads.
"Peterson's statement repulses us and should repulse anyone who cares even a little bit about the events at MSD and honesty and integrity and valor."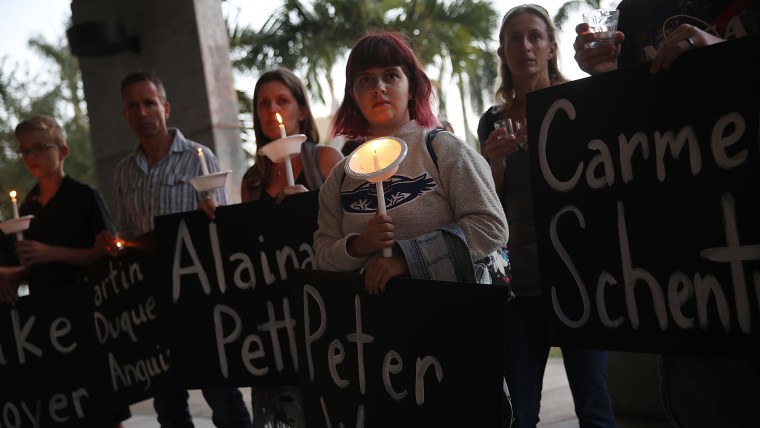 Families of 12 victims sent a letter to NBC after the interview, saying that Peterson "failed and did not perform his duty" and questioned Peterson's actions.
"Unprotected and unarmed teachers, men with families, charged in, and unfortunately, paid the ultimate price for their heroic actions. A clear contrast to the man being interviewed with his lawyer beside him."
The letter was written by the Alhadeff family, the Beigle-Schulman family, the Dworet family, the Guttenberg family, the Hixon family, the Hoyer family, The Montalto family, the Oliver family, the Petty family, the Schachter family, the Schentrup family, and the Wang family.
"Sadly, the only 'good guy' with a weapon chose not to challenge the shooter that day."
Follow TODAY.com writer Scott Stump on Twitter.