Sarah Palin is OK with Tina Fey's send-ups — but draws the line at Julianne Moore's. 
Palin, who famously faced off with Fey on "Saturday Night Live" said she won't watch "Game Change," the HBO movie starring Moore, who portrays the former Alaska governor as a neurotic newbie.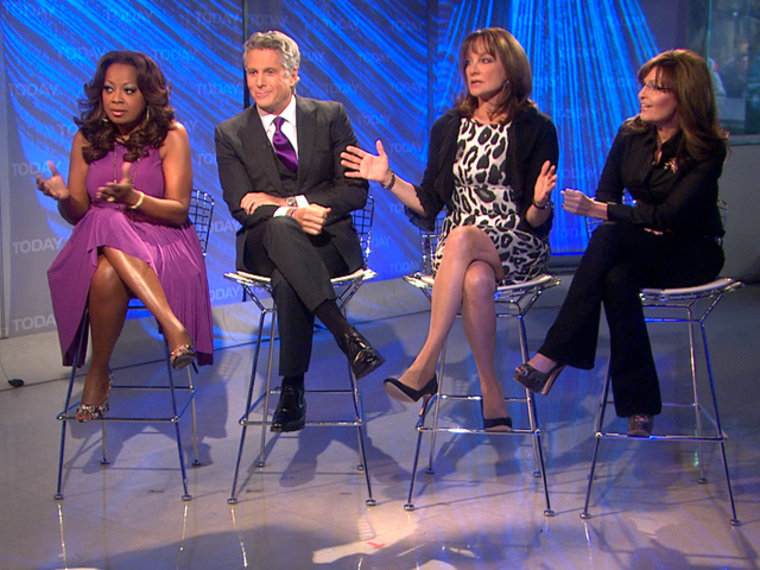 "I haven't seen 'Game Change' because I wouldn't waste my time on false narrative," Palin sniffed during the TODAY's Professionals segment Tuesday. "But I will have to admit Tina Fey has been pretty funny."
The self described "mama grizzly" had no problem weighing in on talking points with the other Professionals, Star Jones, Donnie Deutsch and Dr. Nancy Snyderman, breezing through such topics as criticism over singer Jessica Simpson's pregnancy weight gain: "I would have wanted to punch them in the neck," Palin said of anyone who might have done the same to her during her own five pregnancies. "It's nobody's business."
Palin commended Oprah Winfrey for weathering blow-back over her struggling OWN network's troubles: "More power to Oprah for getting out there and showing the guts it takes to succeed. She is representing what makes America great — you have the power to succeed and to fail." She suggested that Winfrey "get some conservatives" on the network to boost ratings.
And she showed a bit of that trademark Palin spark when she bristled during an exchange about a new Facebook "enemies" app that allows users to list and share a list of their non-friends. Palin said the app is mean-spirited.
"That just adds more darkness to our world," she said.
Deutsch countered, "Maybe they're learning from the politicians."
"It's not just politicians," Palin shot back. "Look at the Bill Mahers of the world."
Deutsch pointed out that Palin's "anybody but Obama" comment earlier in the show could be interpreted as mean-spirited. Palin disagreed.
More:Tori Spelling asks Sarah Palin if she'll have more children 
Palin to GOP: 'Don't play it safe' 
Palin puns return as 'Game Change' premieres 
How did Sarah Palin fare on TODAY?  
Palin debuts as co-host; Matt jokes she joins 'lamestream media'
TODAY.com political contributor Halimah Abdullah is the site's woman in Washington.