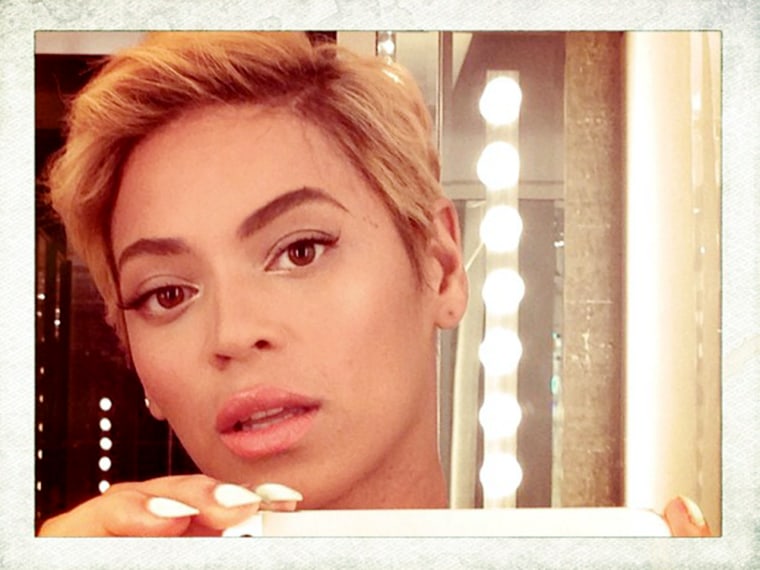 The 'selfie' is ready for its close-up. On Monday evening, Oxford Dictionaries announced that the Internet-born noun is its international Word of the Year, beating out other of-the-moment verbs like binge-watch and twerk.

For the uninitiated few, 'selfie' officially means "a photograph that one has taken of oneself, typically one taken with a smartphone or webcam and uploaded to a social media website." Once an obscure word used on sites like Flickr, the 'selfie' has since become a widely-used term: Its frequency in the English language increased by a whopping 17,000 percent over the past year. 
"Using the Oxford Dictionaries language research program, which collects around 150 million words of current English in use each month, we can see a phenomenal upward trend in the use of 'selfie' in 2013, and this helped to cement its selection as Word of the Year," Oxford Dictionaries Editorial Director Judy Pearsall said in a press release.  
Oxford Dictionaries traces the origin of 'selfie' way back to 2002, when an Internet user included the word in a post on an Australian forum. It became more popular as a hashtag on Flickr in 2004, but didn't really find its way into mainstream mouths until 2012 with the help of Twitter and Instagram. That's when it became the subject of countless news stories, from Beyonce showing off her pixie cut to Michelle Obama playing with Bo on the White House lawn.
The spelling of the word has undergone an evolution, as it once ended with a -y instead of an -ie. The reason why could have something to do with the self-centered activity the world itself describes, according to Pearsall. 
"The use of the diminutive -ie suffix is notable, as it helps to turn an essentially narcissistic enterprise into something rather more endearing," she said in the statement. "Australian English has something of a penchant for -ie words – barbie for barbecue, firie for firefighter, tinnie for a can of beer — so this helps to support the evidence for 'selfie' having originated in Australia."
While the word is not included in the Oxford English Dictionary yet, it was already added to OxfordDictionaries.com, the OED's cooler cousin, in August. 
The Word of the Year is ultimately chosen by a team lexicographers, dictionary consultants, and editorial, marketing, and publicity staff at Oxford Dictionaries. Software helps determine the initial contenders by scanning a database of around 150 million words used online each month for new trends and frequency of use. 
Last year, Oxford Dictionaries chose another Internet-derived term, 'GIF,' as its Word of the Year in the United States.