/ Source: TODAY contributor
The brutality of the attack was beyond horrifying. Travis, the chimpanzee that had starred in Old Navy TV ads and lived with Sandra Herold more as a son than a pet, was savagely mauling the face of Herold's friend, Charla Nash, inflicting grave injuries. In her desperation, Herold had no choice but to stab Travis with a chef's knife.
And as she plunged the knife repeatedly into the 200-pound animal, "He looked at me like, 'Mom, what did you do?' " Herold told NBC's Jeff Rossen in an interview that aired exclusively on TODAY Wednesday.
More son than pet
The 70-year-old widow's voice was choked with emotion less than two days after Travis went berserk without warning in the yard of her home in Stamford, Conn., the home where she had raised Travis from the age of 3 days.
Nash remains in critical condition after surgery, and Herold is left with a house full of memories and mementos of 14 happy years with the chimpanzee that was more family member than pet.
"He couldn't be more my son than if I gave birth to him," she said.
Even as wildlife experts question why anyone would be allowed to keep a chimpanzee as a pet, Herold maintains that the rampage was a freak incident that does not change her opinion of Travis, who was shot and killed by police.
"After what you've been through with this — your friend is in the hospital fighting for her life — do you still think chimps should be pets?" Rossen asked her.
"Would I have done it again? Yes! ... They're the closest thing to humans — to us," Herold said. "We can give them a blood transfusion, and they can give us one. How many people go crazy and kill other people? This is one incident that I don't know what happened."
Previous incidents
Such attacks are rare, but they have happened before. In 2005, St. James and LaDonna Davis of West Covina, Calif., were visiting Moe, a 39-year-old chimp they had raised as a human, at a wildlife refuge the chimpanzee had been sent to by a court after he showed aggressive behavior in 1999. While they were feeding Moe birthday cake through a hole in his fenced enclosure, two adolescent chimpanzees somehow escaped from their own enclosure at the refuge and attacked the Davises.
In attempting to defend his wife, St. James Davis was savagely mauled, losing an eye and several fingers as well as sustaining other injuries. A ranger at the refuge shot and killed both chimps. Moe was not involved in the attack.
After Rossen's report, the Davises and their attorney, Gloria Allred, spoke from California with TODAY's Natalie Morales. Today St. James Davis wears a prosthetic nose and his face is scarred from the attack and the scores of surgeries he has undergone. His wife lost a thumb.
And yet, like Herold, the Davises maintained that chimpanzees should be allowed to live with humans. "Animals are like people. They all have personalities, built-in traits," LaDonna Davis told Morales. "There are animals all across America that are living in circumstances that are different from sanctuaries. Who's to say one is better than another?"
"When one animal becomes violent, we shouldn't hold it against all animals any more than if it was a human being," Allred said.
Drugged tea
Travis was acting "rambunctious" on Monday. He had stolen the keys to her car and gone into the yard. Trying to calm him down, Herold gave the chimp some tea laced with the anti-anxiety drug Xanax. She also called her friend, the 55-year-old Nash, who knew Travis well, to come over to help calm him down.
Nash arrived in an unfamiliar car and emerged with her hair done in a radically different style from what Travis was familiar with. Herold speculates that perhaps the chimp didn't recognize Nash and viewed her as a threat. There is also speculation that the chimp's behavior was affected by medication he was taking for Lyme disease.
"I think it was that he didn't recognize her and he felt whoever it was, it was a threat," Herold said.
Whatever the reason, Travis charged at Nash and attacked her with murderous fury. Herold and EMS workers said he ripped Nash's face off and attacked her hands with his powerful jaws. If somebody didn't make him stop, Nash would shortly be dead.
"I grabbed the shovel and hit him with the shovel to stop it," Herold said. "It wasn't working, so I went and I had to get a knife — and I stabbed him. I had to."
Desperate 911 callTravis turned to attack her, and she took refuge in a car in the yard and called 911. The tape of the call reveals her terror and desperation as she screams and begs for help while trying to explain the bizarre circumstances to the 911 operator.
"Send the police up! With a gun! With a gun! Hurry up!" she shouts.
911 Operator: "Who has a gun?"
Herold: "Please hurry up. He's killing my girlfriend!"
911 Operator: "Who is killing your friend?"
Herold: "My chimpanzee."
911 Operator: "Oh, your chimpanzee is killing your friend." 
Herold: "Yeah. He ripped her apart! Hurry up! Hurry up, please!" 
911 Operator: "There is someone on the way."
Herold: "With guns, please. Shoot him!"
911 Operator: "… What is the monkey doing?"
Herold: "He ripped her face off!"
911 Operator: "He ripped her face off?"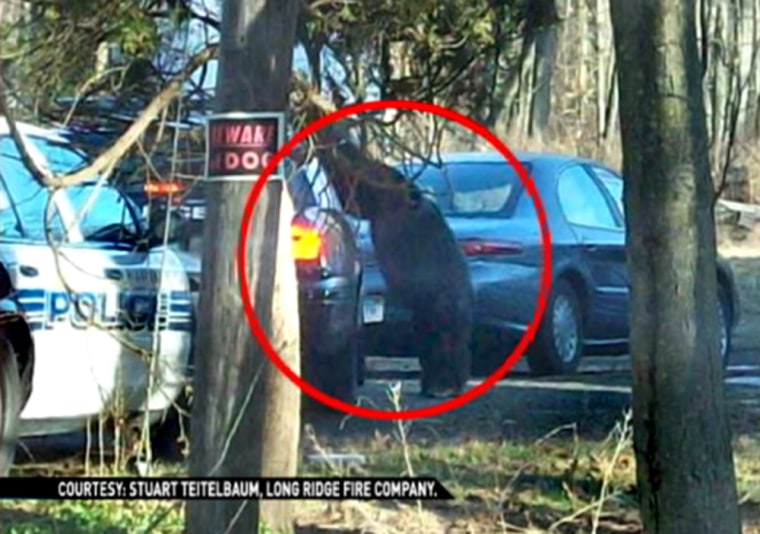 Police responded, escorting EMS workers to Nash, who was laying prone with injuries so severe she was initially mistaken for a man. When police tried to corner Travis, he chased them into their cruisers. When he opened the driver's door of a cruiser and started to attack one of the officers, police said, the officer drew his handgun and shot the chimp several times.
Travis retreated into the woods and eventually made it back to his room in Herold's house, where he died.
A pampered pet
On Tuesday evening, when Herold spoke to Rossen, the woman showed off pictures that Travis had drawn for her and talked of how she would post them on the refrigerator. Herold's husband died five years ago, and her only daughter was killed in a traffic accident. Travis was the only family she had left.
She pampered the chimp that had once starred in TV commercials, teaching him to use the toilet, brush his teeth and dress himself. He drank wine from a long-stemmed glass, browsed the Internet to look at pictures, and used the remote control to channel-surf the television.
"I used to buy everything for him — filet mignon, lobster tails, Lindt's chocolate," Herold said.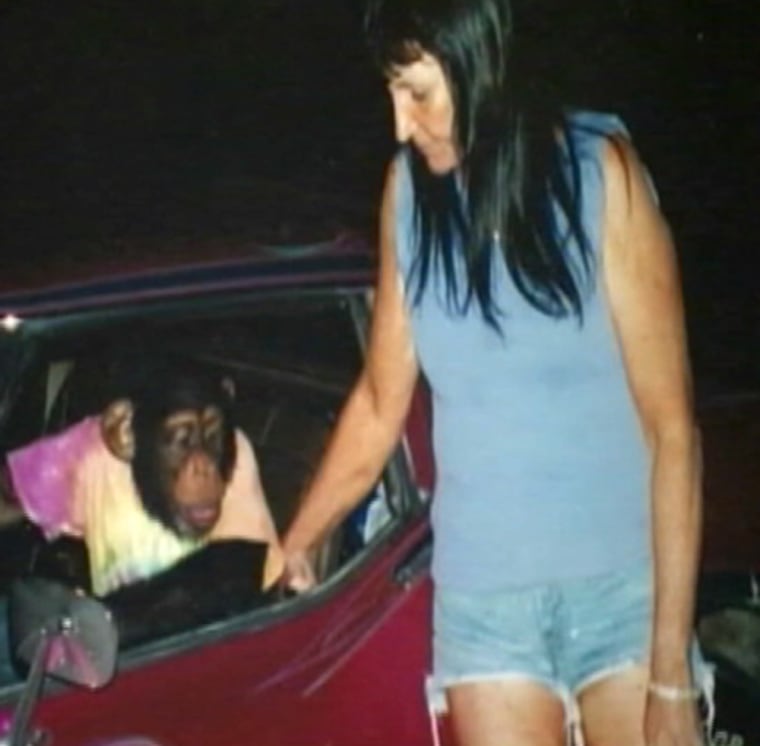 Travis loved to ride in cars and was a familiar and popular sight in Stamford. Once, in 2003, he had gotten out of Herold's SUV
"He was able to open doors by himself," she told NBC. "He could drive. He took off with the car a couple of times."
Connecticut state law requires a permit to keep a chimpanzee in a private residence, but the law was passed after Herold acquired Travis, and he was allowed to stay with her without having to go through the permit process. Stamford police said that they are investigating whether charges should be filed relating to the attack.
Meanwhile, Herold is left alone in her home to try to come to grips with what happened.
"It was a horrible thing," she said. "But I'm not a horrible person. And he wasn't a horrible chimp. It was a freak thing."