Bernann McKinney couldn't bear the thought of living without her late pit bull, Booger — the heroic hound saved her life when she was attacked by another dog, and became her lifeline during a prolonged, arduous recovery.
And now, as she showed exclusively on TODAY, she believes she doesn't have to.
The California woman is the ecstatic new owner of five puppies derived from tissue from her beloved pooch, which died two years ago. It's a landmark case: the first successful commercial cloning of a canine.
"I'm very proud of them," McKinney told TODAY's Natalie Morales in an exclusive interview from Seoul, South Korea, where the pups were born July 28. "It's a miracle."
McKinney said she grew despondent over the death from cancer of Booger, who she says was "a little stray dog I found by the side of the road" 12 years ago. Just two months after adopting the dog, McKinney was attacked by another of her pet dogs, which she says had an adverse reaction to medication. The attack shredded her left elbow, tore her leg, and nearly ripped the fingers from her right hand.
Plucky Booger fought off McKinney's attacker and allowed her to escape with her life. But it was in the aftermath that Booger truly showed his mettle, McKinney told Morales.
"He became my service dog," she explained. "I was in a wheelchair, and my arms were in braces for a long time — I couldn't use my hands. He could unlock a door with his teeth, he could answer the phone, he could do the laundry. He was my hands."
Around the time Booger contracted cancer, McKinney learned that a dog had been successfully cloned at Seoul National University and began investigating the process. She had Booger's tissue samples stored following his death in April 2006.
McKinney initially contacted a U.S. firm specializing in cloning, but when the company went belly-up, McKinney contacted Korean scientist Lee Byeong-cheon with the biotech firm RNL Bio. Booger's tissue samples were sent to Seoul, where the cloning took place.
Her quest to have Booger live on in puppy clones raised eyebrows and also raised the ire of ethics activists. But McKinney doesn't see what the fuss is about. "Actually, the cloning process isn't much different than in vitro fertilization," she says. "Basically, DNA is taken out and the DNA is inserted into a surrogate mother dog, who then has the babies very normally."
The five little canine clones cost McKinney dearly — she sold her home to pay the $50,000 fee for the process. And that was actually a bargain-basement rate: RNL offered McKinney a discount from the $150,000 it planned to charge for the service, believing her case will be a boon for business. The firm expects to clone up to 100 dogs in the next year.
McKinney may be able to defray the cost anyhow — she's preparing to offer her story for a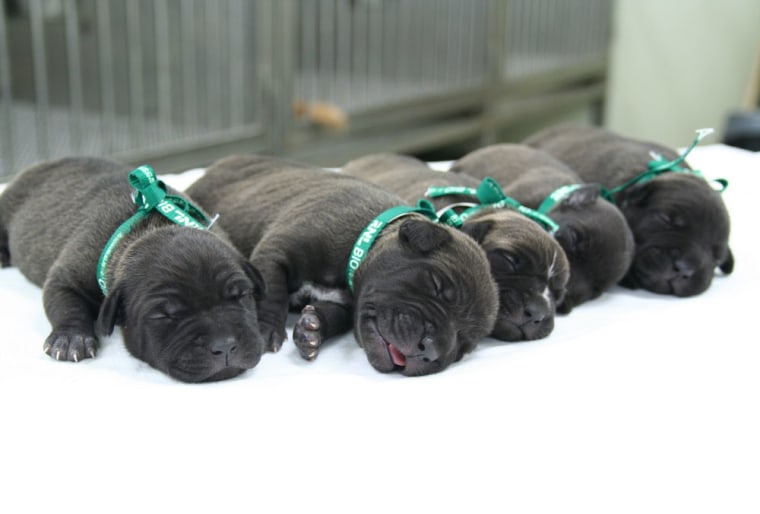 book and movie deal. "I hope to sell the rights and have a place called Booger's Place, which would be his legacy, a training center for service dogs for handicapped people," she told Morales.
In an odd sidelight to the story, reports have surfaced in Great Britain speculating that Bernann McKinney is actually Joyce McKinney, who as a 28-year-old woman in 1977 was accused of kidnapping a 19-year-old Mormon missionary she had fallen in love with in England. Joyce McKinney was alleged to have chained the young man to a bed in a remote cottage and sexually assaulted him before he escaped. According to TimesOnline, Bernann McKinney has denied that she is Joyce McKinney.
In any event, today Bernann McKinney is reveling in the joy of her five little Boogers. She's bonding with her new pups while she waits for them to become independent and able to travel back to the U.S. with her.
She proudly showed off the litter to TODAY viewers, pointing out that each pup has the same white marking on the chest that Booger had — and adding that the pups all "have the same little black mug and personality" as their furry forebear.
"Booger was my hero," McKinney said. "We cloned an exceptional dog." She added that she believes the original Booger was a gift from God — sent to save her life in the brutal attack she survived. And now she feels God has blessed her five times over.
"He sent Booger down to help me out, and he knew I would be lost without him," she said. "So he sent me some more."