Barring a huge upset, Daniel Day-Lewis will receive the best-actor Oscar for "Lincoln" on Feb. 24 and pull off what Marlon Brando, Dustin Hoffman, Jack Nicholson and Spencer Tracy could not --  become the first three-time winner of the award. It would also cement his reputation as the best, and probably most eccentric, actor of his generation.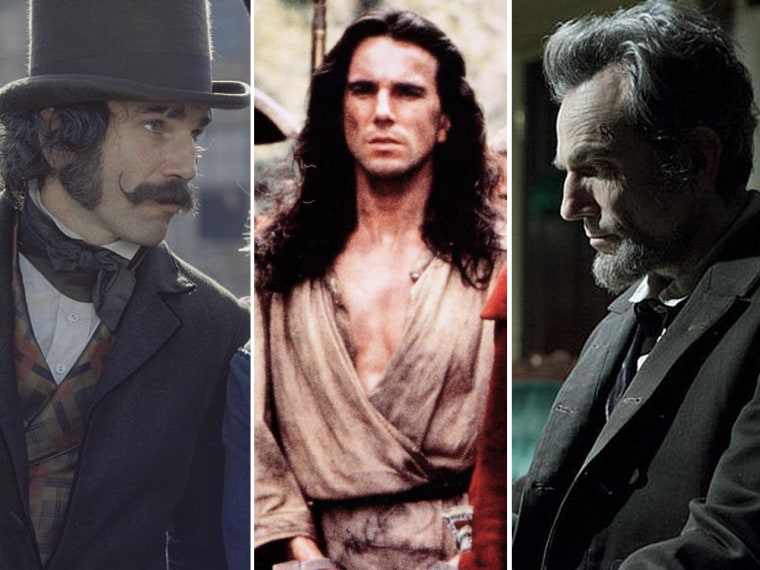 Day-Lewis previously won Oscars for his unforgettable portrayals of disabled artist Christy Brown in "My Left Foot" (1989) and oil baron Daniel Plainview in "There Will Be Blood" (2007). Now he's nominated for his iconic role as Abraham Lincoln in Steven Spielberg's film about the Great Emancipator's shrewd campaign to outlaw slavery with the 13th Amendment.
The Oscar winner's own life is the stuff of movies. He is the son of a British poet laureate and married to a famous playwright's daughter.
Despite a relatively slim filmography that includes only 19 features over the last three decades, the chameleon-like 55-year-old Brit has delivered more memorable performances than any other actor of his era. He's the male Meryl Streep, someone whose own persona disappears on camera, a perfectionist performer who is hardly recognizable from film to film.
He's brilliantly brought to life such divergent characters as a 19th-century mobster ("Gangs of New York"), an Irishman falsely imprisoned for an IRA bombing ("In the Name of the Father"), a gay punk ("My Beautiful Laundrette), an ex-con fighter ("The Boxer"), a farmer accused of witchcraft ("The Crucible"), a wealthy New York lawyer ("The Age of Innocence"), and a womanizing Czech surgeon ("The Unbearable Lightness of Being").
Day-Lewis is so worshipped that it's almost heresy to point out that his resume also includes some duds. "Eversmile, New Jersey" is humdrum comedy; he was horribly miscast in the musical "Nine;" and "The Ballad of Jack and Rose" is a pretentious bore. Still, he's one of the most fascinating actors around.
Watch how he physically morphs from one character to the next. As Hawkeye in "The Last of the Mohicans," with sported flowing shoulder-length hair, gym-toned pecs, and a musket strapped on his back, Day-Lewis never looked sexier. As Bill "The Butcher" in "Gangs of New York," he was a cold-blooded killer with a glass eye, more menacing than Mike Tyson in his prime.
And of course, there's his current turn as Abraham Lincoln in "Lincoln." Though his lanky frame suggests he might have been born to play the role, Day-Lewis' face looks more gaunt than usual and the chin-curtain beard helps him fit our historical Lincoln image to a T.
A physical transformation is one thing, but Day-Lewis also manages to completely change his voice to fit the part, too. As Christy Brown in "My Left Foot," he perfectly captures the slurred, halting speech of a cerebral palsy victim who learns to write and paint with his foot. Drawing on his "Gangs of New York" role again, his guttural, street-wise voice is almost as scary as his character's "Butcher" nickname. And his most recent best actor win, as Daniel Plainview in "There Will Be Blood" he invented a unique frontier accent that sounds like a hybrid of Jack Palance and John Huston.
To achieve those distinctive personas, Day-Lewis has been known to stay in character even after the cameras stop rolling. For instance, he reportedly never left his wheelchair on the set of "My Left Foot." He learned to hunt and skin animals for "The Last of the Mohicans" and apprenticed as a butcher for "Gangs of New York." He trained for 18 months with former world champion Barry McGuigan for "The Boxer," and in a move that certainly raised a stink, supposedly did not bathe or shower while shooting "The Crucible."
Day-Lewis can be romantic on screen -- who can forget his smoldering love scenes with Lena Olin and her bowling hat in "The Unbearable Lightness of Being'' -- but he can also be vicious. When he bludgeons preacher Eli Sunday with a bowling pin in "There Will Be Blood,'' he looks like he needs an exorcism.
Day-Lewis' official anointment as the most decorated actor of all time is expected during Sunday's Oscar broadcast, 8:30 p.m. ET on ABC.
Is Daniel Day-Lewis the best actor of his generation? What's his best role? Tell us on Facebook.
Related: