If you're a betting sort, you'd be better off steering clear of a lot of Academy Awards action this weekend. Find another place to wager -- maybe April's NFL draft or the weekend box-office numbers. While some Oscar categories seem like total locks, there's enough last-minute murmuring among film fans that a few shake-ups are almost guaranteed.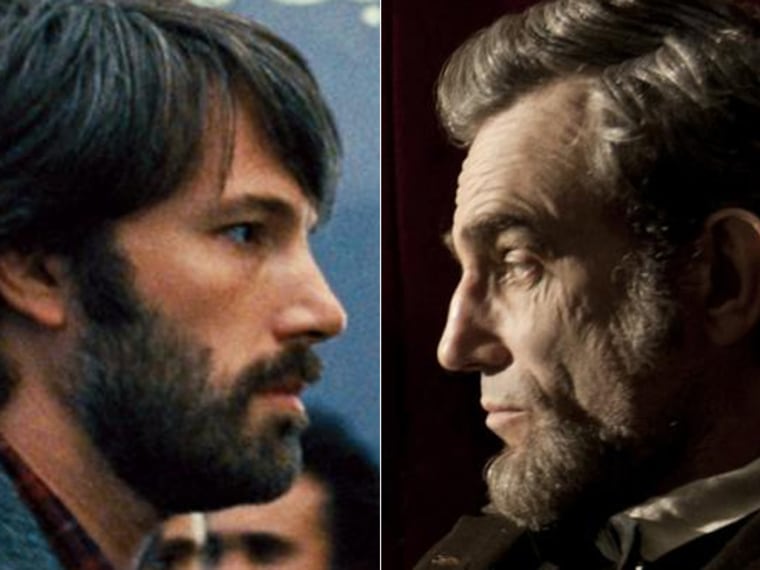 Start with your sure things. You're good to go if you pick Adele's "Skyfall," the James Bond theme song, to take home the best original song honor. Daniel Day-Lewis is unlikely to be toppled as the best actor front-runner, and Anne Hathaway is dreaming a very good dream as she scoops up award after award for her role as Fantine in "Les Miserables" -- she'll likely claim the best supporting actress Oscar too.
But in category after category, all bets are off. Best picture looked like a lock for "Lincoln," but a snub in the best director category for Ben Affleck threw the spotlight on "Argo." Sure, he won't be competing with Steven Spielberg and Ang Lee for the director's Oscar, but his being ignored may have helped his film gain attention -- and maybe a statuette.
Best actress? Jessica Chastain was an early favorite for her role as CIA agent Maya in "Zero Dark Thirty." Her star has fallen as young upstart Jennifer Lawrence of "Silver Linings Playbook" earned more and more attention. Lawrence, just 22, claimed the Golden Globe and the Screen Actors Guild honor for her role. And as Oscar night looms, the oldest contender of all is starting to claim some buzz. French actress Emmanuelle Riva, nominated for her role in "Amour," is 85 -- and she'd be the oldest best actress winner ever if she receives the trophy. (There's also a young contender in Quvenzhane Wallis, who is just 9, but it'd be a shock if she pulled it off.)
The winners aside, the ceremony itself is also full of unanswered questions. "Family Guy" creator Seth MacFarlane will host for the first time, and his edgy humor isn't the style the Oscars usually go for. He could neuter his jokes for a presumably more traditional Oscar audience, or he could go all-out with innuendo and insults, which could either earn him criticism or praise for pushing the envelope.
Can "Argo" make up for its best director snub by beating "Lincoln" for best picture? Will 85-year-old Emmanuelle Riva be the oldest best actress winner ever? The Academy Awards competition is going right down to the wire this year.
Though the Oscar show lineup isn't clear, plenty of rumors are out there about what will happen when. Some major stars will be presenting awards, including Jack Nicholson, Dustin Hoffman and Meryl Streep.
There's expected to be a segment honoring 50 years of James Bond, though early hopes that all of the Bond actors would reunite seem to have been dashed. A tribute to movie musicals, pegged to the best-picture nomination for "Les Miserables," is expected to highlight recent musicals such as "Chicago" and "Dreamgirls."
Many eyes will be on the annual In Memoriam tribute. Every year, viewers watch for inclusion of their favorite movie stars, directors and others in the industry who passed away the previous year. And every year, the montage leaves one or more major names out, and Twitter lights up with complainers. This year, it will be especially tough for the Academy to please everyone. 2012 saw dozens of deaths from all aspects of moviedom, from Whitney Houston to Jack Klugman, Ernest Borgnine to Nora Ephron.
And those who remember Academy Awards telecasts past, where the orchestra rushes to play off winners whose blather on in their speeches, know that the three-hour show always has trouble keeping to its timetable. Which makes a recent Academy decision seem odd, or perhaps welcome: Instead of ending the show with the night's biggest award -- best picture -- the Academy has announced it will end with a musical number by host MacFarlane and Broadway and Hollywood star Kristin Chenoweth. Makes sense if you consider that this means the final speeches won't be cut short. But will viewers stick around for a musical number once they've already seen the show's last big award? Like so many questions about this year's Oscars, we won't know until the end of the show.
The Oscars air Sunday at 8:30 p.m. ET on ABC.
Who do you pick to win? Vote in our poll, and tell us on Facebook.
Related content: