A beloved physician was shot and killed in an exam room at Tennessee's Campbell Clinic in what police called a "targeted attack" by a patient.
Dr. Benjamin Mauck, who specialized in hand and wrist surgery, was killed on Tuesday at the clinic in Collierville, Tennessee, Police Chief Dale Lane said during a press conference.
Police responded to the clinic around 2 p.m. and found a suspect outside of the building within five minutes of arriving, Lane said. Officers took the suspect into custody "without incident," he said.
The suspect was identified as Larry Pickens, 29, who had been in the clinic for "several hours" before the shooting, police said.
"It was a one-on-one confrontation," Lane said. "There was no shots fired at anybody else. Once he shot the doctor, he left the building."
According to an affidavit obtained by NBC affiliate WMC, a nurse recognized Pickens from previous visits to the clinic. She told investigators she was inside the exam room when she saw him take a pistol from his waistband and fire three rounds at Mauck, according to the affidavit.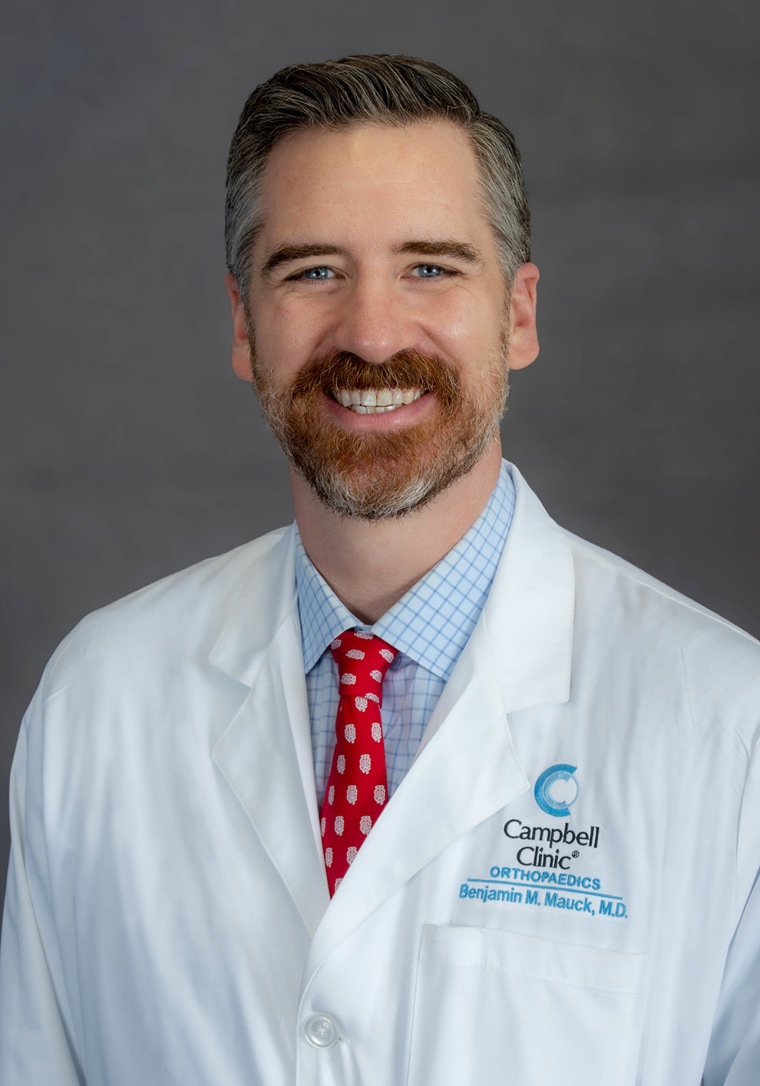 Pickens was charged with first-degree murder and aggravated assault, police said on Wednesday. His bond has been set at $1.2 million, and he was scheduled to be arraigned Thursday.
Irina Ollar, Campbell Clinic's director of marketing and PR, said in a statement to NBC News all Campbell Clinic locations would be closed Wednesday.
"We are shocked and heartbroken to confirm the incident resulted in the tragic loss of one of our highly respected and beloved physicians, Dr. Ben Mauck," Ollar said. "We ask that you please lift his family in prayer."
"We appreciate our local law enforcement officers who responded within minutes," Ollar added. "We will continue to work closely with authorities as this remains an active investigation."
Mauck was recently recognized in Memphis Magazine as one of the city's top doctors, and was also the director of the Congenital Hand Deformities Clinic at Le Bonheur Children's Hospital.
Dr. Trey Eubanks, the interim president and surgeon-in-chief at Le Bonheur, said he was "at loss at what to say" in an email to staff members Tuesday.
"Ben was a friend to so many of us — a respected member of our Le Bonheur family, a beloved colleague and a dedicated physician to so many patients. We already miss him," Eubanks said.
Evelyn Mitchell Irby was one of Mauck's patients, and had two hand surgeries performed by Mauck.
"He was more than just a doctor. He made you feel like family he made you feel heard. He was always available," she said. "He was an amazing person and this world will definitely, definitely be different without him. He will definitely be missed."
Police have not released a motive for the attack, and the incident remains under investigation.