It's still the beginning of the school year, and on Oct. 1, the day a gunman went on a shooting spree at Umpqua Community College, many teachers and students were still settling into their fall schedules — among them, creative writing teacher Melissa Duclos.
"October 1 was my second day of class as a writing instructor at a community college in Oregon," Duclos wrote in an open letter to lawmakers published on Salon on Friday. "Following the shooting that occurred at Umpqua Community College on Thursday, where 10 people were killed, I realized that as a new hire, I hadn't been fully informed on my college's emergency protocols."
RELATED: Retired, off work: Oregon medical personnel rushed to aid shooting victims
Duclos wondered: "What should I do in the event of what we now call, with heartbreaking regularity, an active shooter situation?"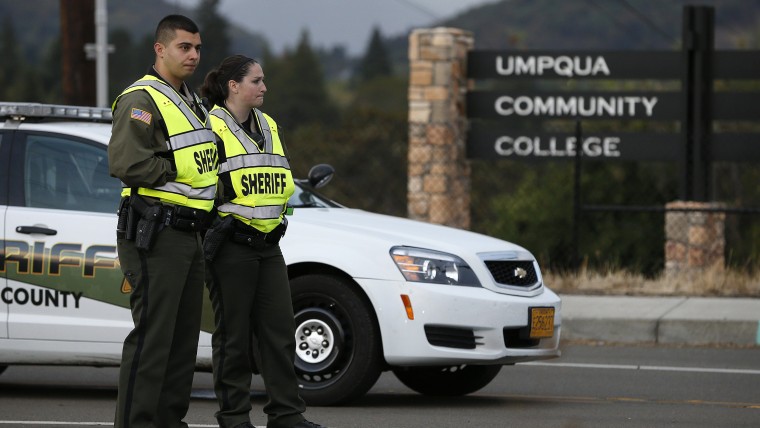 She described the layout of her classroom and building, and addressed the difficulty of securing safe evacuation for herself and her students in the event of gun violence.
Duclos comes across as a responsible educator and employee who simply wants to know what to do in an emergency. But she also makes it clear that the fact that the country is in a situation where a teacher — someone who is trained to educate, not to fight — is now in the position of figuring out how to defend herself and her classroom from gun violence.
RELATED: Paris train attack hero reveals he was enrolled at Umpqua Community College
"Fight to survive," she wrote. "I am a teacher, with a master's degree in creative writing, and this is part of my job."
Duclos reproached the popular argument for teachers to be armed with guns themselves: "I am positive that handing me — or any teacher — a gun will solve nothing."
Both a teacher and a mother, Duclos noted that her 5-year-old son will be entering kindergarten next year. In addition to math and reading, he'll also be learning what to do in an active shooter situation.
"[My son] will be walked through lockdown drills by a teacher who will likely be hiding an immense terror as she has students practice finding a cozy place to hide and times how long they can remain quiet. It will probably seem like a game to him at first, but eventually my son and the rest of America's schoolchildren who are learning the same lessons will ask why. Why have we allowed our schools to become a place where children must hide, and teachers must fight to survive?"
RELATED: Tallying the gun violence numbers as mass shootings become 'routine'
The answer, Duclos found, is that our lawmakers "haven't done their jobs."
"We must be prepared to fight tooth and nail, stapler and whiteboard marker, because you refuse to fight the gun lobby in this country," she wrote.
"The next time you have an opportunity to sponsor or vote on common-sense gun legislation, instead of fearing the attack ads the gun lobby will undoubtedly launch against you, the lost campaign revenue, or the threat to your job, I hope that you think of me and my students, of the rest of the educators and students across the country, who have been asked to stand up to gunmen because you are too scared to stand up to a handful of lobbyists."